October 09, 2014
Phonographc Music
Composers & the Early Era of Reproduction

Alex Ross, Music Critic for The New Yorker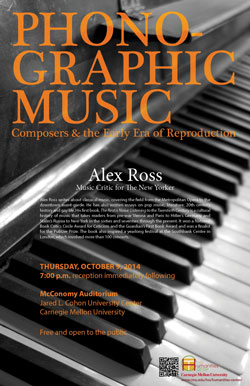 Alex Ross writes about classical music, covering the field from the Metropolitan Opera to the downtown avant-garde. He has also written essays on pop music, literature, 20th century history and gay life. His first book, The Rest is Noise: Listening to the Twentieth Century is a cultural history of music that takes readers from pre-war Vienna and Paris to Hitler's Germany and Stalin's Russia to New York in the sixties and seventies through the present. It won a National Book Critics Circle Award for Criticism and the Guardian's First Book Award and was a finalist for the Pulitzer Prize. The book also inspired a yearlong festival at the Southbank Centre in London, which involved more than 100 concerts.

Ross' second book, Listen to This, is a collection of essays about his late-blooming discovery of pop music. He is now at work on a third book, "Wagnerism," which will explore composer Richard Wagner's vast cultural impact.

Ross' talk at CMU is part of the university's Humanities Center's 2014-15 lecture series on "Music: Mind, Machine and Milieu."

Humanities Center Director, David Shumway said, "Alex Ross might be the perfect instance of a critic who can address music in relation to the Center's theme for this year.  And, it's hard to think of another music critic today who has had equal impact or has equal range. We are thrilled to bring him to Pittsburgh."
When: Thursday, October 9, 2014 at 7:00 p.m. with a reception immediately following
Where: McConomy Auditorium, Jared L. Cohon University Center, Carnegie Mellon University
Cost: Free and open to the public