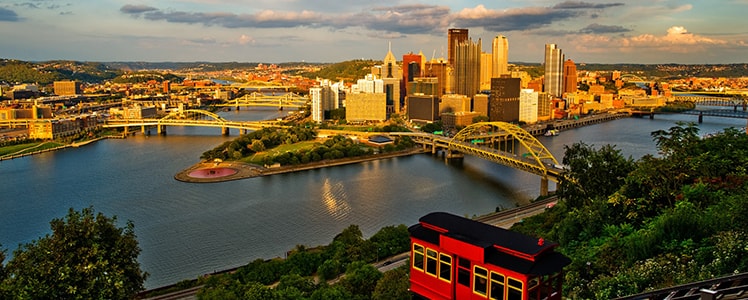 Changes to Summer Intern Housing Program

To protect the well-being of the university community as the coronavirus outbreak continues to be a rapidly changing situation, we regretfully announce the cancellation of the Summer Intern Housing Program for summer 2021. Please contact us at 412-268-1125 or confserv@andrew.cmu.edu with any questions.
Summer Intern Housing
Summer Intern Housing at Carnegie Mellon University is now available to students fulfilling internships with local Pittsburgh businesses. Situated in the heart of Oakland, CMU's campus is near dozens of restaurants and cafés, parks, cultural and shopping districts, as well as a short commute to downtown. One of the most livable cities, Pittsburgh is home to over 86,000 students from 10 colleges and universities. Among mid-sized metros, the American Institute of Economic Research ranks it No. 3 for students.
The nightly rates are as follows:
| | |
| --- | --- |
| double occupancy in a double room (2 people per room) | $42.00 (per person/per night) |
| single occupancy in a double room (1 person per room) | $57.00 (per person/per night) |
If you choose double occupancy in a double room, you will be assigned a roommate of the same gender. All guests (up to 2 people) in each apartment share one bathroom.
Please note: the entire cost of your length of stay must be paid in full at time of registration.
In order to qualify for Summer Intern Housing, students must be 18 years or older and provide evidence of their internship, such as a letter of acknowledgment from the company as well as the name and contact information of their corporate internship supervisor. Students who qualify will reside in Webster Apartments. Residents have their own kitchens and bathrooms as a part of the apartment style living. All utility costs are included in the nightly rate. The many amenities available include a 24-hour secured, air-conditioned and fully furnished apartment (bed linens, pillows, towels, cooking and cleaning supplies are not provided), free Wi-Fi, and on-site laundry ($40 per month laundry card provided at no additional cost).
Parking accommodations are not coordinated by Conference & Event Services.
For questions regarding Summer Intern Housing, please contact the Conference & Event Services office by telephone at 412-268-1125 or by email at confserv@andrew.cmu.edu.