February 21, 2023
Chemistry Outreach Catalyzes CMU Students To Share STEM Joy
By Heidi Opdyke opdyke(through)andrew.cmu.edu
Media Inquiries
Jocelyn Duffy
Associate Dean for Marketing and Communication, MCS
High school chemistry sparked positive reactions for Carnegie Mellon University student Jamie Gaitor.
"For me chemistry is something that is really tangible," said Gaitor who is a doctoral student in the Mellon College of Science's Department of Chemistry. "In high school I started to get an understanding of the way things work and the way things are in the world at a molecular level. It's really, really cool."
Gaitor is one of the graduate students in the lab of Kevin Noonan, an associate professor of chemistry, who takes his enthusiasm for chemistry into the classrooms of younger students.
"The joy of being able to see the light bulbs go off in students' heads when we go over topics is a 'wow' moment," said Gaitor, whose dissertation involves developing polymer thin films to be used in ion transport in devices such as fuel cells and water electrolyzers. "I love to share knowledge and experiences. It's really crucial to help develop the students coming after me."
For example, one of the activities that Noonan and his students share with students in the seventh through 12th grades is building simple fuel cell cars. Students use batteries or solar panels to convert water into hydrogen and oxygen that then powers a small plastic car. The hands-on activity, which was created as part of a National Science Foundation grant, has been presented in classrooms and at libraries in the Pittsburgh region.
"We really believe in getting science to students at all levels and to get people excited about it," Noonan said. Plus, his students take away something from the experience as well.
"It's really energizing for the graduate students to have interactions with the younger students. It gives them a chance to think about their project at a high level and a fantastic opportunity to be a mentor," Noonan said. "When you do research every day and you're into the very deep questions, sometimes it's hard to fully appreciate the things that you're working on."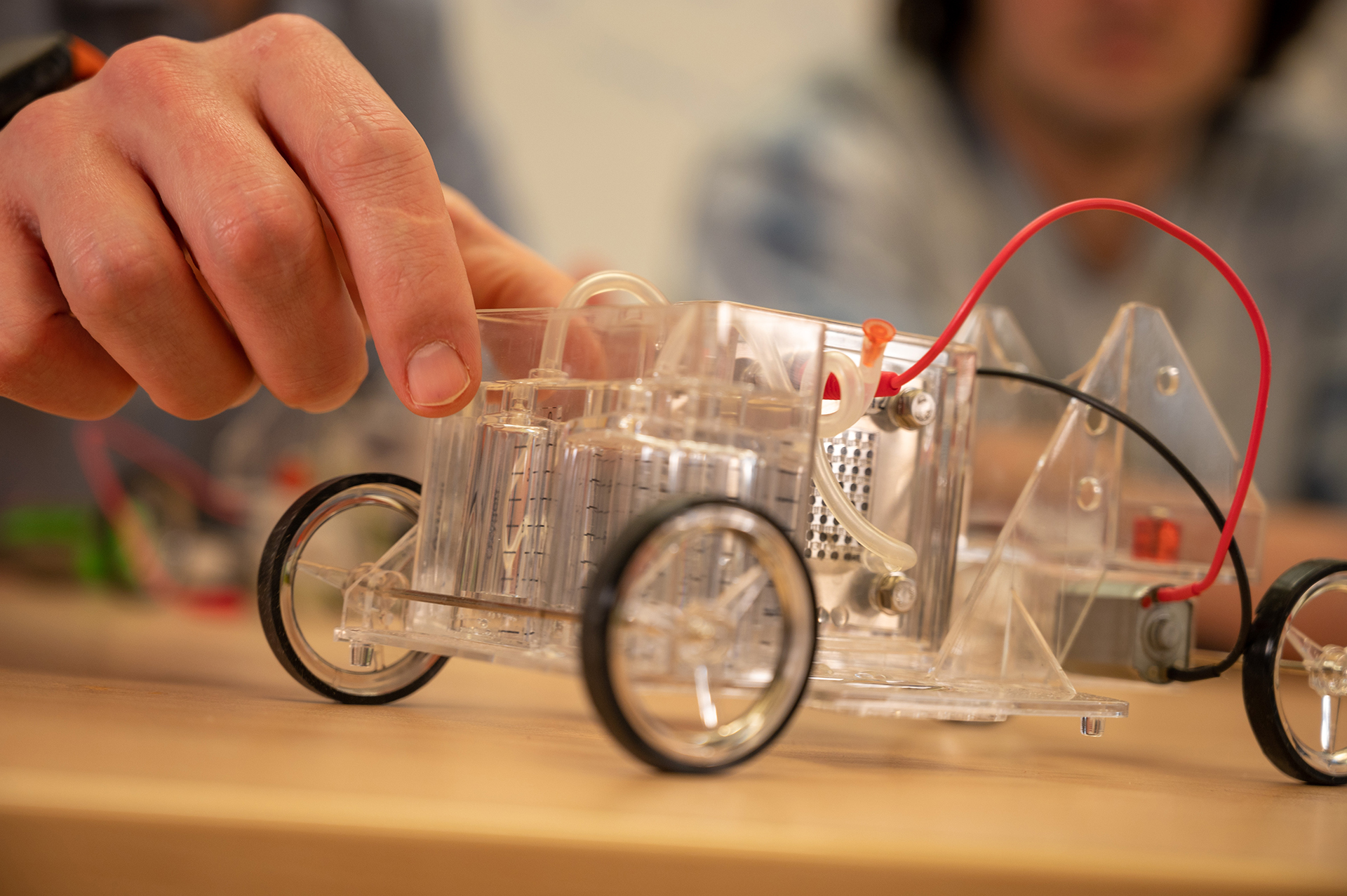 As an outreach activity to teach about energy conversion, members of Kevin Noonan's labs take fuel cell cars to schools and libraries. The small plastic cars are powered with batteries or solar panels that convert water into hydrogen and oxygen.
Subha Das, an associate professor of chemistry who manages the department's outreach programs, agrees.
"It's very important for students to learn about science communication," Das said. "Once you start trying to explain concepts of science to others it helps you think about the work in new ways."
Das and Noonan presented at Pittsburgh Public School in-service days for teachers to talk about different outreach opportunities that the Department of Chemistry supports. In some ways, the COVID-19 pandemic served as an opportunity to rethink outreach.
"Zoom and programs like Skype a Scientist have made programming more accessible. One of the schools we worked with was in Calgary," Das said. "For the groups we work with, we want to preserve the sense of wonder and excitement in science and the world around them. If people see the context for how science relates directly to their lives, they'll stay connected to science."
Noonan's students also work with high school and undergraduate students visiting Carnegie Mellon. Gaitor and Chris Birch cotaught a precollege Summer Academy for Math and Science (SAMS) course on energy materials and devices. SAMS provides opportunities for junior and senior high school students from underrepresented communities to explore STEM-related fields.
"It was an amazing time. From a personal level, that was so much fun," said Birch, who also is a doctoral student in chemistry. "The students seemed so excited to learn. In the chemistry field there can be a lot of lecture-type settings with labs being distinct from that. We were able to allow students space for creative thinking and to communicate to us what they were interested in, and then tailored the course to that, which they really appreciated."
Birch, who is researching the production of novel polymers to create hydroxide conducting membranes, said as an undergraduate student at another institution they switched their major five times in trying to decide what to study. They use that experience to help other students as a mentor through the Mellon College of Science's Coaching Minority Progress and Academic Success in Science (COMPASS) program and Carnegie Mellon's Out in Science, Technology, Engineering and Mathematics (oSTEM) chapter.
"Being at CMU is a great opportunity because once you're at Carnegie Mellon there are so many resources available just by being part of the community," Birch said. "You can get your hands on a lot of different things and interests. As a society, there's a lot of barriers to access that need to be broken down, and that's something that has to expand beyond CMU itself. What does equity mean in this space and in science education look like?"