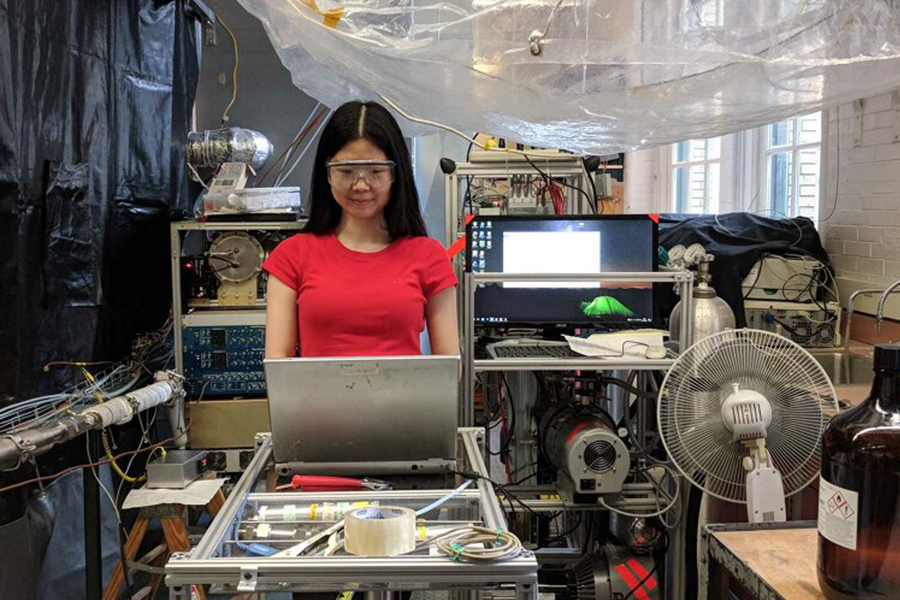 November 20, 2018
Graduate Student Qing Ye Wins Outstanding Poster Award
By Ben Panko bpanko(through)cmu.edu
Chemistry graduate student Qing Ye won an outstanding poster award this fall at the 10th International Aerosol Conference. A panel of judges recognized her poster "Effects of Temperature on Nucleated Particles from α-Pinene Ozonolysis Measured by a FIGAERO-Chemical Ionization Mass Spectrometer" for the prize, which came with a $150 cash award.
Ye conducts her research in Carnegie Mellon University's Center for Atmospheric Particle Studies, a collaborative effort between the Mellon College of Science and the College of Engineering, working under the guidance of advisors Lord Professor of Chemistry Neil Donahue and Associate Professor of Chemistry Ryan Sullivan. Ye's work is focused on the formation of atmospheric particles from terpenes, which has a significant effect on the properties of clouds and climate change worldwide.
Using data from the CLOUD experiment at CERN, Ye's poster looked at how temperature affects this formation process. With sophisticated chemical ionization technology, Ye showed that lower temperatures lead to reduced atmospheric production of the low-volatility organic compounds produced by terpene oxidation that contribute to particle formation. Ye is concerned with temperature because it can shed light on the differences in particle formation in warmer air close to the Earth's surface versus much colder air higher in the atmosphere.
Previously, Ye received a prestigious Faculty for the Future Fellowship from the Schlumberger Foundation, and she was named a runner-up for the Peter B. Wagner Memorial Award for Women in Atmospheric Sciences.