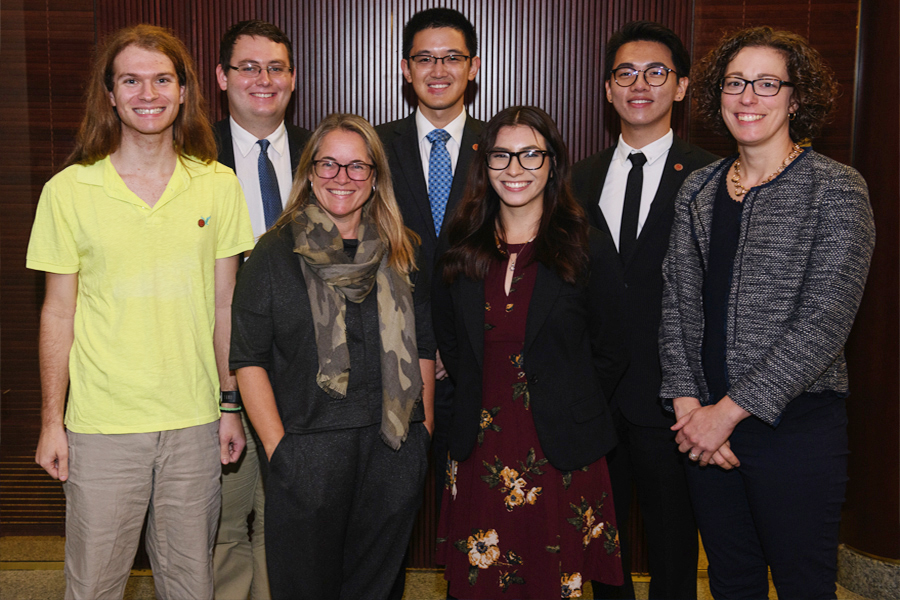 October 09, 2018
MCS and CMU-Q Andrew Carnegie Society Scholars Announced
Including chemistry major Mike Dong
Media Inquiries
Jocelyn Duffy
Five Mellon College of Science seniors have been selected to represent MCS as the 2018-19 Andrew Carnegie Society (ACS) Scholars. This year's scholars are Eric Barrett, Mason Miles, Quchen Zhou, Christina Banuelos and Mike Dong.
Additionally, Carnegie Mellon University in Qatar announced two Andrew Carnegie Society Scholars for the Class of 2019. The annual award is extended to two CMU-Q graduating seniors, selected from among four Qatar Campus Scholars. Aisha Fakhroo and Moussa Zekak have been chosen as the ACS Scholars for CMU-Q. Fakhroo and Zekak are both from the Biological Sciences program, and they are the first ACS Scholars from CMU-Q to represent the program.
ACS Scholars are undergraduate seniors who embody Carnegie Mellon's high standards of academic excellence, volunteerism, leadership and involvement in student organizations, athletics or the arts. Each year, 40 seniors are selected by their deans and department heads to represent their class in service and leadership.
The ACS Scholars program was launched in 1975 and has recognized over 1,000 students to date. Each ACS Scholar receives a monetary award — made possible by the generosity of Andrew Carnegie Society members — to support their academic and personal growth.
ACS Scholars also work together to present a gift back to the university community. Through this opportunity, the students experience the joy of philanthropy firsthand.