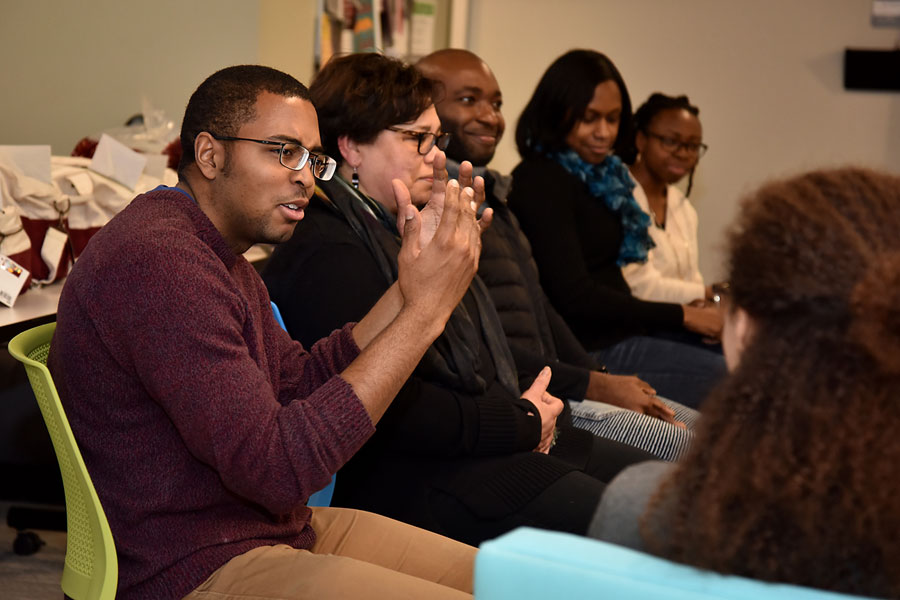 March 13, 2018
COMPASS Alumni Panel Sparks Discussion about Career Paths, Diversity in Science
By Emily Payne epayne(through)andrew.cmu.edu
Media Inquiries
Jocelyn Duffy
Last month, Mellon College of Science's peer mentoring organization COMPASS (Coaching Minority Progress and Academic Success in Science) hosted an alumni panel titled "Diversity: A Talk with Alumni." The event welcomed back five MCS alumni to talk about their experiences from their time as Carnegie Mellon University students to their careers in research, industry and defense contracting.
The evening's emcee Alex Jackson, a junior physics major and member of COMPASS, collaborated with William Alba, associate dean for diversity, and Veronica Peet, senior academic advisor, to organize the event. Alba had encouraged Jackson to attend a similar panel at the University of Pittsburgh that focused on women in science, which gave Jackson an even bigger idea.
"I wanted to present the intersectionality that comes from being a person of color, a woman, someone who is very young in their field to someone who has a lot of experience, people that grew up in affluent communities and others who did not to try to get as many perspectives for students as possible," said Jackson.
The panel included Audrey Sykes (S 1981), Zalenda Cyrille (S 2001), Darlene Reid (S 2009), Olumide Martins (S 2014) and David Vinson (S 2016).
Jackson first touched on the panelists' professional backgrounds. "As students it can sometimes be challenging to get information about what it is like to be in industry. This event helped MCS students get a perspective of what it is like for people who graduated with their same majors who are out in the real world," she said.
As they began to talk about their career paths, each alumnus and alumna revealed how they had come to Carnegie Mellon thinking about one path and left on another.
Sykes, Martins and Vinson came to the university with plans to go to medical school. But, in their respective junior years, as they studied for their MCATs and prepared their applications, things changed.
Sykes landed in the biotechnology industry. After 12 years, she returned to school to earn her master's of science in marketing and international business from Johns Hopkins University. With 25 years of industry experience, Sykes is now the associate director of business development at IDT Biologika, a pharmaceutical company that develops and manufactures new vaccines.  
For Martins being a doctor was a family trade of sorts: "I grew up in Nigeria in a big family. My mother has eight siblings, and seven of them are all doctors," he said. A course in phage genomics with Maggie Braun, associate dean for undergraduate affairs, exposed Martins to his first undergraduate research experience and helped him to switch gears. Martins spent three years in the biopharmaceutical industry before returning to research as a first-year Ph.D. student in pharmacology at Johns Hopkins University.
Vinson had dreams of becoming a surgeon. "I wanted to help push the boundaries of medicine," he said. But as he began his applications, Vinson no longer felt that medical school fit with his goals. Now a second-year Ph.D. student in pharmacology at Johns Hopkins University, his shift into research, he said, has allowed him to continue pursuing the fundamental questions to push medicine forward but in a different way.
Coincidentally, in their junior years, Cyrille and Reid also discovered new interests that influenced their post-graduate plans.
At Carnegie Mellon's Career Fair, Cyrille was offered an internship with the National Security Agency; her experience later led to a job offer from Lockheed Martin. Though she was initially confused about how a mathematical sciences major fit in with an aerospace company, it opened the door to defense contracting. Cyrille earned her master's in systems engineering from Virginia Tech and is currently a program director at Vencore.
Reid came to Carnegie Mellon to get involved in undergraduate research. She enjoyed learning how chemistry could be applied to many other fields, but she wasn't sure she could work in a lab full time. As a junior, Reid attended a National Organization for Black Chemists and Chemical Engineers' conference. There she learned about a master's program at the University of Oregon that combines classroom instruction with industry experience, which she felt was the perfect fit. Reid is currently a surface chemist at Analytical Answers, a consulting company that provides chemical analysis for an array of clients in defense contracting, medicine, law and business.
Jackson then centered the evening's discussion around the importance and meaning of diversity in the sciences.
"I wanted to present the intersectionality that comes from being a person of color, a woman, someone who is very young in their field to someone who has a lot of experience, people that grew up in affluent communities and others who did not to try to get as many perspectives for students as possible."
Sykes and Cyrille said they admire the changes in diversity at Carnegie Mellon since they were on campus.
"In 2001, I was the only black person to graduate from my class, and there were 3 females in my graduating class. I love how it's changed," said Cyrille. While defense contracting isn't a diverse field, Cyrille supports diversity in other ways. She previously ran a nonprofit in Washington D.C.'s Ward 8 that taught low-income fourth and fifth graders about career opportunities, public speaking skills and financial literacy.
When Sykes first entered the workforce, she was the only person of color in her company's laboratory. Forty years later, she said, that's definitely changed for the better.
"There's still disparity, but I can say that in bio tech, there has been a huge change in women, minorities and people from different walks of life coming into science," Sykes said. She sees this at Carnegie Mellon, too, which is partly what inspired her to establish a legacy scholarship in her mother's name for female students in MCS.
Martins and Reid spoke passionately about the strengths that diversity brings to the table in their industries.
For pharmaceutical research, Martins said, diversity is critical for understanding different perspectives and for having a range of expertise contributing to the development of new drugs.
"Growing up in Nigeria, I was very familiar with malaria drugs. If you're developing a malaria drug and you want to make an inhaler, that won't work for people who won't easily be able to get one, so I will tell you that you should make the drug a pill or IV," he said.
Reid agrees that as a consultant, it's important to have a wide range of backgrounds and experiences. "It helps to network with your client. We can talk about things that maybe my other colleagues cannot because we both notice we have different cultural backgrounds, food we're interested in, etc. It helps build relationships," she said. ­
Though lacking in overall diversity, Reid knows her own experiences, as a young woman of color, bring value to her company. For example, as a younger associate, she has successfully suggested new methods for improving the company's consulting contacts through webinars and social media.
"Diversity of thought, no matter how that's exposed — race, gender, sexual orientation, region you grew up in — gives a different lens to see the world. And that's so important," Reid said.
When asked what she hopes everyone got out of the evening's conversation, Jackson said, "I wanted the alumni to realize that coming back to campus and sharing their experiences is invaluable, and I wanted students to realize that they too can be sitting in those same chairs a few years from now living out their dreams." She hopes to pass the torch on to younger COMPASS members to make the panel a yearly event.