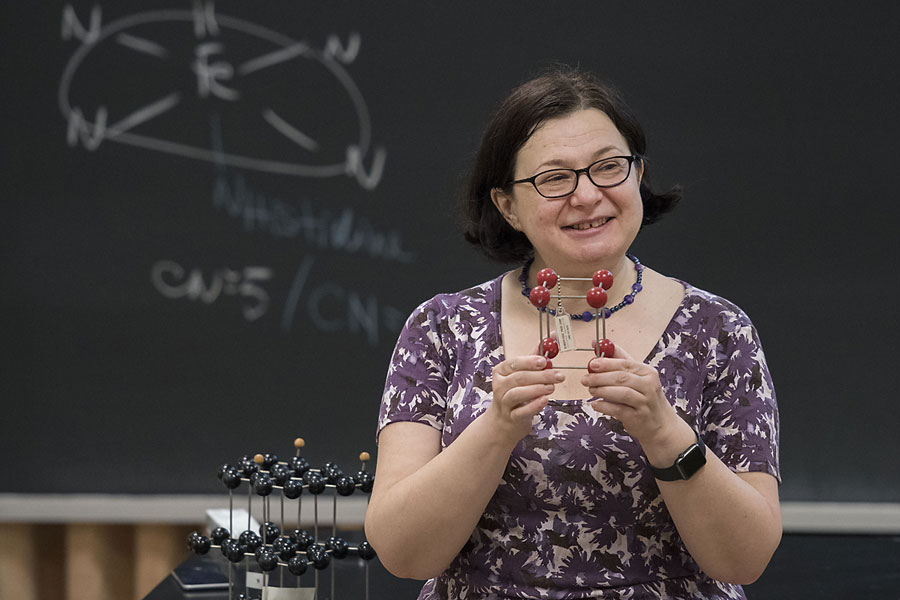 April 25, 2017
Catalina Achim Wins Gelfand Service Award
By Marilyn Rossa Kail
Media Inquiries
Jocelyn Duffy
Chemistry Professor Catalina Achim has been named the recipient of the 2017 Mark Gelfand Service Award for Educational Outreach. She will receive the award at Carnegie Mellon's annual Celebration of Education, which will take place at 4:30 p.m., Thursday, April 27, in Rangos 1 and 2, Cohon University Center.
Achim joined Carnegie Mellon in 2001, carrying on a family legacy of education begun by her parents in Macin, Romania.
Achim has been described by her students as a professor who truly believes in her students. She is a proven leader in developing creative curricular approaches, including the Art and Science of Color course, in collaboration with colleagues at CMU's School of Art.
In 2007, as associate director for Outreach for CMU's Center for Nucleic Acids Science and Technology (CNAST), she founded DNAZone, the STEM outreach program based on science concepts in the K-12 curriculum, with the goals of lowering barriers to educational outreach for the CNAST researchers and generating excitement for science in students through hands-on classroom experiments. DNAZone works with teachers and organizations across southwestern Pennsylvania.
According to those who nominated her for this award, including Professor Bruce Armitage, Associate Professor Subha Ranjan Das and Ph.D. candidate Danielle Chirdon, "Catalina oversees an important and growing program that has a tremendous impact on students and teachers in the community, and also everyone around her at Carnegie Mellon."
Her research focuses on the way metal ions can change the course of nanotechnology for the better when used discerningly. Students in her lab identify ways in which transition metal ions can be placed in tens-of-nanometer structures based on nucleic acids with the goal to confer special electronic and magnetic properties to these structures.
Achim, who earned her Ph.D. in chemistry from CMU in 1998, has received several honors, including the 2004 National Science Foundation CAREER Award and the 2010 Julius Askhin Teaching Award from the Mellon College of Science.