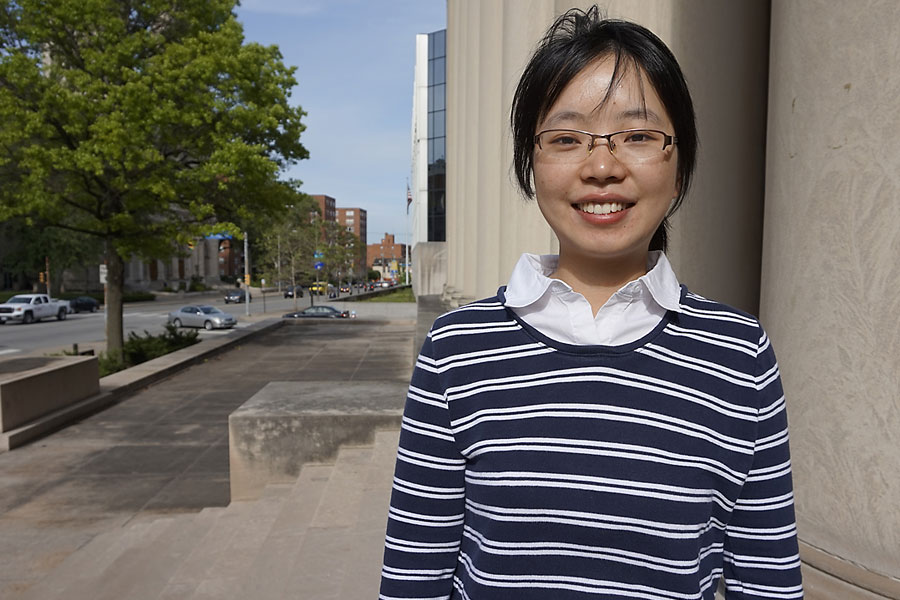 June 29, 2015
Graduate Student Chenjie Zeng Receives Awards from the International Precious Metals Institute and the Materials Research Society
By Jocelyn Duffy jhduffy(through)andrew.cmu.edu
Chemistry Ph.D. candidate Chenjie Zeng has received awards from the International Precious Metals Institute (IPMI) and the Materials Research Society (MRS) for her research on tiny gold nanoparticles called nanoclusters.
Zeng, who is from Fujian Province, China, focuses her research efforts on elucidating the structure of synthetic gold nanoclusters that contain tens to hundreds of gold atoms. Because the structure determines the cluster's properties, her work is critical to developing gold nanoclusters for use in applications including catalysis, electronics, materials science and health care.
"Chenjie is an exceptional student and has done ground-breaking work in gold nanoclusters," said Rongchao Jin, professor of chemistry and Zeng's research advisor. "Her major work greatly expands our horizons."
Zeng is currently investigating gold nanoclusters that have a "magic number" of gold atoms. The number of atoms is "magic" because these clusters are extremely stable. Zeng uses X-ray crystallography to map the clusters' atomic structures and determine how this stable structure evolves. Her research has revealed that cluster size is related to surface structure. She also discovered that the size of the nanocluster could be tuned by changing the surface molecules.
Most recently, Zeng mapped out the structure of Au133, a nanocluster made up of 133 gold atoms and 52 surface-protecting molecules. This marked the biggest gold nanocluster structure ever resolved with X-ray crystallography. The results revealed a number of intricate, universal patterns that are responsible for the high stability of Au133 compared to other sizes of gold nanoclusters.
On April 8, 2015, during the MRS Spring Meeting in San Francisco, Zeng received the Gold Graduate Student Award for the presentation of her project, "Structure Evolution of Atomically Precise Gold Nanoclusters." MRS Graduate Student Awards are intended to honor and encourage graduate students whose academic achievements and current materials research display a high level of excellence and distinction. MRS seeks to recognize students of exceptional ability who show promise for significant future achievement in materials research and education. 
On June 16, Zeng received a student award from the IPMI, the largest and most well known association focused on precious metals, during their 39th annual conference in San Antonio. The award recognizes the work of undergraduate and graduate students around the world whose research is in the field of precious metals. Zeng is one of three students who received the $20,000 award to support her research. In conjunction with Zeng's IPMI award, Chemistry Professor Rongchao Jin received the IPMI Faculty Advisor Award.
Zeng also was honored at the Chinese Embassy in New York City in April, when she received a Chinese Government Award for Outstanding Self-Financed Students Abroad.
"It is very exciting and very encouraging to receive awards that recognize my work," Zeng said.