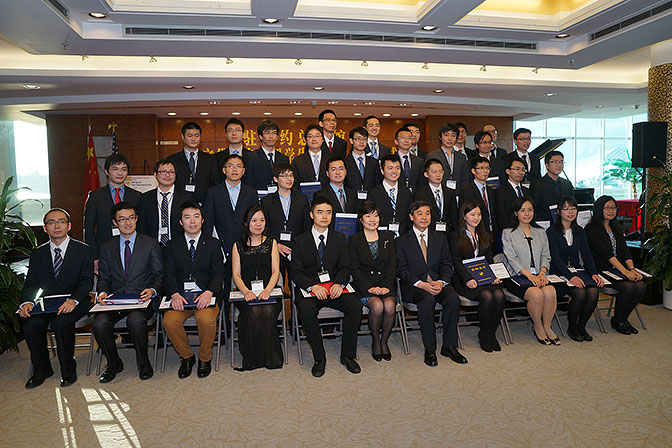 June 29, 2015
Chemistry Doctoral Students Win Chinese Government Awards for Outstanding Self-Financed Students Abroad
By Jocelyn Duffy jhduffy(through)andrew.cmu.edu
PITTSBURGH— Two doctoral students studying in Carnegie Mellon University's Department of Chemistry have been granted the 2014 Chinese Government Awards for Outstanding Self-Financed Students Abroad. Given by the China Scholarship Council, the awards honor self-financed Chinese students studying overseas for their outstanding academic accomplishments and is granted across all fields of study. Hongkun He and Chenjie Zheng accepted their awards at a ceremony and reception held at the Chinese Consulate General in New York.
Hongkun He conducts research in the lab of J.C. Warner University Professor of the Natural Sciences Krzysztof Matyjaszewski. He has published a number of peer-reviewed articles in international journals. Among his research achievements, he has developed a new gel permeation chromatography technique for the characterization of polymerized ionic liquids and novel porous polymers for reversible carbon capture; both are considered to be breakthroughs in their respective fields. He has also been selected as the recipient of the 2014 John and Nancy Harrison Legacy Graduate Fellowship and the 2015 Graduate Student Award at the ACS Excellence in Graduate Polymer Research Symposium.
Chenjie Zheng works in the lab of Chemistry Professor Rongchao Jin. Her research focuses on establishing the structure of synthetic gold nanoclusters that contain tens to hundreds of gold atoms. The structure determines the properties of these tiny particles, making Zeng's work critical to developing gold nanoclusters for use in applications including catalysis, electronics, materials science and health care. This year, Zeng has also received awards from the International Precious Metals Society and the Materials Research Society.
Photo caption: Recipients of the Chinese Government Award for Outstanding Self-Financed Students Abroad who were able to attend the ceremony in New York.