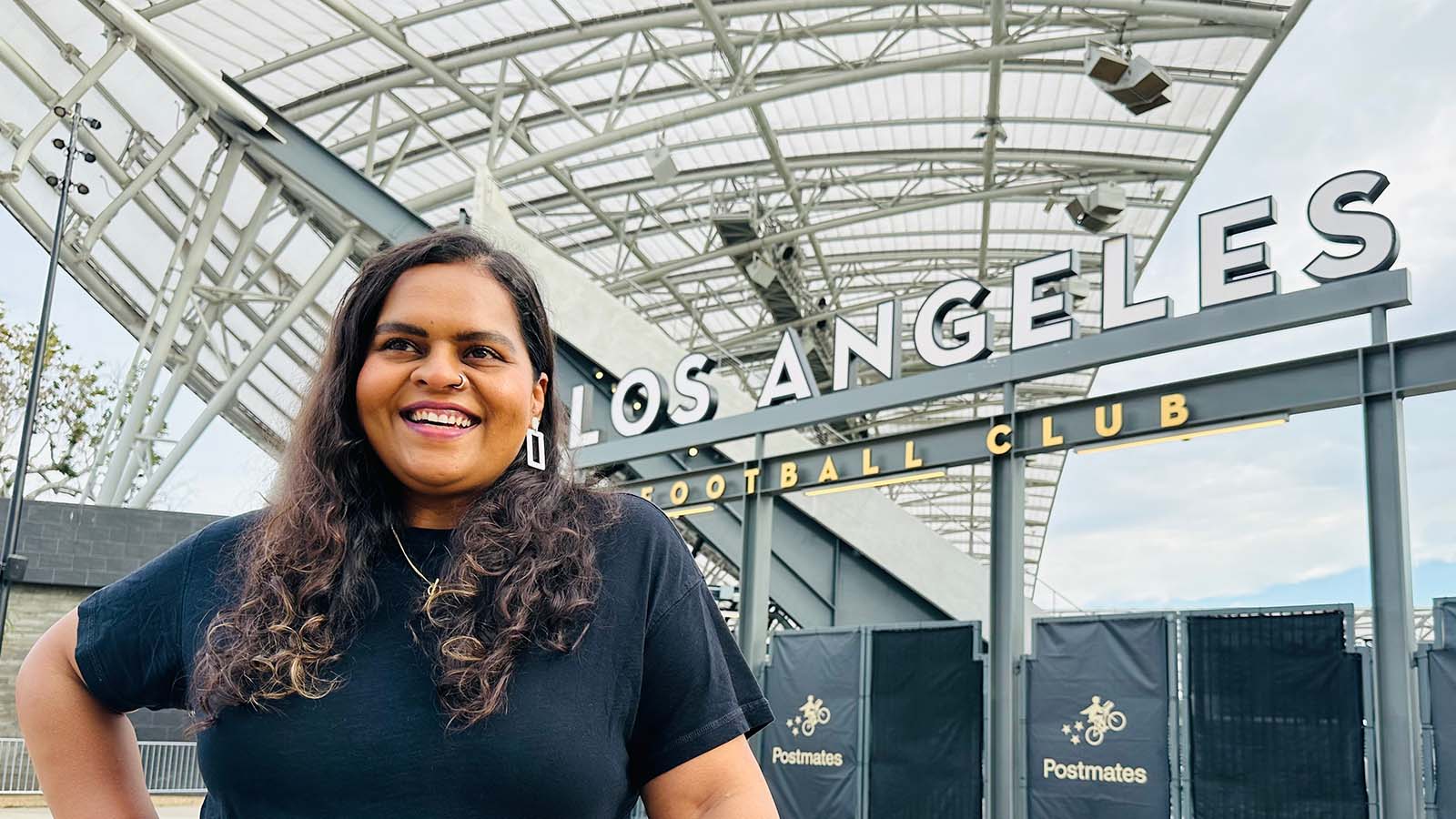 Good Sport
Divya Joseph Building a Career at Apple TV
written by
Gabriella Lossia & Pamela Wigley
Apple TV's first foray into sports programming also was a first for Master of Entertainment Industry Management '14 alumna Divya Joseph, a senior content producer at Apple TV specializing in broadcast design for Apple's Sports Content Initiatives.
"I was never interested in sports from a fan perspective, but my job at Apple TV has increased my excitement for live sports," Joseph said. "I act as a broadcast graphics producer on sports content, working on live motion graphics that are seen throughout the game and studio shows. My team delivers toolkits, templates, and assets to the production team, who then work from broadcast trucks during each game and update the live graphics as needed."
Her day-to-day duties vary, combining meetings and calls with pertinent stakeholders. Part of that responsibility includes managing budgets, schedules and creative direction — with the additional oversight of balancing time, budget and content. To better approach her full load, Joseph said she distributes her work into various parcels.
"When managing a team, it is important to organize responsibilities and information into three buckets: something you are accountable for, something you are responsible for, or something you are just being consulted on or informed of," she said. "For example, throughout the collaboration process with MLS, they are consulted or informed. With the MLS Season Pass, the league is in charge of live production, but I am responsible for Apple branding."
Before working at Apple, Joseph was a senior producer at Troika Media Group, a branding and creative agency in Los Angeles, with clients in the entertainment and sports industry. She started at Troika soon after graduating and worked there for eight years. While there, Joseph said, she learned to be a motion graphics producer, how to use the many "tools of the trade," even as they evolved each year, the specific skills people need, how much to charge for the work, and more. Before departing Troika, Joseph had become a senior producer. "Those eight years helped me get the job at Apple because I had transferable skills."
Her career was built on what she learned via a solid course schedule and internships during the MEIM program; the latter included Public Relations and Digital Sales at Cornerstone Agency, Warner Music Group, PMK-BNC and Sunshine Sachs. Joseph also interned with the Epic Picture Group at the Cannes Film Festival in 2013. Prior to MEIM, Joseph worked for six years in advertising and artist management, managing one of India's biggest Rock Bands, Thermal And A Quarter.
"All of this taught me essential life skills, including technical competencies like scheduling and budgeting, but also soft skills like how to manage egos and expectations," she said. That training came in handily when she joined Apple TV's sport content area.
Hard work has been essential to Joseph's ladder to success, and she acknowledges that. She encourages others to pursue their passions with a similar attitude — citing the need to stay current on news, politics and emerging technology within the industry.
"Have a research mindset and look into competitors," Joseph said. "Technology is no longer just a tool. Companies are also content creators who provide a service. If you understand this, you'll realize there are many tech companies out there with roles that could suit your skill sets."
Finally, she said, face the competition confidently. Share in co-workers' successes.
"Sharing puts you in a better frame of mind and provides you with a reference by learning what steps others have taken to succeed," she said. "Nobody's journey is the same, and you never know when you'll work together in the future!"