Lovett Leads CMU's Unprecedented Move to Remote Education
In a matter of days, Carnegie Mellon transitioned 4,923 course-sections — 4,592 on the Pittsburgh campus alone — to remote instruction, showcasing its creativity, resilience and years of leadership and expertise in teaching and learning. Leading the quickly developing university-wide effort was Marsha Lovett.
Lovett is director of the Eberly Center for Teaching Excellence and Educational Innovation, associate vice provost for Teaching Innovation and Learning Analytics, and a teaching professor in the Department of Psychology. As the coronavirus situation began to escalate in the United States, Lovett began thinking how the Eberly Center could help more than 1,700 faculty and instructors translate their courses to a remote model.
One of her first moves was to establish academic department liaisons to act as a bridge between their faculty and the Eberly Center to communicate important information about key needs and resources. 
"The liaisons played a crucial role in so many ways," Lovett said. "They identified courses that would be difficult to translate online because they relied heavily on in-class equipment or group-based, in-person interactions. They also helped collect information on courses' readiness to be taught remotely. Over just a handful of days, 95% of our courses were ready."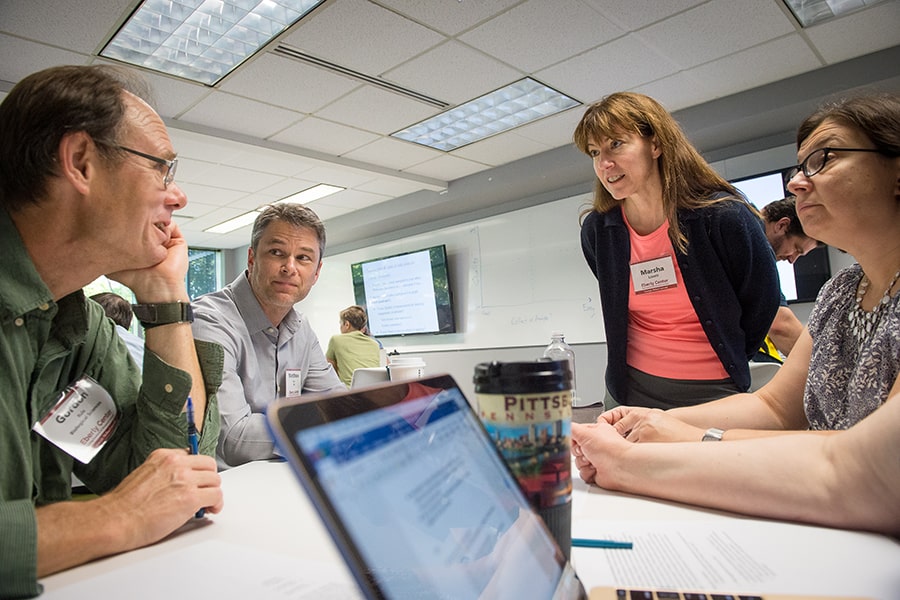 Lovett said her colleagues in the Eberly Center quickly mobilized to create online resources to help instructors. She said their approach centered around using Canvas, CMU's learning management system; Zoom, an online web conferencing platform; Google apps for education; and a variety of Canvas "plug-ins."
"Using this common toolkit, students and faculty would not have to learn many different tools, and everyone could more easily share knowledge across the CMU community," she said. "Faculty who were effectively using other online tools were encouraged to continue to use what was working for them. The goal was to minimize the disruption and ease the learning curve for all involved."
The Eberly Center also made available a series of interactive how-to webinars, established an email address (eberly-assist@andrew.cmu.edu) where faculty could submit questions and worked with department liaisons to coordinate meetings to help faculty make the transition. Everyone at the Eberly Center contributed to this major effort — from creating reports for the liaisons summarizing the course readiness data, to helping faculty identify which tools best match their teaching needs, to providing timely how-to help, to consulting on syllabus changes.
"This was going to be a big challenge, but I knew with everyone pitching in, we would be able to do it," Lovett said. "The Eberly Center team interacted with Computing Services the most, but there were other units across campus that made key contributions, including the Registrar's Office, the Student Academic Success Center, including the Office of Disability Resources, the Office of General Counsel and Marketing & Communications."
Lovett lauded CMU's technical expertise.
"It's important to highlight that CMU has both an amazing central Computing Services team and a host of highly skilled and collaborative IT professionals working within CMU's schools and colleges. Seeing all of these units communicate about the problems they were facing and collaborate on solutions was incredible."
While the most common approach to remote instruction is moving in-person classes to "live" Zoom meetings, some of the more interesting and innovative class transitions, according to Lovett, are the science labs and drama courses.   
"This was going to be a big challenge, but I knew with everyone pitching in, we would be able to do it."
Now that previously planned live performances on campus are not possible, faculty in the School of Drama are grappling with the challenge of how to adapt nine student theater productions in the next seven weeks.
Faculty recast this challenge as an opportunity for students to engage their creativity and apply their craft. Via Zoom, faculty gathered the 152 artists collaborating on these productions and leveraged six breakout rooms to collectively generate creative ways to adapt productions when both audience and artists are engaged in social distancing.
"We can't wait to see the results," she said.
Lovett said some science lab instructors were able to pre-record lab procedures so students could view the process remotely and receive corresponding datasets to analyze and interpret.
"We've heard numerous stories of faculty and students connecting in their online classes and feeling good to be back in learning community with each other." 
Thus far, the herculean transition to remote instruction has been a success, "knock on wood!"
"The first few days went incredibly well," Lovett said. "Approximately 1,000 class meetings were held on Wednesday [the first day of classes] alone. Last Wednesday through Friday, we had more than 40,000 logins and 1.5 million page views on Canvas. We've heard numerous stories of faculty and students connecting in their online classes and feeling good to be back in learning community with each other." 
Lovett said her team is now looking to help instructors with best practices for teaching students across multiple time zones and administering exams online. The Eberly Center has prepared webpages with strategies and suggestions on each topic.
With phase one — the "make it run" stage — completed, Lovett and the Eberly Center are now turning their focus to phase two of the transition.
"We can now consider ways to incorporate more active learning strategies into the online format," she said. "Online instruction certainly has its own challenges, but it also offers a new set of opportunities, and I look forward to helping faculty and students get the feedback and help they need to make refinements as we all develop new approaches to online teaching and learning.
"Folks have done an amazing job," she said.
May 2020 Stories