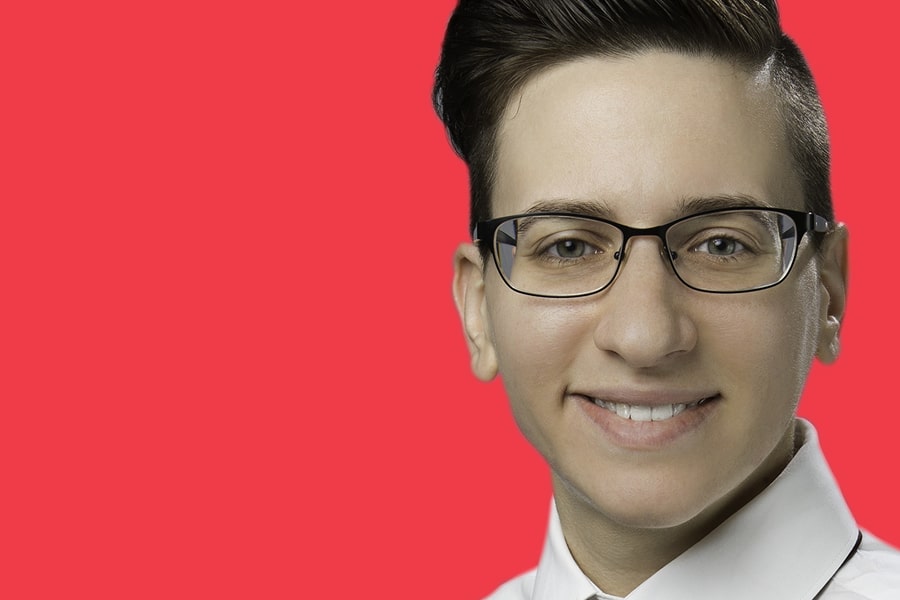 March 09, 2021
LD Ortis Is New Director of Student Programs & Engagement
Following an extensive search to find a bold and creative leader with a passion for student-centered diversity, equity and inclusion, the Center for Student Diversity and Inclusion has announced that LD Ortis will become director of student programs and engagement.
"We are thrilled to welcome LD Ortis to the center team," said Associate Dean and Executive Director M. Shernell Smith. "They bring a learner-centered, whole-person approach to their work and will act as a guide and facilitator for learning. Ortis is a passionate, warm and gentle disrupter who values collaborative change-making, and will help us build upon our strong diversity and equity narrative and meet our mission of achieving an inclusive and transformative experience for all students."
Ortis (they/them/their) most recently served as associate director of student life and an adjunct faculty member in undergraduate leadership studies, and higher education and student affairs leadership at the University of Northern Colorado (UNC). Ortis worked collaboratively to address systemic oppression by removing barriers and increasing access for marginalized communities. Throughout their career, they have served on many campus-wide committees focused on diversity, equity and inclusion efforts. Ortis also co-founded UNCs Interfaith Engagement Committee and served nationally on the American College Personnel Association's Commission for Spirituality, Faith, Religion and Meaning. 
Diversity, equity and inclusion are core to Ortis' research, teaching and professional experiences. Their research areas and interests include identity development, social justice, the scholarship of teaching and learning (SOTL), international and cross-cultural education, professional development and leadership. Ortis has over a decade of experience across higher education including housing and residential education, community and engaged learning, academic advising and faculty preparation.

"I am very excited to join a student-centered, team-oriented group that champions inclusive excellence through qualities like flexibility, responsiveness and compassion," said Ortis. "Collaboration is central to systemic change and creating more equitable and inclusive spaces for all. As a scholar practitioner, this position will bridge my faculty and student affairs foci to serve the CMU and Pittsburgh communities."
Beyond their professional work, Ortis is an avid podcast listener, reader and explorer of social justice media. As a Canadian, they are excited to move north again with their wife Caitlin, two and a half year-old twins Veda and Wells, and their cats.
"I am so excited for LD to join the center team," said Asha-Anne Tyagi, a sophomore majoring in civil and environmental engineering and engineering and public policy. "During the interview process with them, I learned so much about DEI, how to handle compassion fatigue, and more. I can't wait for everyone who the center reaches to also learn from LD Ortis!"
Ortis has joined the center team in time to support the search process for coordinators for student support and engagement positions, which will be under Ortis' direct supervision. In the coming weeks, the center will offer opportunities to the CMU community to meet Ortis virtually.