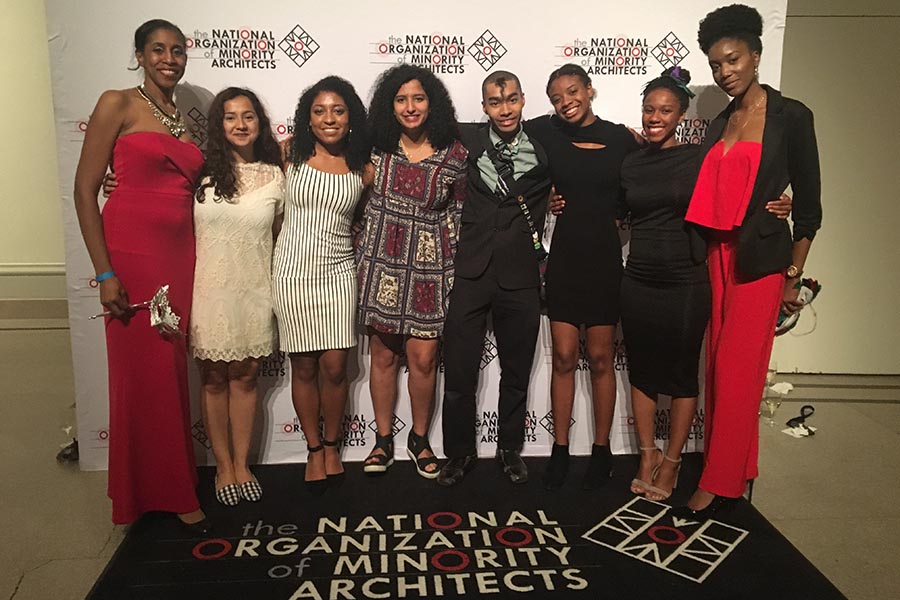 November 11, 2019
CMU Plays a Leading Role at the National Organization of Minority Architects
Assistant Professor of Architecture Erica Cochran Hameen was recognized for social justice work
By Mandi Semple & Ningxin Zhu msemple(through)andrew.cmu.edu
Media Inquiries
Carnegie Mellon University's Erica Cochran Hameen has spent her career working to build bridges among architects and use work related to architecture to advance social justice.
Cochran, an assistant professor of Architecture and CMU alumna, recently was recognized for this work as the winner of the Presidential Leadership Award at the National Organization of Minority Architects' (NOMA) 47th National Conference for her dedication and leadership in conference planning and architecture-related social justice work.
Cochran is the co-director of the Center for Building Performance and Diagnostics (CBPD), track chair of the Doctor of Professional Practice (DPP) program, track co-chair of the Master of Science in Architecture–Engineering–Construction Management (AECM) program and the track chair of the Architecture–Engineering–Construction Management Ph.D. program at CMU. Her architectural experience includes more than 50 educational, media and broadcast, residential, community and transportation facilities. Previous honors include Best Proposal in a Department of Energy Competition, Pittsburgh Courier Women of Excellence Award, and an AIA award for the Diversity Recognition Program for the UDream program at CMU.
She served as one of the principal investigators for the Consortium for Building Energy Innovation established by the DOE as an Energy-Regional Innovation Cluster and has led several research projects focused on improving indoor environmental quality, occupant comfort and energy efficiency.
She is active in several nonprofit organizations and serves on the board of directors for the Pittsburgh Green Building Alliance and as a trustee and chair of the Buildings and Grounds Committee for Phipps Conservatory and Botanical Gardens.
This year's NOMA conference, which occurred Oct. 16-20, was the largest in the history of NOMA and brought together 1,300 building industry thought leaders, future architects and luminous designers under one roof in Brooklyn, New York.
Themed "Believe the Hype: A Global Collective of Industry Change Agents," the conference was packed with more than 100 educational seminars covering a wide array of topics, including groundbreaking design strategies, new product and design techniques, community justice, business development and the unique architecture that characterizes Brooklyn.
Among the conference participants were eight students from Carnegie Mellon's NOMA chapter. The CMU chapter was formed in 2014 by a group of minority students who wanted a space to foster communication, cooperation, solidarity and fellowship among minority students in the School of Architecture at CMU. Cochran is the CMU NOMA chapter faculty adviser.
"The students started working over the summer on their competition entry, which is an incredible amount of work," Cochran said. "They reached out to the NOMA Pittsburgh professional chapter and worked with local professional architects at nights and on the weekends to provide design critiques. I am extremely proud of them."
Cochran served as the host chapter conference co-chair, along with Heather O'Neal, NOMA, AIA. She delivered the national welcome speech at the general body board meeting for all members, the welcome and sponsorship thank you at the awards banquet, the welcome at the Bros Arts Ball held at the Brooklyn Museum, and introduced one of the educational speakers whose session was titled, "Queen, Don't Be Afraid to Rule Like a King."
"Introducing Kalilah Wright was incredibly special to me," Cochran said. "She's been one of my mentees since she was a NOMA student and now owns her own company slated to receive almost $1 million in sales after just a few years in business."
The NOMA conference is the premier assembly of minority design professionals and is a place designated for future designers to "learn, make lifetime connections, and develop professional relationships in a way that no other organization can match."