News Snippets from CMU Physics
Spring/Summer 2020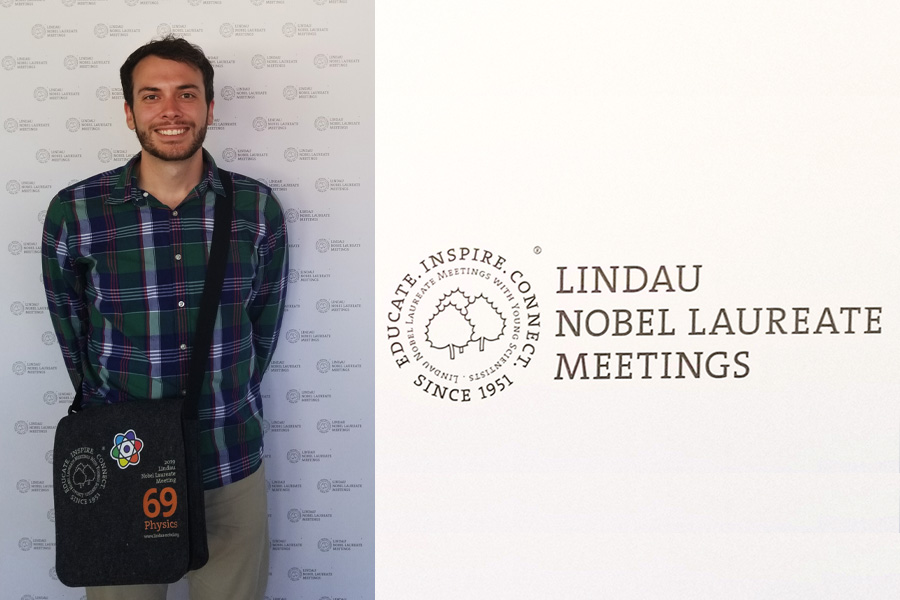 Physics Graduate Student Attends Lindau Nobel Laureate Meeting
Physics Ph.D. candidate Dacen Waters attended the 69th annual Lindau Nobel Laureate Meeting in Lake Constance, Germany, last month. This year's gathering brought together 39 Nobel Laureates and 580 scientists from 89 countries for an extensive week of discussions, dialogue and social gatherings. Waters attended a Laureate Lunch with Konstantin Novoselov, who received the Nobel Prize in 2010 for his co-discovery of graphene, and met Duncan Haldane, a prominent condensed matter theorist who was awarded the 2016 Nobel Prize for his work on topological phases of matter.
"Being able to listen to them and talk about what is going on in the field right now and tell them about my own work was an amazing experience," said Waters.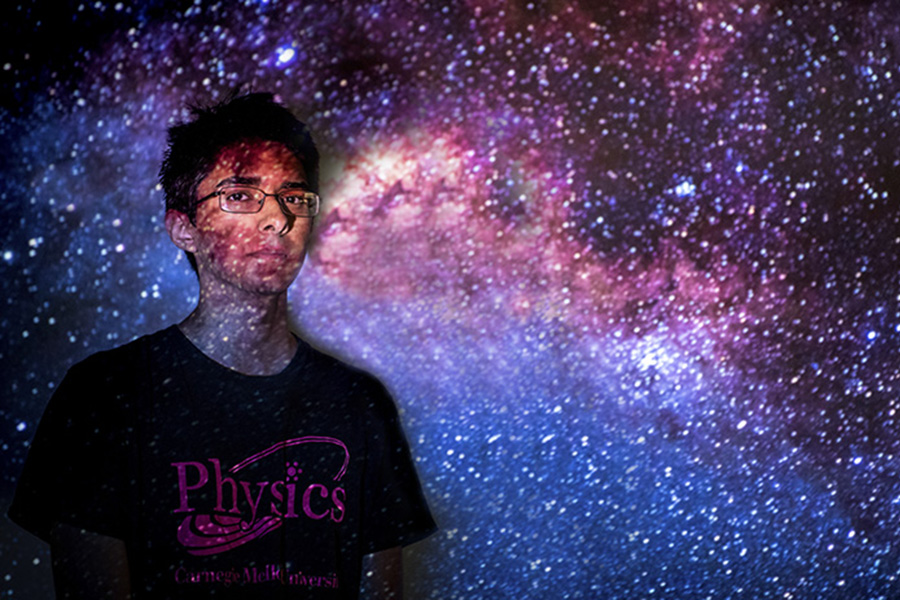 Undergraduate Explores Mysteries of the Universe
Sophomore Nihar Dalal spent his summer modeling the number of galaxies expected to be seen by the yet-to-be-launched James Webb Space Telescope under the direction of Associate Professor of Physics Hy Trac. A double major in mathematics and physics, Dalal took advantage of the research opportunities available to undergraduates at CMU. He applied for and received a Summer Undergraduate Research Fellowship (SURF) through the Undergraduate Research Office, which provided him $3,500 to pursue the proposed topic of his choice. 
"I've had fantastic professors so far," Dalal said. "The faculty at CMU are so open and committed to their student's successes. The fact that I was able to find research in my freshman year at this level is incredible."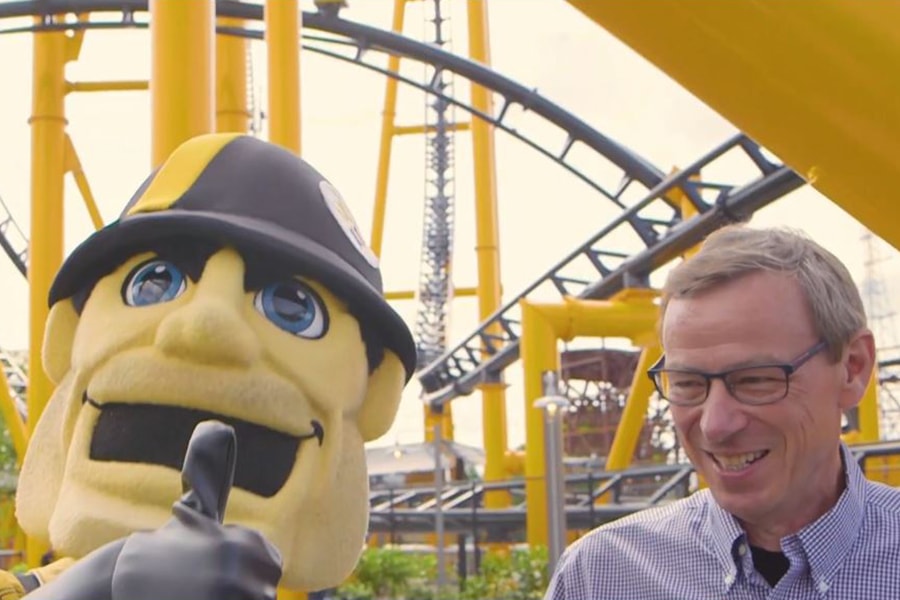 Professor Curtis Meyer Talks G-Force on Kennywood's New Coaster with WQED
Take a ride — and a physics lesson — on the new Steel Curtain coaster at Kennywood Park. Physics' Curtis Meyer explains the forces that keep riders in their seats in a 60-second feature from WQED's digital series, "Just a Minute."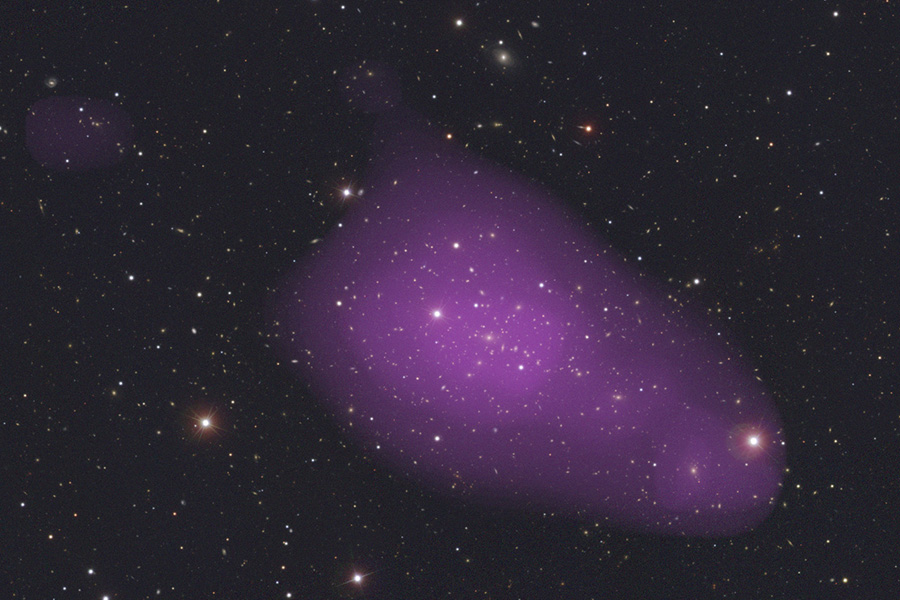 Scientists Weigh the Balance of Matter in Galaxy Clusters
A new study published in Nature Communications details how an international team led by astrophysicists from the University of Michigan and the University of Birmingham, and including a Carnegie Mellon University postdoctoral fellow, used data from the Local Cluster Substructure Survey (LoCuSS) to measure the connections between the three main mass components that comprise galaxy clusters — dark matter, hot gas and stars.  
Using sophisticated statistical models and algorithms built by Arya Farahi during his doctoral studies at the University of Michigan, the team was able to conclude that the sum of gas and stars across the clusters that they studied is a nearly fixed fraction of the dark matter mass. This means that as stars form, the amount of hot gas available will decrease proportionally. "This validates the predictions of the prevailing cold dark matter theory. Everything is consistent with our current understanding of the universe," said Farahi, who is currently a McWilliams Postdoctoral Fellow in the Department of Physics at Carnegie Mellon University.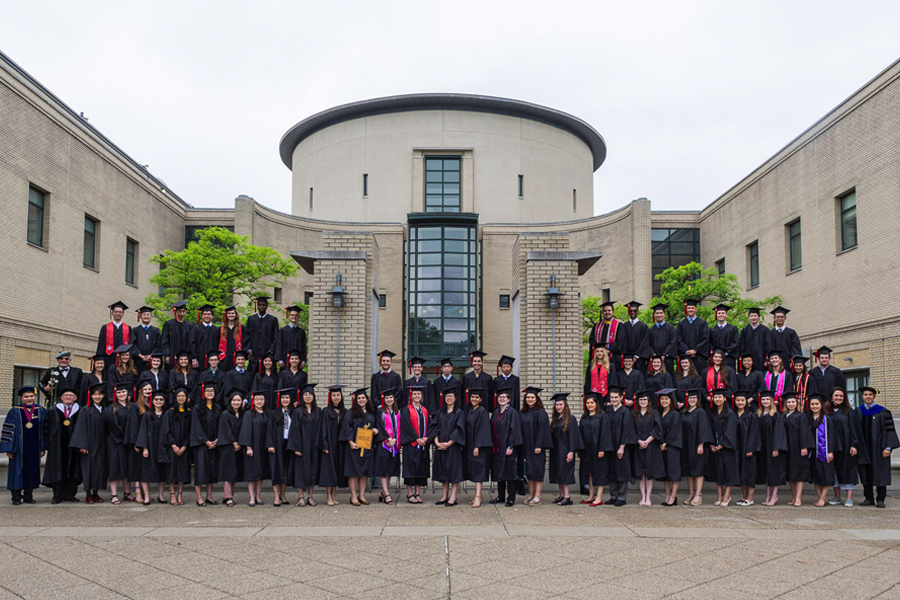 CMU Physics Students Inducted into Phi Beta Kappa
Three physics majors - Eric Barrett, Alex Fernez, and Iand Holst - were among the 56 Carnegie Mellon students inducted into the university's Phi Beta Kappa (PBK) chapter at a ceremony on Friday, May 17. Barrett was asked to give the keynote speech.
"We've all been nominated for our hard work at Carnegie Mellon," Barrett said in his speech. "This is certainly a recognition of all of our past accomplishments, but it's also more than that. We've come here and learned lots of things and gotten good grades, but now it means nothing if we don't use it."
The honor indicates that these students demonstrated high academic achievement in the liberal arts and sciences over the course of their academic careers. Only about 10% of U.S. colleges and universities have Phi Beta Kappa chapters, and these chapters select only 10% of their arts and sciences graduates to join.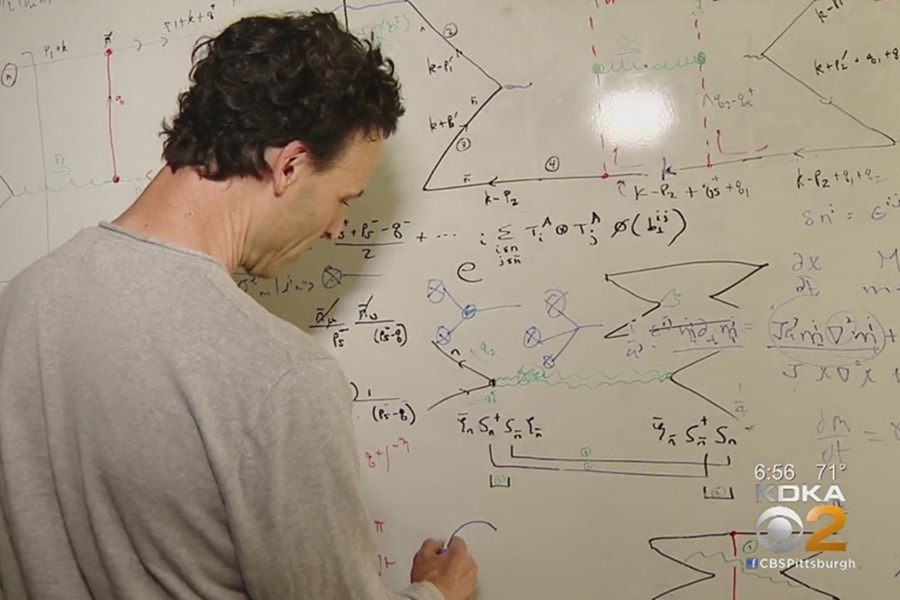 The Search for the Real Life Sheldon and Leonard
On May 16, 2019, CBS's hit comedy The Big Bang Theory aired its final episode. To commemorate the show's record-breaking run, KDKA set out to find the characters in real life, and they found CMU Physics Professors Ira Rothstein and Steve Garoff.
Rothstein, like Sheldon Cooper, is a theoretical physicist. His work was even featured on Sheldon's chalk board in one episode.
"Anything that gets the public interested in science I think is great," said Rothstein. "And I think this show definitely did it."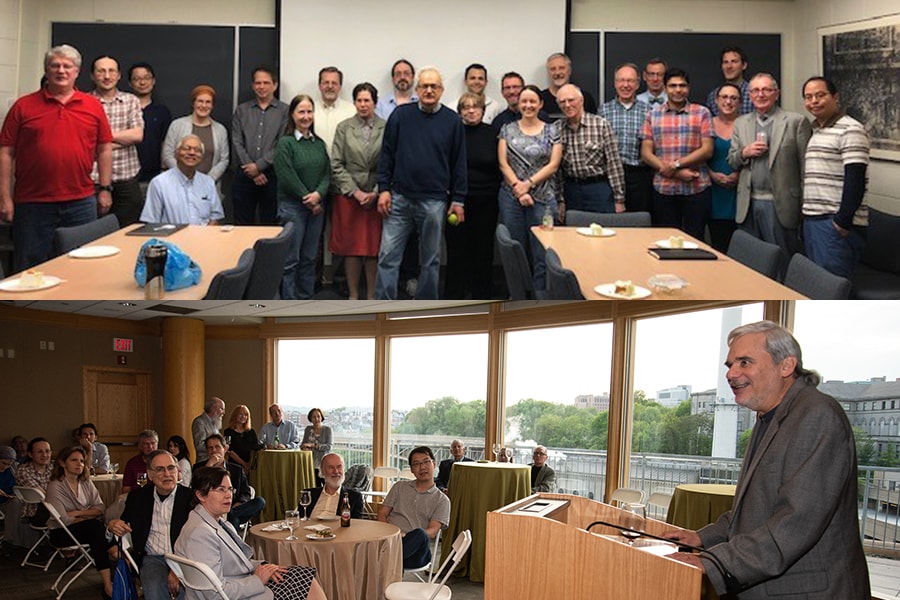 Congratulations to Our New Emeriti!
CMU Physics Profs. George Klein and Gregg Franklin are retiring at the end of this school year. Two separate parties were held in their honor, celebrating their many achievements and contributions to the department over the course of their careers.
The department would like to thank Dr. Klein and Dr. Franklin for their years of service to the university!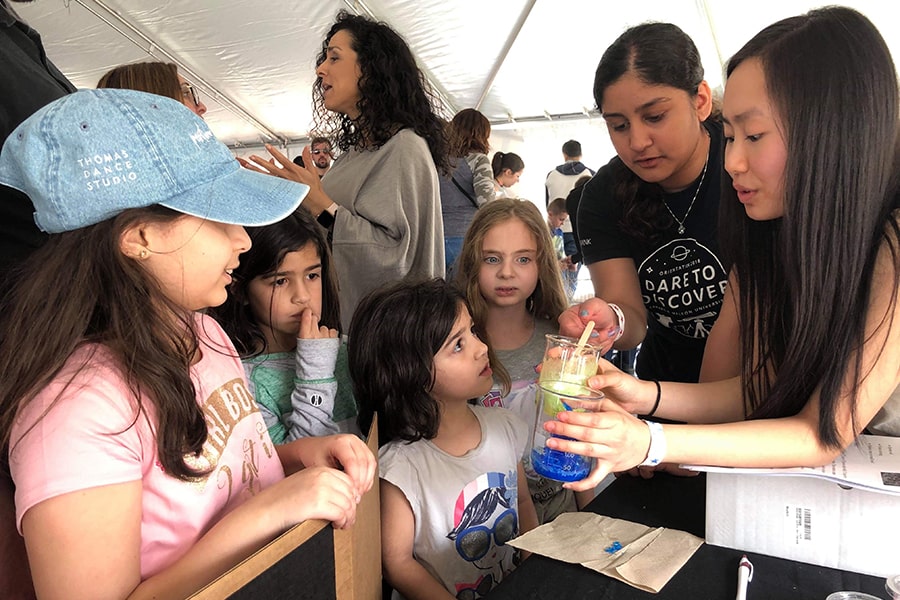 CMU Women in Science Grows Crystals at Carnival
The CMU Women in Science (WiS) club was on display at Spring Carnival, demonstrating crystal growth for Reunion Weekend attendees and their families. Using just epsom salts, food coloring, and small glass beakers, club members grew colorful and intricate crystals to the amazement of the children in the audience. 
"We [had] such a fun and rewarding experience," said Zhiyao "Olivia" Li, a Physics major and the WiS President.
The club hopes their booth helped raise awareness of the gender equality and diversity issues that currently plague STEM fields, as well as encourage a few young people to pursue the sciences.
Left: WiS members inspiring the next generation of women scientists.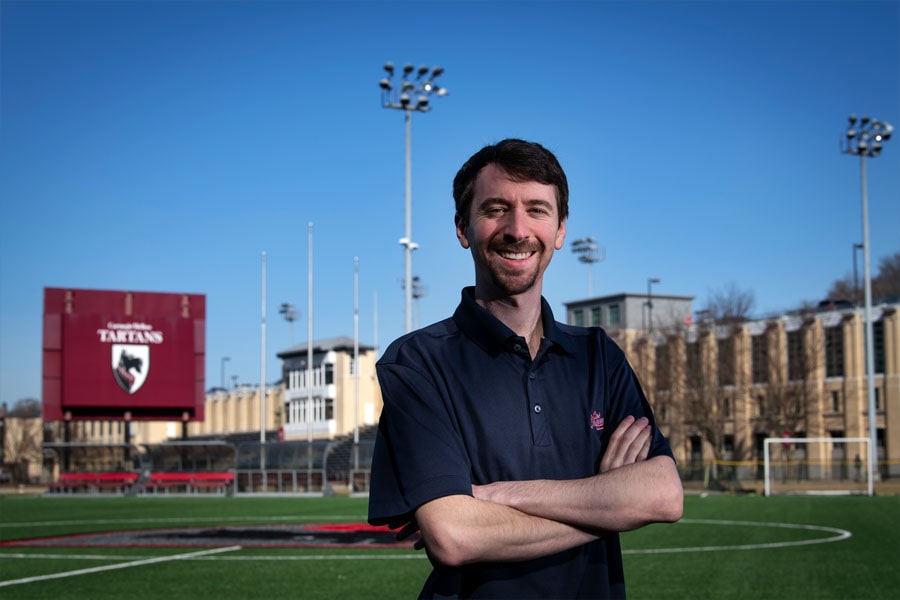 Grad Student Lands Position with Atlanta Braves
CMU Physics graduate student Evan Tucker is poised to become Major League Baseball's newest recruit, but he won't be pitching fast balls or catching pop flies. He has been offered a full time position as a data scientist for research and development for the Atlanta Braves, to begin as soon as he finishes his Ph.D. this summer.
A lifelong baseball fan, Tucker applied for an internship with the team, and spent last summer researching analytics, writing code, and organizing and cleaning data for things like batting averages and other metrics that evaluate player performance - work that is not unlike what he does as a physics grad student, measuring galaxy cluster masses while considering substructure in the cluster environments.
"Being able to work in baseball has always been a pipedream for me," Tucker said. 
Read the full story here.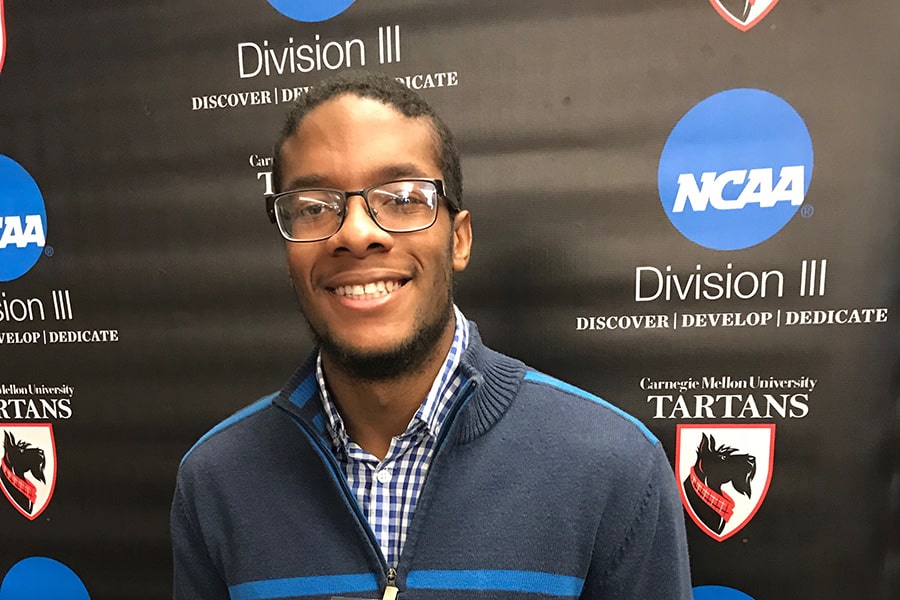 Physics Undergraduate Athletes Honored for Academic Success
Two CMU Physics majors were among 32 Carnegie Mellon, including 4 Mellon College of Science, students who were recognized at the 2018 Student-Athlete Academic Achievement Celebration on December 12, 2018. Senior Katja Brackelmanns-Puig (Women's Soccer) and junior Fred Dauphin (Men's Track and Field) were praised for their successes in athletics while maintaining superb academic records. The 32 juniors and seniors who attended the ceremony have a combined grade-point average of 3.74. 
Laurie Weingart, interim provost and the Richard M. and Margaret S. Cyert Professor of Organizational Behavior and Theory at the Tepper School of Business, said athletics is a vital component of the CMU student experience. "It really contributes to our vision of what a healthy and well-balanced community looks like," Weingart said. "You work every day to reach new levels of achievement both on the field and off the field, year in and year out. It is truly impressive."
Read the full story here.
Left: Undergraduate Physics major Fred Dauphin at the 2018 Student-Athlete Academic Achievement Celebration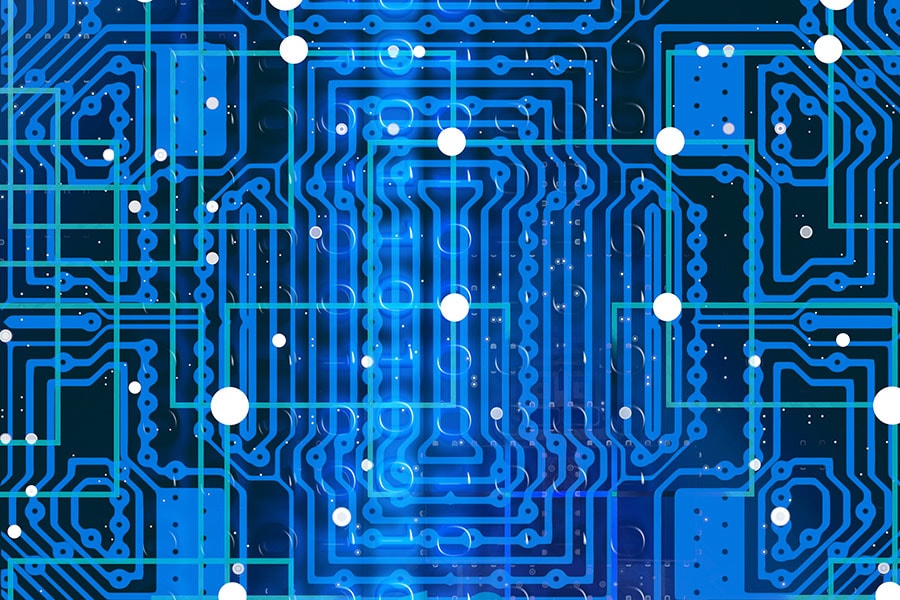 CMU Physics to Offer Quantum Computation and Quantum Information Theory in Fall 2019.
While still in the earliest stages of development, quantum computing is considered by many to be the future of computing. Using the fundamental principles of quantum mechanics, quantum computers will be much faster and more efficient than any existing supercomputer, allowing scientists to solve complex problems that are currently impossible to solve. In the class, students will learn the basics of classical information theory, which studies how information is quantified, stored and communicated using standard, binary methods. Then they will delve into quantum information theory, which looks at how information is processed in a quantum world governed by the rules of quantum mechanics. "Companies like Google and IBM, as well as many governments, are making large investments into quantum computing," said Physics Professor Ira Rothstein.
Quantum Computation and Quantum Information Theory (33-658) will be offered in fall 2019, and will be open to all interested students who have taken the pre-requisite class in Quantum Mechanics (33-234). Quantum Mechanics will be given in the spring 2019 semester.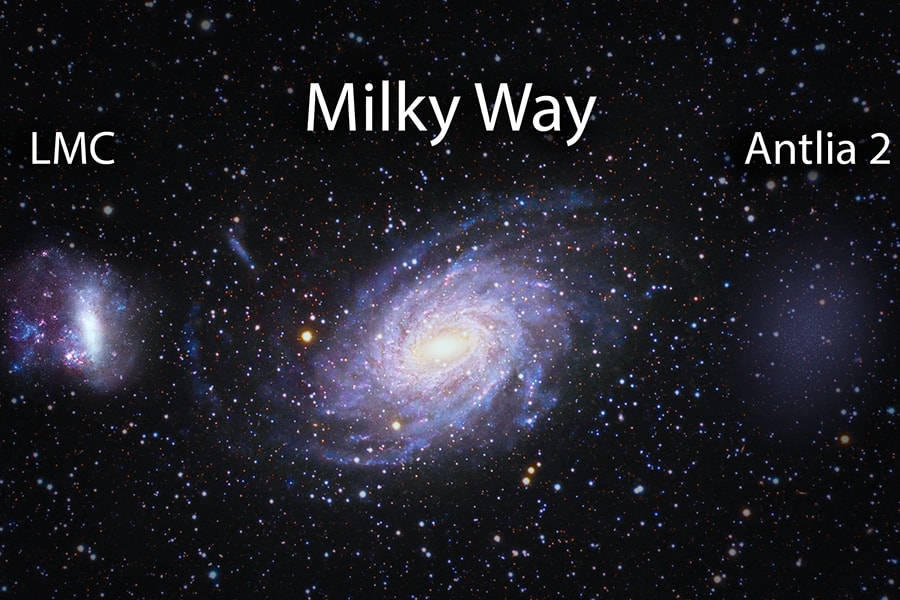 Gaia Spots a 'Ghost' Galaxy Next Door
An international team of researchers, including CMU Physics professors Sergey Koposov and Matthew Walker, have used data from the European Space Agency's Gaia satellite to discover an enormous galaxy lurking in the outskirts of the Milky Way. Antlia 2 (Ant 2) had previously escaped detection due to its astonishingly low density and perfectly chosen hiding place behind the Milky Way's disk. "This is a ghost of a galaxy," said Gabriel Torrealba, a physicist at the Academia Sinica Institute of Astronomy and Astrophysics in Taiwan and the lead author of the discovery paper. "Objects as diffuse as Ant 2 have simply not been seen before."
Ant 2, a dwarf galaxy that is a satellite of the Milky Way, is unlike any of the other known dwarf satellites of the Milky Way. It is much larger in size, yet it gives off much less light. One possible reason for the unusual properties of Ant 2 is the gravitational interaction between the Milky Way and the dwarf galaxy. "The simplest explanation of why Ant 2 appears to have so little mass today is that it is being taken apart by the galactic tides," said Koposov.
"Compared to the rest of the 60 or so Milky Way satellites, Ant 2 is an oddball," said Walker. "We are wondering whether this galaxy is just the tip of an iceberg, and the Milky Way is surrounded by a large population of nearly invisible dwarfs similar to this one." The researchers will continue to search the Gaia data for similar galaxies.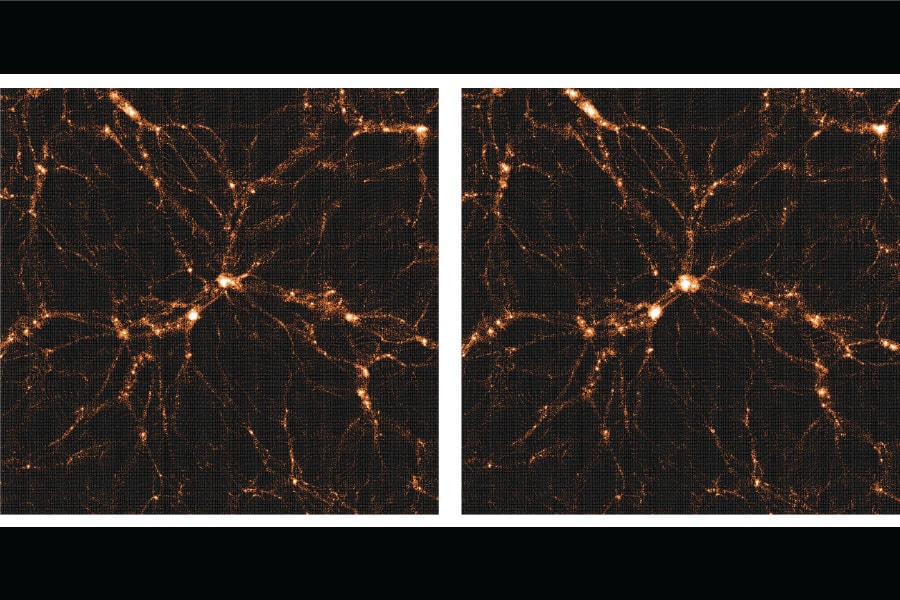 Hyper Suprime-Cam Survey Maps Dark Matter in the Universe
An international group of researchers, including CMU Physics professor Rachel Mandelbaum, has released the deepest wide field map of the three-dimensional distribution of matter in the universe ever made and increased the precision of constraints for dark energy with the Hyper Suprime-Cam survey (HSC). As the universe has expanded over the last 14 billion years or so, galaxies and dark matter have been increasingly drawn together by gravity, creating a clumpy landscape with large aggregates of matter separated by voids where there is little or no matter.
The research team compared their map with the fluctuations predicted by the European Space Agency Planck satellite's observations of the cosmic microwave background radiation — radiation from the earliest days of the universe. The HSC measurements were slightly lower than, but still statistically consistent with Planck's. The fact that HSC and other weak lensing surveys all find slightly lower results than Planck raises the tantalizing question of whether dark energy truly behaves like Einstein's cosmological constant. "Our map gives us a better picture of how much dark energy there is and tells us a little more about its properties and how it's making the expansion of the universe accelerate," Mandelbaum said. "The HSC is a great complement to other surveys. Combining data across projects will be a powerful tool as we try uncover more and more about the nature of dark matter and dark energy."
The weak lensing surveys such as HSC (left) prefer a slightly less clumpy universe than that predicted by Planck (right). Credit: HSC Survey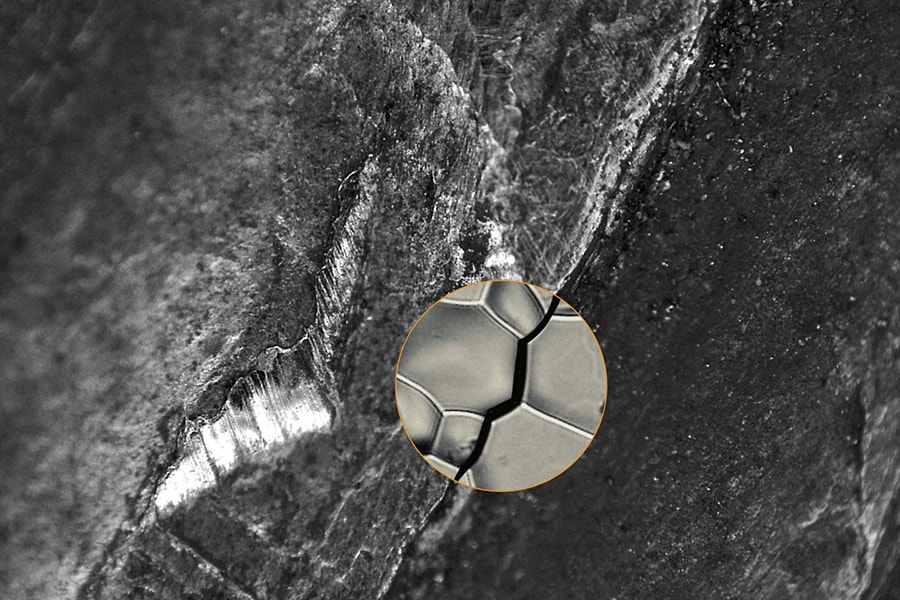 CMU Tech Takes 3D Photo of Metal Microstructure
Using a technology developed by Carnegie Mellon University and the Argonne National Laboratory, a multi-institution collaboration of researchers has for the first time taken a 3D image of a microscopic crack as it spreads through metal damaged by hydrogen. Until recently, these fractures could only be seen after the material failed, and researchers could only guess at what led to the fracture. The picture demonstrates an improved methodology for studying how metal can fail in the presence of a stressor. The results of this work can be used to inform the creation of new materials and increase the durability and reliability of most things made out of metal, including bridges and airplanes.
The research was initiated by a team at MIT that was assisted by Carnegie Mellon and Argonne scientists. CMU Physics professor Robert M. Suter and colleagues at Argonne developed a new way to study the microstructure of materials. Their technique combines high-energy diffraction microscopy and X-ray absorption tomography with high-performance computing and allows researchers to view grain orientations, grain boundaries and cracks within a material. This level of resolution makes it possible to see a crack when it forms and follow its progression. "It is extremely gratifying to see our new microscopy yield results that are directly relevant for applications," Suter said.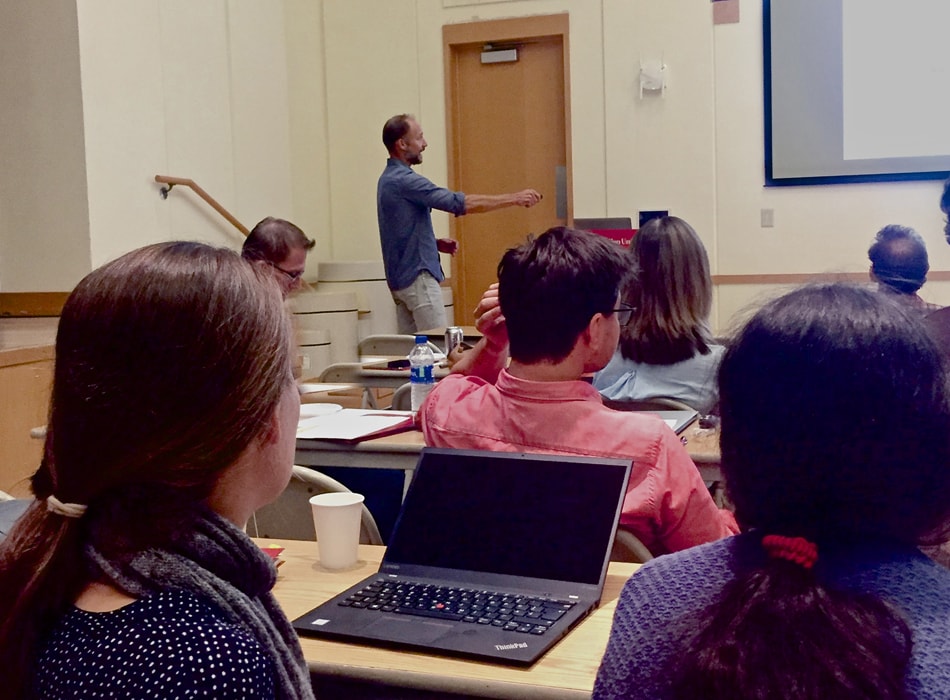 Biological Physics Workshop discusses future directions in research on organization within cells
With generous support from the DSF Charitable Foundation, the Department of Physics hosted a Biological Physics Workshop on the Physics and Biology of Subcellular Structure and Remodeling, which took place at the Cohon University Center on September 06 and 07, 2018. Three internationally renowned science leaders, as well as groups from CMU, the University of Pittsburgh, and its Medical School, presented their latest work. However, as its main focus the workshop featured transformational work by junior scientists in the field, who were brought in from all over the country and abroad to share their exciting ideas.
The workshop also served as a kick-off event for faculty searches, in which the Physics Department currently tries to attract two junior scientists in experimental and in theoretical Biological Physics. Thereby, beyond stimulating discussions against the backdrop of a rapidly transforming field, the workshop also provided a rich source of information about new directions in an area of research that is currently particularly exciting.
Dr. Pierre Sens (Institut Pasteur, Paris) presents his modeling results for transport in the Golgi organelle.