August 15, 2019
A Meeting to Remember
Physics Graduate Student Attends Lindau Nobel Laureate Meeting
By Emily Payne epayne(through)andrew.cmu.edu
Media Inquiries
Last month, physics Ph.D. candidate Dacen Waters attended the 69th annual Lindau Nobel Laureate Meeting. Held on Lake Constance, Germany, the meeting is a chance for young scientists to meet and mingle with the mavens behind some of science's greatest discoveries.
The meeting alternates between the natural science Nobel Prize disciplines — physiology and medicine, physics and chemistry — with an interdisciplinary meeting encompassing all three disciplines every five years.
This year's gathering brought together 39 Nobel Laureates and 580 scientists from 89 countries for an extensive week of discussions, dialogue and social gatherings. 
The program is packed with a number of large events such as lectures, panel discussions and master classes that allow attendees to hear from the Laureates about their discoveries and their careers and explore a wide range of current topics in physics.
For example, Waters participated in a master class on topology, the mathematical study of shapes and space, which, in recent years, has begun to provide unique insights into the physics of materials. 
Topology is a rising star in condensed matter physics, Waters' area of research. His work uses scanning tunneling microscopy to explore two-dimensional materials. Depending on how 2D materials are arranged, it can change the properties and functions of those materials. Scientists believe that understanding topological materials and how to engineer them could eventually lead to big advances in quantum computing.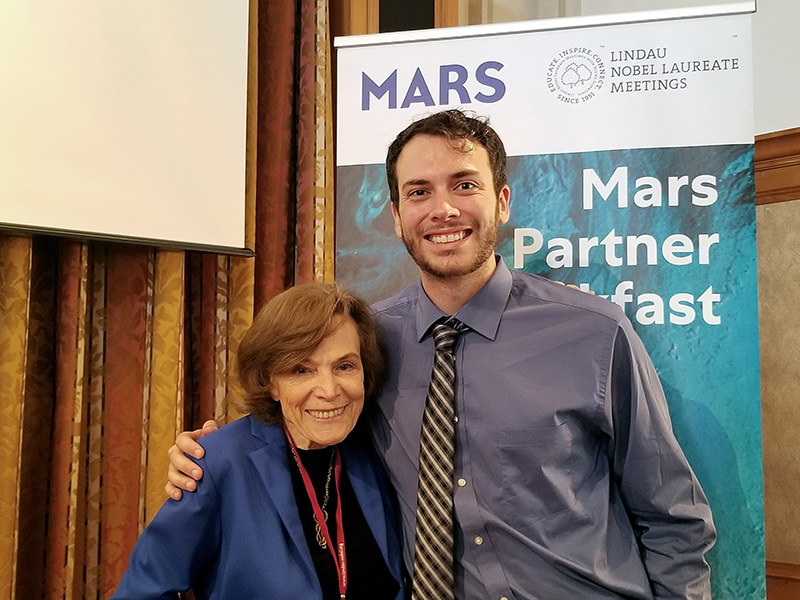 At the Lindau Meeting, Waters met Sylvia Earle, an expert marine biologist, during a Partner Breakfast hosted by Mars Inc. The panel titled "P
hysics, Oceans and our Future" featured Earle,
 Nobel Laureate Donna Strickland and climate scientist Levke Ceasar, a Ph.D. student at the Potsdam Institute for Climate Impact Research in Germany.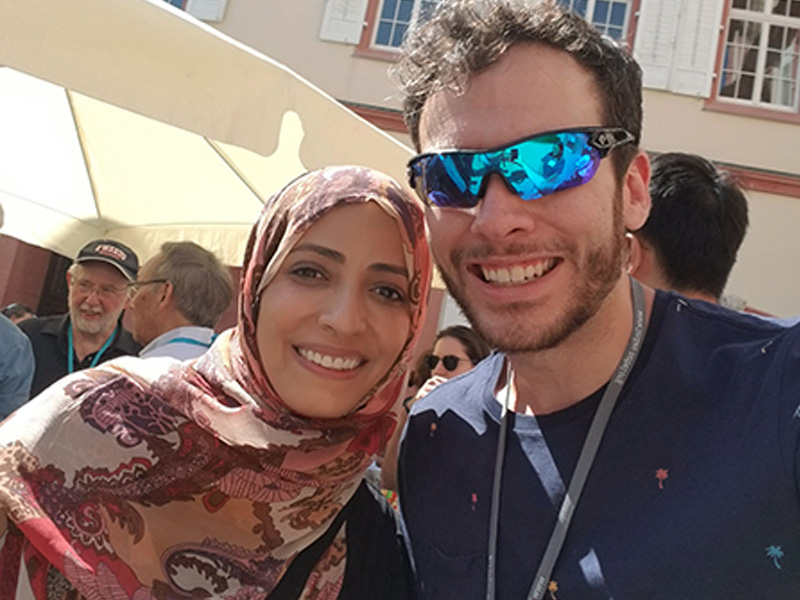 Waters poses for a photo with Nobel Peace Prize winner Tawakkol Karman, a Yemeni journalist, politician, human rights activist and co-founder of the organization "Women Journalists Without Chains."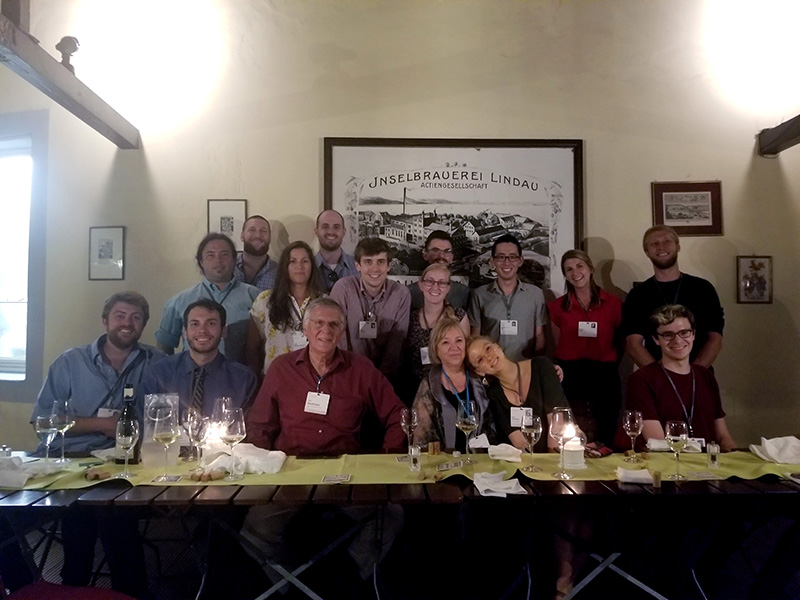 A group of Lindau Young Scientists dined with Dan Shechtman, a p
rofessor of materials science at Technion University in Israel, who won 
the 2011 
Nobel Prize in Chemistry
 for the discovery of quasicrystals.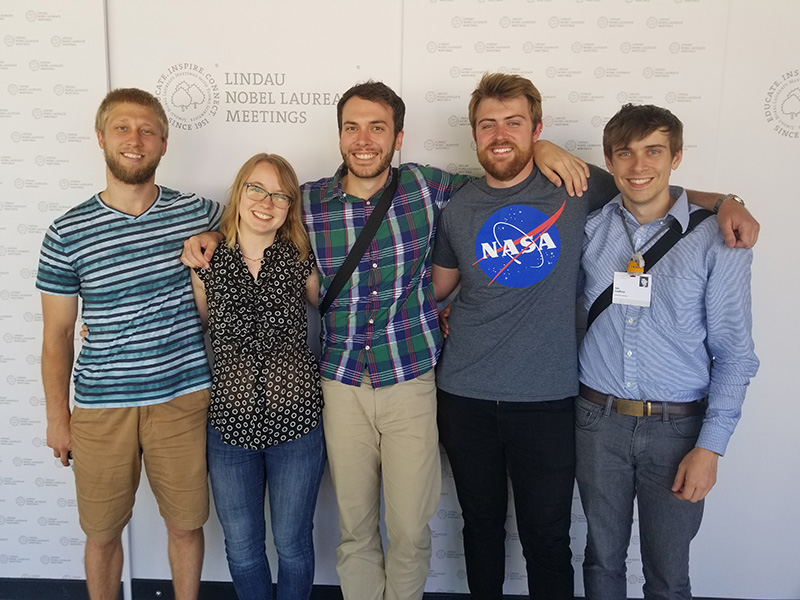 One of Waters favorite parts about the meeting was being able to connect with young scientists from around the world. The Lindau Meeting accepts between 500-600 scientists each year to attend the meeting through a rigorous application process.
The meeting also features a number of smaller, more informal events.
"The whole conference is difficult to convey. It's a very unique experience," said Waters in describing the smaller gatherings like Q&A sessions, Laureate Lunches and Science Walks that let the scientists pick the Laureates brains in more intimate settings.
Some of the most memorable moments for Waters included attending a Laureate Lunch with Konstantin Novoselov, who received the Nobel Prize in 2010 for his co-discovery of graphene, and meeting Duncan Haldane, a prominent condensed matter theorist who was awarded the 2016 Nobel Prize for his work on topological phases of matter.
"Being able to listen to them and talk about what is going on in the field right now and tell them about my own work was an amazing experience," said Waters.
Some of his biggest takeaways from the week were framed around the meeting's own motto: "Educate. Inspire. Connect." "On the education front, I learned a lot about how to frame my research in the larger picture," he said.
Moreover, the Lindau Meeting was unlike any conference Waters has attended in terms of being able to meet and connect with other scientists. One of the major conferences in his field often has 10,000 attendees and features so many presentations, it's nearly impossible to take it all in. "It was cool meeting people from all areas of physics, and I made really intimate connections with a lot of people."
Most impactful was the inspiration the meeting invited. Many of the speakers, including the keynote from Australian Nobel Laureate Brian Schmidt, encouraged attendees to play an active role in confronting today's societal issues. "As a scientist, we bring particular skills and a unique way of thinking about the world, and we should think about how that intersects with acting as a global citizen. We have a responsibility to act on things, such as politics and climate change," concluded Waters.