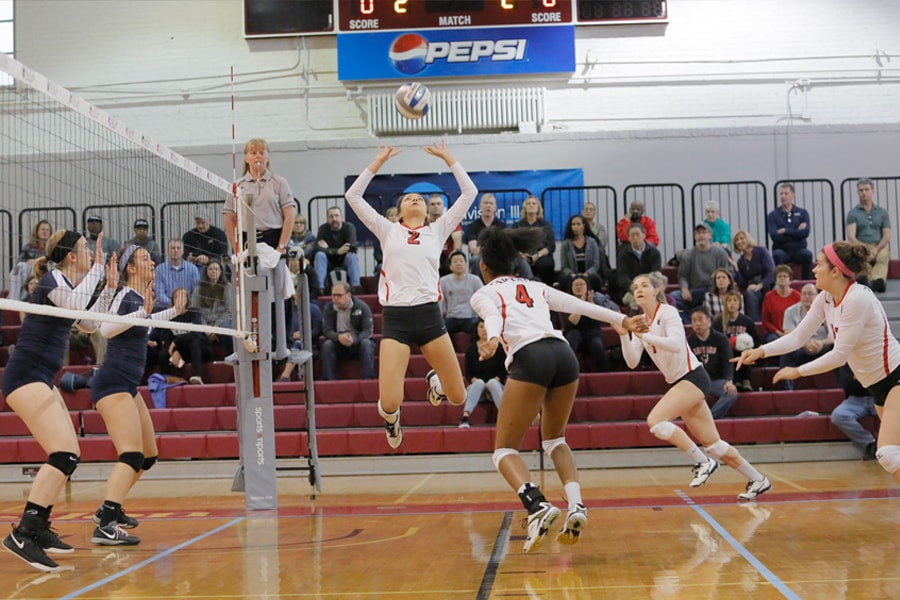 December 14, 2018
CMU Celebrates Success of Sports Teams, Student-Athletes
By Heidi Opdyke
Media Inquiries
Joshua Centor said he is inspired every day by Carnegie Mellon University's student-athletes, who successfully balance a life of scholarship and sports.
At a university celebration honoring 32 upperclass student-athletes, Centor, associate vice president for Student Affairs and director of Athletics, praised the Tartans for their excellent records on and off the playing venues. The juniors and seniors attending the ceremony in Posner Hall have a combined grade-point average of 3.74. Eleven had GPAs of 3.9 or higher, and five had cumulative 4.0 GPAs.
They scored high marks this fall in competition, too. The women's volleyball team reached the NCAA championship for the third straight year, advancing to the round of 16. The men's soccer team advanced to the second round of the NCAA tournament, and the men's and women's cross country teams once again represented Carnegie Mellon at the national championship meet.
When done right, academic and athletic excellence go hand-in-hand, Centor said.
Laurie Weingart, interim provost and the Richard M. and Margaret S. Cyert Professor of Organizational Behavior and Theory at the Tepper School of Business, said athletics is a vital component of the CMU student experience.
"It really contributes to our vision of what a healthy and well-balanced community looks like," Weingart said. "You work every day to reach new levels of achievement both on the field and off the field, year in and year out. It is truly impressive."
Weingart said through intercollegiate competition student-athletes learn lifelong skills in leadership and teamwork, and how to communicate and persevere. She called them role models for the campus community.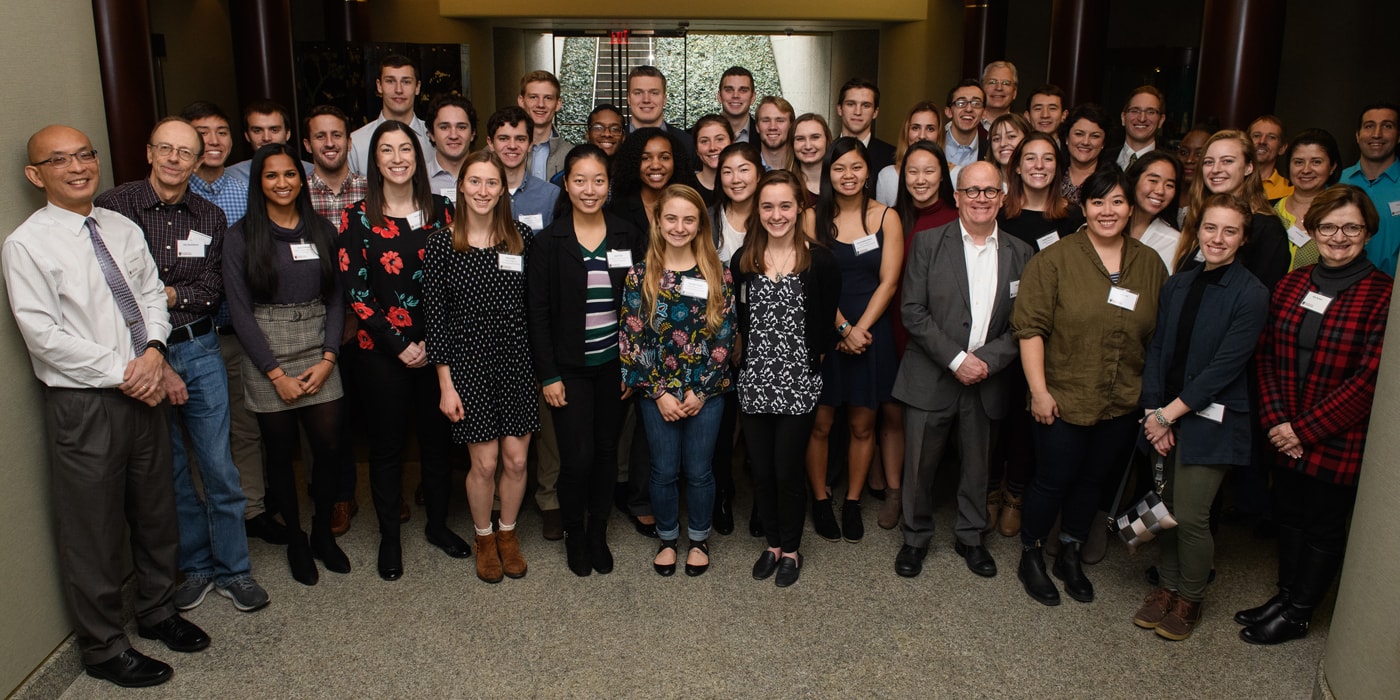 The university recently celebrated upperclass student-athletes with have outstanding accomplishments in the classroom and in their sports.
Students were asked to invite faculty members to the ceremony who have impacted them.
Colin McNeil, a junior guard on the men's basketball team, invited Deborah Brandon, his calculus teacher as a first-year student.
"She eased my way into CMU," said McNeil of the associate teaching professor of mathematical sciences. McNeil, a behaviorial economics and decision sciences major, said playing collegiate basketball has been a pleasure and a privilege.
Lavonca Davis, a junior on the women's golf  team which finished fifth in the national championships last year, invited Gizelle Sherwood, an assistant teaching professor in chemistry who taught Laboratory I: Introduction to Chemical Analysis, who she said has been a great support.
"It was one of the most fun classes that also challenged me. She's one of the professors who has pushed me and has been a great support," said Davis, who is studying chemical engineering.
Debi Bhanja, a senior record-holder in the long jump and several other track events, will be applying to medical school after graduation. One of the student speakers at the event, Bhanja spoke about the persistent goal-setting that takes place among student-athletes.
"We are always aware of where we stand as well as where we hope to be — where we know we can be in the future," said Bhanja, whose major is neurobiology with a minor in biomedical engineering. "This goal-setting mentality is followed by a relentlessness to achieve those goals — to better ourselves and those around us."
Senior mechanical engineering major and soccer player Jack McCambridge spoke about how important the soccer team has been to him, from his decision to attend CMU to his teammates to having a soccer alumnus as a mentor in a co-op program.
"At CMU we expect excellence from ourselves and to set the example by balancing school, athletics and a social life, and thriving in all three," McCambridge said. "We hope to continue to set this example for younger students."
Carnegie Mellon has 18 intercollegiate sports teams and competes on the NCAA Division III level as a member of the University Athletic Association. Athletic scholarships are prohibited in Division III, so students compete for the joy of the game. Student-athletes study in a wide variety of undergraduate programs that represent the entire university.
"CMU's intercollegiate athletics program is developing into one of the most competitive in the nation," Centor said.
Last year, CMU finished 23rd — its highest standing — among more than 450 Division III schools in the 2017-2018 Learfield Directors' Cup standings, which recognize broad-based intercollegiate programs that achieve success in many sports for both men and women.

Carnegie Mellon is currently 14th in this year's Directors' Cup standings with the football championship still to be decided.