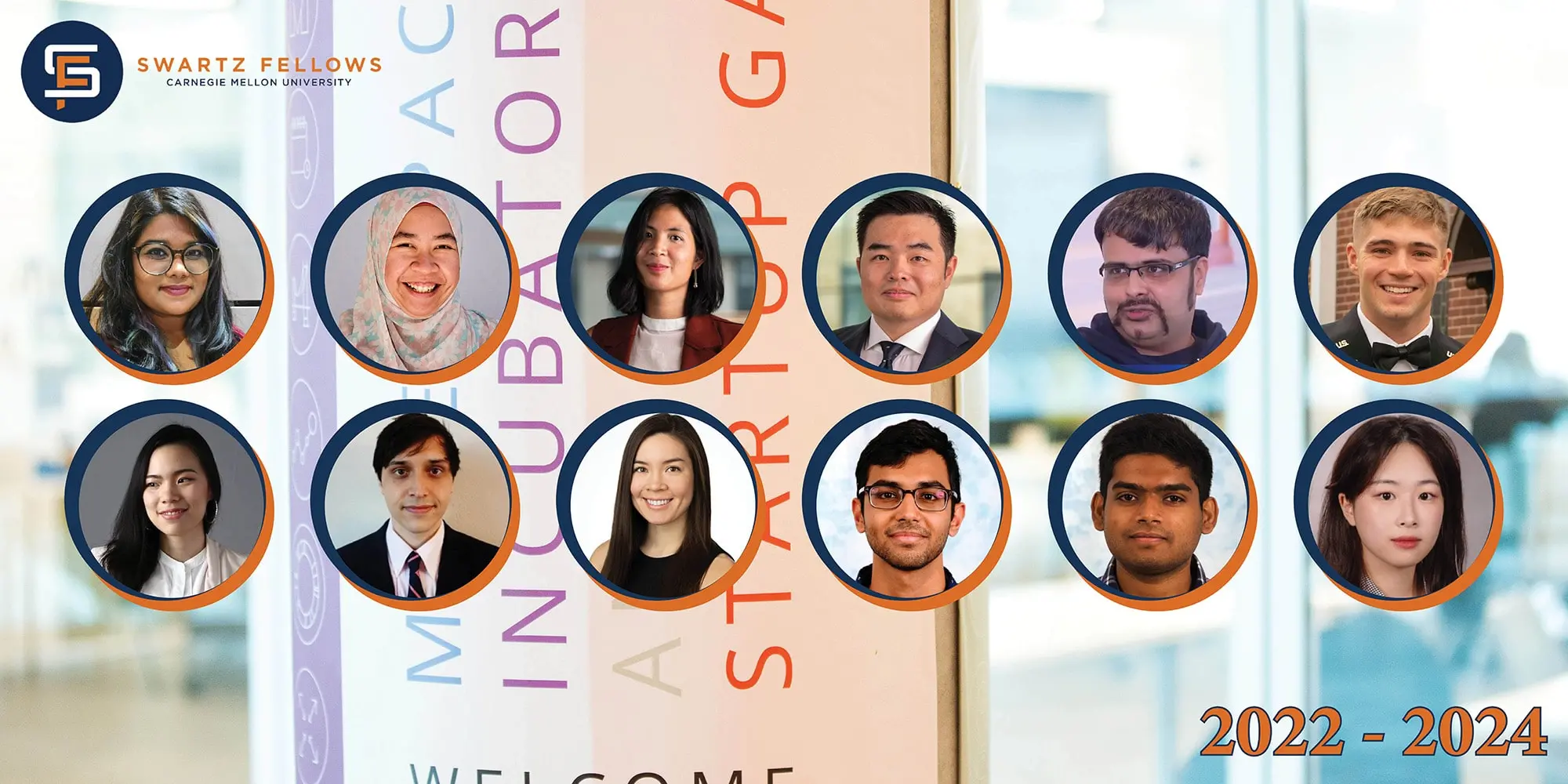 March 2, 2023
Swartz Center Gives Diverse Selection of CMU Grad Students Pathways to Entrepreneurship
Media Inquiries

Name

Peter Kerwin

Title

University Marketing & Communications
Before he began his graduate work at Carnegie Mellon University's Heinz College of Information Systems and Public Policy(opens in new window), Adam Knapp, an active-duty U.S. Army engineer officer, could be found jumping from airplanes — along with heavy equipment — to fix runways in his role performing airborne construction operations. At CMU, he is on firmer ground as a James R. Swartz Entrepreneurial Fellow,(opens in new window) one of 12 members of the 2022-24 cohort.
The fellowship program, established in 2006, is an immersive, experiential learning pathway for future entrepreneurs. Originally a program exclusively for Tepper School of Business(opens in new window) graduate students, over the last decade it has expanded to include an interdisciplinary group of graduate students who intend to pursue entrepreneurship in technology.
The Swartz Center for Entrepreneurship(opens in new window) was made possible by a $31 million gift from James R. Swartz, a CMU alumnus who credited the university with an important part of his success and wanted to give back.
Swartz Center Director Dave Mawhinney(opens in new window) described the center as "… a vibrant beehive of a hub for entrepreneurs at CMU. It is a beautiful, open flexible space that brings together tech people, businesspeople and design people. The fact that we are able to open this to alumni entrepreneurs here in the region and across the world makes us relatively unique." The center hosts as many as 85 startups at any given time and hosts over 100 events, both for CMU and for community partners.
To date, over 200 CMU students have participated in the Swartz Entrepreneurial Fellowship program.
"We typically get 50-75 applications per year, and we choose 12. It is highly competitive; we are targeting really high-potential folks who want to be entrepreneurs," Mawhinney said. In choosing candidates for the program, they aim for diversity in industry, ethnicity and lifestyle. "We really think that having that amount of diversity creates an opportunity to see the world through other people's lenses," he added.
The fusion of different entrepreneurial career paths and interests appealed to Liana Tai, a first-year MBA candidate at the Tepper School. "It's a well-balanced spectrum of business students and students with more technical backgrounds. The idea that we would be meeting weekly and collaborating together, potentially even working together on individual ventures, was what attracted me to the program," said Tai, who eventually wants to work in strategy or growth marketing roles at Series B startups.
"My applying to the center was my way of formalizing and gaining more knowledge in what I worked on in the public sector with Army operations," said Knapp, who comes from a family of entrepreneurs. "It is awesome that the CMU ecosystem is developing aspiring entrepreneurs like me to take our ideas to fruition."
It was also perfect for Anthony He, who turned his snowboarding hobby into a job, operating an equipment wholesale company. He applied to the Tepper School to learn more about marketing and business and believes that the fellowship program is a village. "You're bouncing your ideas and thoughts off each other. I'm a little bit older and have a little more life experience, so I can bring that to the table," He said.
The program also gives the cohorts the ability to tap into a worldwide network of CMU alumni entrepreneurs, investors and capitalists. In fact, this past January, the cohort attended the annual Entrepreneur Trek in Silicon Valley, where they had a chance to meet and talk with CMU alumni working at startups and venture capital firms.
"It was a transformational experience. We interacted with CMU alumni and we could see that they are living their dream of entrepreneurship now, creating a real world impact. We also got to see how they built their companies, how they got their ideas, and how they interacted with the customer. We also met investors to see why they invested in companies and what they look for. That was very inspiring," said Shivam Tripathy, who is pursuing a master's degree in robotic systems development at CMU's Robotics Institute(opens in new window), with the goal of building a robotics solution to improve human productivity.
"There's no other place where all of these resources are brought right to your doorstep. It's an amazing opportunity for those who want to be entrepreneurs to help them succeed in the rest of their entrepreneurial life," Mawhinney said.