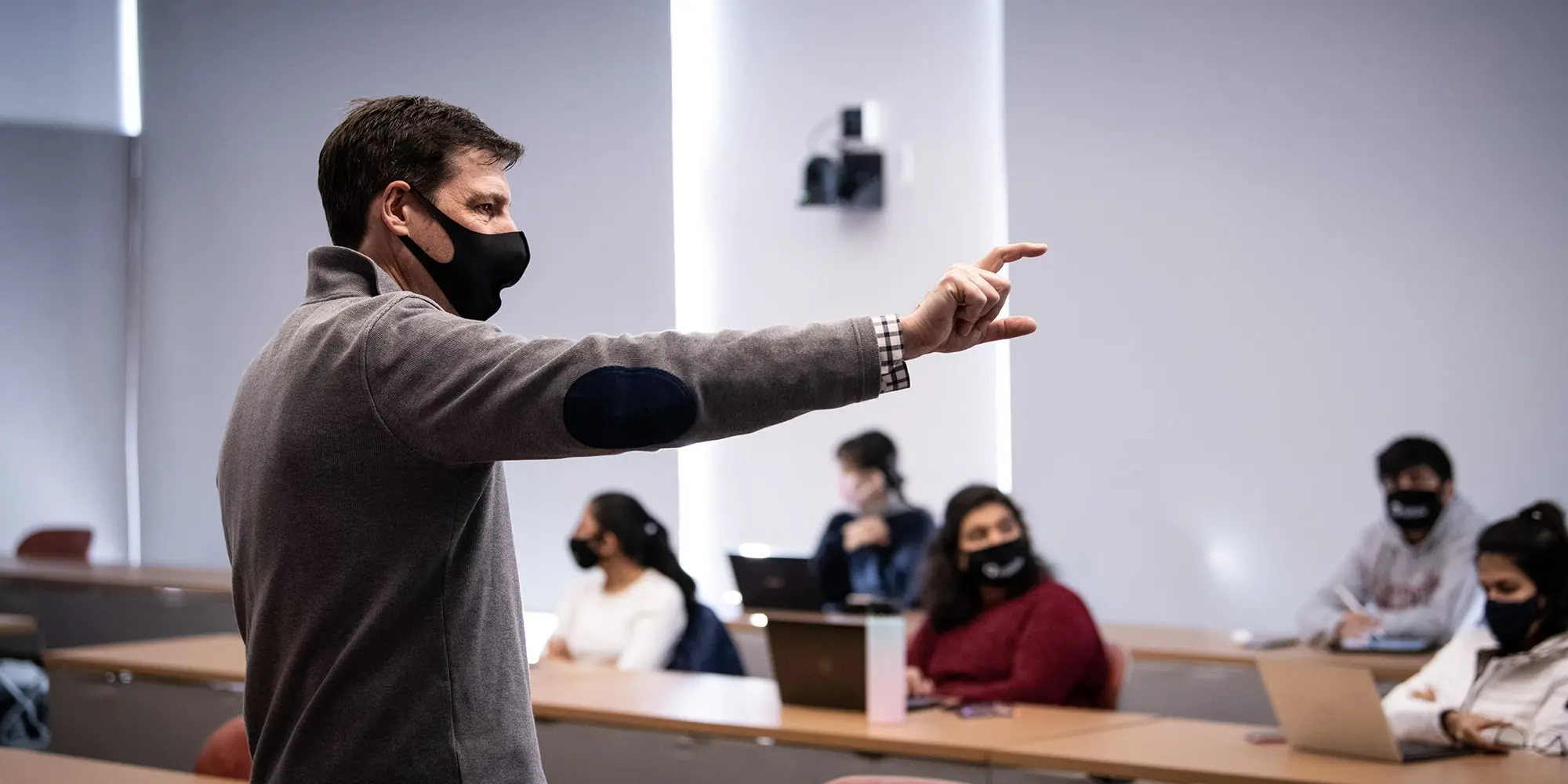 November 11, 2022
Measuring Social Media
Media Inquiries

Name

Peter Kerwin

Title

University Communications & Marketing

Name

Shryansh Meta

Title

Heinz College of Information Systems and Public Policy
All the big-name brands — Harley Davidson, Google, Netflix and Nike to name a few — have a presence in two key places: on social media, and in Professor Ari Lightman(opens in new window)'s classroom.
For over 12 years, Lightman, a distinguished service professor of digital media and marketing at Carnegie Mellon University's Heinz College of Information Systems and Public Policy(opens in new window), has fostered experiential learning through his course, Measuring Social(opens in new window). The course provides students with the knowledge and tools to analyze social media by parsing through the massive amount of available data generated from sources like Twitter, Instagram and TikTok.
Lightman takes things a step further by inviting seven sponsors to partner with the class each semester on projects involving social strategy.
"As a consultant working with a variety of firms, I focused on social data and social analytics. It's a huge and unwieldy data store," Lightman said. "I knew that if students could figure out a mechanism of grabbing a lot of social data and making sense out of it, they could provide major benefits to a variety of different organizations and firms."
From the start, the class was a success. One of the sponsors that first semester, Thomson Reuters, flew their project team to New York City to present to their vice president for marketing, and offered one student a job during the meeting.
"These are really interesting projects. We've worked with HBO on 'Game of Thrones', and Walmart and Expedia on crowdsourcing initiatives," Lightman said. "It's very beneficial for sponsors to work with graduate students with backgrounds in multiple disciplines."
Professor Ari Lightman fosters experiential learning through his course, Measuring Social.
Elon Musk "has to make sure he understands their needs... and how he's going to address those concerns associated with operating the platform," Professor Ari Lightman says on the $TWTR acquisition. "It's really a new space if you think about it." pic.twitter.com/xSutkWtuBh

— Yahoo Finance (@YahooFinance) October 27, 2022
"Everyone, from Spotify to the Cleveland Cavaliers, is interested in Gen Z's perspective when it comes to different brands and what they value as a community." — Ari Lightman
It's not just skillsets; brands are interested in the views of this generation.
"Many of the students are Generation Z," Lightman said. "Everyone, from Spotify to the Cleveland Cavaliers, is interested in Gen Z's perspective when it comes to different brands and what they value as a community."

Since 2010, student teams in Measuring Social have completed over 120 projects for brands like Marriot, Target and Playstation.
At the outset of each semester, Lightman asks the class sponsors to prepare a project briefing, and students rank their choice of projects. For Ruchi Bhatia, a Master of Information Systems Management Program(opens in new window) (MISM) student, that first choice was Sony Music.
Bhatia
(pictured)
is no stranger to social media, having spent two years as a data science global ambassador for Hewlett Packard. Through LinkedIn, Bhatia represented Z by HP, and evolved her personal brand through her posts about data science. Measuring Social offered her the opportunity to gain insight to her audience as she seeks product marketing opportunities.
"I've learned many new tools through this class, with guest speakers coming to teach us how to use things like Brandwatch," Bhatia said. "I really like how the class is structured, because every time we discuss a particular topic, it directly translates to what we're working on with our clients. It's all actionable."
Brandwatch, a social listening platform, has become a long-term sponsor of Lightman's class, providing students access to artificial intelligence that can sift through massive amounts of social data.
"Brandwatch has been a phenomenal sponsor for the class. There's an enormous amount of data that they are able to collect, which gives a really good assessment of brand perception in the social space," Lightman said. "There's over 40 emotional states that can be identified from conversations online. Aspiration. Fear and loathing. Love. Hate. There's value in knowing these associations for a brand."
Michael Affare
(pictured)
, another MISM student in the class, is working on a project for Yum Brands — the fast-food corporation housing Pizza Hut, Kentucky Fried Chicken and Taco Bell. He's helping craft analyses of the brand's ESG (environmental, social and governance) efforts and how customers are responding to their pricing.
"It seems like our work is very much valued. We get to ask interesting questions outside of the bubble, and they like that diversity of voices and the freedom with which we are able to see," Affare said. "There's a whole academia around social media, and it's very well structured. There are clear and quantifiable metrics that I wasn't privy to before taking this course. With this framework, you're ahead of the pack when it comes to gleaning insight from social media."
When it comes social insights, alumni from Measuring Social aren't just looking to put their new skills to use. Some are looking to revolutionize the field.
Chelsie Hall(opens in new window), who earned her master's degree from CMU's Integrated Innovation Institute in 2018, founded ViralMoment, a company that measures trends on social media using artificial intelligence.
"Traditional social media has been all around text. But Ari's class helped me to see that to really measure social media, we had to meet people where they are, and measure the content that they cared about — and that was video," said Hall
(pictured)
. "Through Ari's class I learned the fundamentals and what was possible. I'm applying that now every day and I'm changing the way that people measure social media as fast as social media's changing."
In 2021, ViralMoment was accepted(opens in new window) into the Swartz Center for Entrepreneurship(opens in new window)'s VentureBridge program. VentureBridge(opens in new window) is a business accelerator exclusively for alumni that includes mentorship, incubation space and $25,000 in seed funding.
Hall returned to speak to current students in the fall 2022 semester. She had gone from sitting in those same seats, to watching the class use her tool for work on their projects.
"Social media is like a mirror that reflects what people believe, how people think, what they care about. And every researcher, whether you want to work in social media or not, should have a sense of what's possible and how you can use this set of tools and ways of thinking," Hall said. "It's where we find community. It's where we figure out who we are. It's so cool to be able to understand in real time what movements are forming — whether that's a revolution in Iran, or the kind of shoes people are wearing this month. It's driving our world."