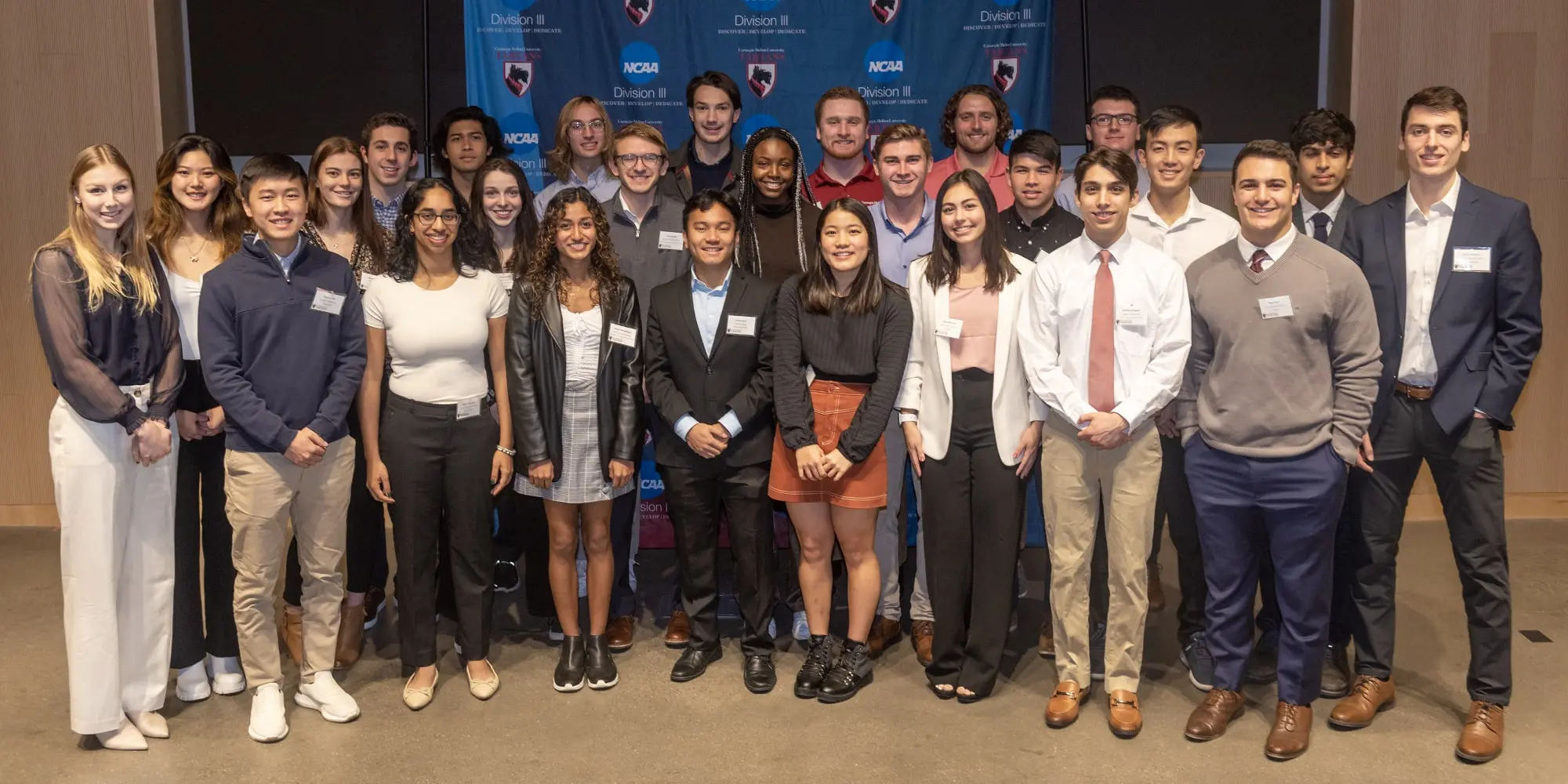 December 16, 2022
Tartans Celebrated for Their Exceptional Academic Standing
Media Inquiries

Name

Peter Kerwin

Title

University Communications & Marketing
Excellence in academics and athletics is not mutually exclusive at Carnegie Mellon University.
Evidence of that was clearly on display during finals week at CMU's annual Student-Athlete Academic Achievement Celebration, when 31 of the highest-achieving juniors and seniors were recognized for their commitment, passion and success in the classroom.
Collectively, the honored guests hold a 3.87 grade-point average. A dozen of them have perfect 4.0 GPAs. And together, they've helped the Tartans achieve record-setting athletic results.
Last spring, CMU enjoyed its highest standing in the Learfield Directors' Cup, placing 15th of approximately 450 NCAA Division III schools in the competition that reflects overall athletic success. This fall, for the first time, all six CMU teams advanced to NCAA post-season play in their respective sports. Pittsburgh City Council declared Dec. 6 as CMU Tartans Athletics Day(opens in new window) in tribute to their outstanding performance.
"You are the complete package, and my goodness, it is easy to cheer you on." — Josh Centor
"We did a lot of winning this fall, but it's not the fact that we are winning more than ever before that makes us special. It's who you are, and how you go about your passion," Director of Athletics(opens in new window) Josh Centor told the student-athletes.
"It's the way you represent this global institution, and the impact you make on others. It's the fact that you are excellent in all domains. You are the complete package, and my goodness, it is easy to cheer you on," Centor said.
Provost Jim Garrett, a three-time Carnegie Mellon alumnus, is a big Tartans fan who said the celebration was one of his favorite events of the year. His son, Patrick, played football for CMU and his daughter-in-law, Ali, was a member of the basketball(opens in new window) team.
"I watched their journey as student-athletes, and I gained a much better appreciation of what it means to play intercollegiate sports," he said. "I really believe it helped them to be more well-rounded students and maintain a balance in their academic pursuits."
Garrett spoke about the relationships Patrick and Ali formed through their participation in athletics.
"They built lifelong friendships and grew a community of supporters who are still with them to this day. You, too, will have your Tartan athletics family with you and in your corner wherever your path may take you in life," Garrett said.
Seniors Ola Owodunni and Mason Shockley addressed the gathering on behalf of the student-athletes, who invited faculty members and mentors to join them at the celebration.
Owodunni (pictured),a senior majoring in biological sciences(opens in new window) and psychology(opens in new window), is a sprinter and thrower on the track and field(opens in new window) team, earning all-region honors in the weight throw last season. She mentors first-year students as a Tartan Scholars Ambassador(opens in new window) and was selected as an Andrew Carnegie Scholar(opens in new window). She credited athletics with playing an important part in her CMU career. "Every student needs an outlet, and sports was mine," she said. "It put structure into the rest of my life and helped me to stay on track academically. My teammates were important. They pushed me to be better and supported me throughout my career."
Shockley
(pictured at microphone)
, a senior on the
soccer

(opens in new window)
team with a 4.0 GPA, is a
chemistry

(opens in new window)
major who was selected to the prestigious Phi Beta Kappa honor society. He said soccer has lifted him up academically.
"My college experience wouldn't have been the same without soccer," he said. "When I was struggling in class, soccer was a safe place to go. Doing something you love helps you excel in the classroom. I'm thankful for all the amazing memories and life lessons I learned as a student-athlete."
Top Tartans
Thirty-one of the highest-achieving juniors and seniors were recognized for their success in the classroom at CMU's annual Student-Athlete Academic Achievement Celebration. Here are the honorees:
College of Engineering
Alex Adams, Women's Soccer
Stephen Dai, Men's Golf
Tyler Harp, Men's Soccer
Erica Iizuka, Women's Swimming & Diving
Alex Ivanov, Men's Cross-Country and Track & Field
Emily Lannen, Women's Cross-Country and Track & Field
Dustin Moss, Football
Zach Sabin, Football
Aidan Wagner, Men's Swimming & Diving
Mathew Wagner, Men's Swimming & Diving
Derek Wong, Men's Tennis
College of Fine Arts
Mikey Cao, Women's Golf

Dietrich College of Humanities and Social Sciences
Arjan Bedi, Men's Tennis
Verne Garin, Men's Track & Field
JoJo Huczko, Women's Track & Field
Megan Matsko, Women's Basketball
Stella Yan, Volleyball
Bin Zheng, Women's Tennis
 
School of Computer Science
Meher Mankikar, Women's Golf
Zach Nowak, Men's Cross-Country and Track & Field
Pranav Rajbhandari, Men's Track & Field
Kavya Tummalapalli, Women's Cross-Country and Track & Field
 
Mellon College of Science
Charlie Murphy, Men's Cross-Country and Track & Field
Ola Owodunni, Women's Track & Field
Ruby Redlich, Women's Swimming & Diving
Mason Shockley, Men's Soccer
 
Tepper School of Business
Olivia Devereux, Volleyball
Erika Heffernen, Softball
Sean Oberman, Men's Basketball
Cole Record, Football
Ryan Shaw, Football