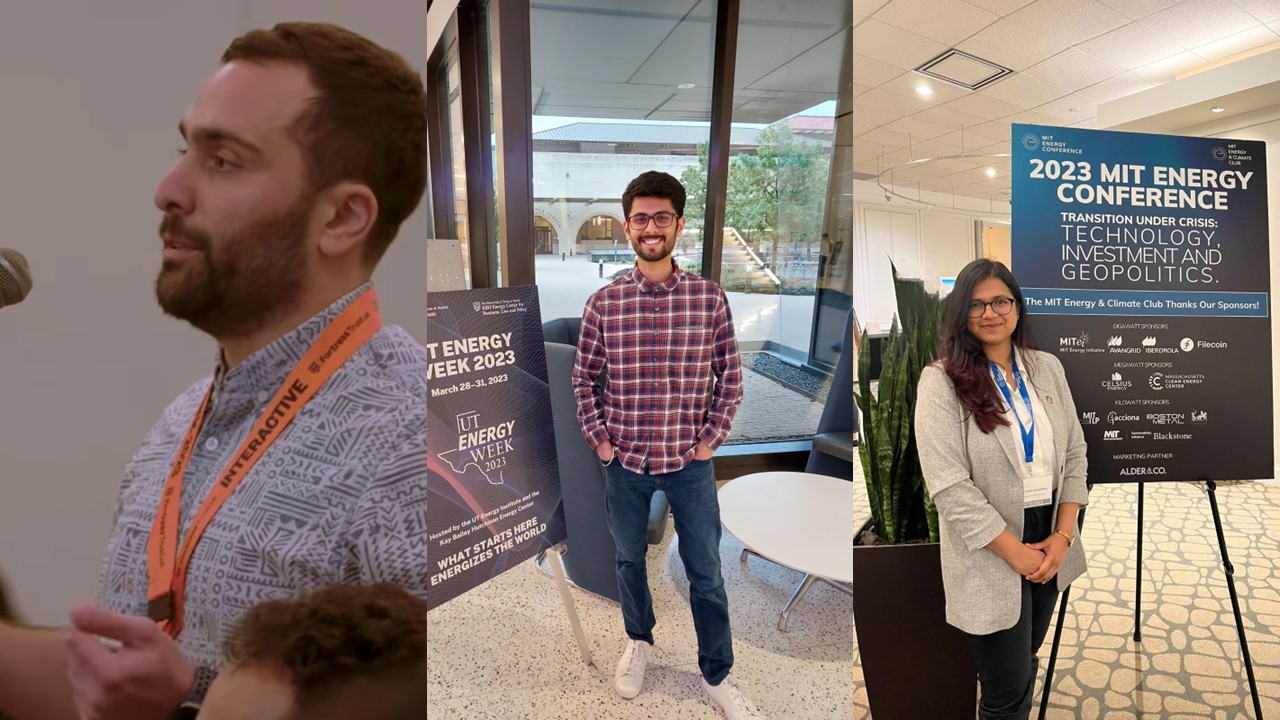 May 18, 2023
EST&P Students At Conferences This Spring Semester
Four EST&P students attended different conferences this semester in Texas and Boston. They were funded by the EST&P program and the Graduate Student Assembly.
Shaunt Attarian (MS, EST&P, 2023)
Attended the South by Southwest Interactive Conference's Energy Track, March 10-12
Shaunt's attendance at SXSW provided him an invaluable opportunity to connect and network with entrepreneurs, government officials, and innovators in the energy sector. The event covered vital topics such as energy transformation, decarbonization, grid modernization, renewable technologies, and data-driven approaches to the industry. "The conference proved to be inspiring, with attendees sharing innovative ideas and discussing the real-world impact of these emerging technologies," said Shaunt.
Malvika Agarwal (EST&P-AAS)
Attended the MIT Energy Conference, April 11-12
The theme of this year's conference was Transition Under Crisis: Technology, Investment and Geopolitics. The event witnessed 60+ speakers, panelists, and moderators from diverse walks of the energy industry presiding on exciting keynotes and engaging panels on: national clean energy policies, industrial decarbonization, energy security and transition, grid modernization, international collaboration, energy investments, and fusion technology. "According to me, the most insightful talk was delivered by Dr. Alex Tinguely and Dr. Maria Gatu Johnson on 'Future of Laser-Driven Fusion'," said Malvika. "They were members of the team which successfully created the first stable fusion reaction in a laboratory setting at the Lawrence Livermore National Laboratory on December, 5th 2022." Malvika had the opportunity to connect with startup professionals and students from MIT and other universities working on their energy ventures along with executives from companies.
"I would like to express my gratitude for the EST&P program for sponsoring my attendance at the largest energy conference and providing me with the unparalleled experience!"
Swaraj Sanjeev Degaonkar (EST&P-ADS) and Jai Shekhar (EST&P-AAS)
Attended Energy Week 2023 at The University of Texas at Austin, March 28-31
Jai and Swaraj's experience at Energy Week 2023 at UT Austin was interesting and informative. Clean hydrogen, Distributed Energy Resources, Carbon Capture, Utilization and Storage, Power Grid and E-mobility, were just some of the topics they attended sessions for. Jai said, "During my time at CMU, most conversations leaned towards using natural gas and renewable while decommissioning oil and gas in parallel. Most organizations and academic experts in Texas are looking for opportunities to develop oil and gas while creating carbon capture technologies that would support increased production in the future." "The week-long trip taught me a lot and helped me network with some of the brightest minds in the industry – something I'm not going to forget," said Jai. "I feel it was a success on both the fronts of gaining knowledge and networking," said Swaraj.
"We would like thank CMU's Graduate Student Assembly for their sponsorship and for this wonderful experience."