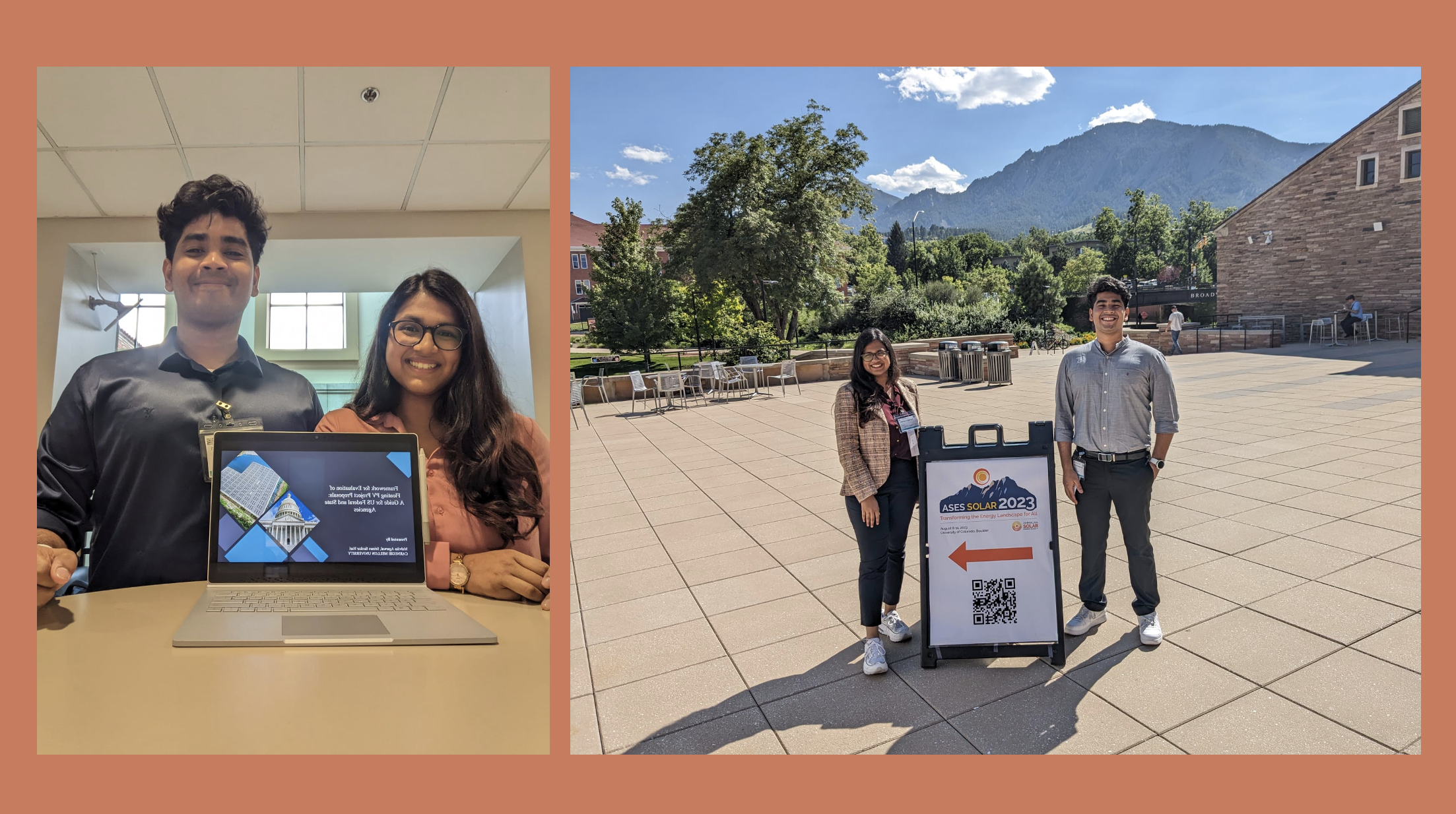 September 08, 2023
EST&P Students Present at National Solar Conference
The recent 52nd National Solar Conference, organized by American Solar Energy Society (ASES) conference in Boulder, Colorado, provided an exceptional platform for forward-thinking minds to convene and share their groundbreaking insights. Among the attendees were two EST&P students, Malvika Agarwal and Sriram Sankar Hari, who presented their paper titled "Framework for Evaluation of Floating PV Project Proposals: A Guide for US Federal and State Agencies".
The ASES conference brought together some of the brightest minds in the solar energy field, all eager to showcase their research, findings, and innovations. The presenters included academics, professionals and government organizations and the topics covered reflected the diversity present.
Sriram and Malvika approached their research with an analytical perspective, delving into the policy and economic aspects of adopting FPV technology. Their paper delved into hurdles and incentives for FPV implementation, underscoring financial advantages and the technology's capacity to tackle energy challenges in areas with water scarcity and high electricity rates. The framework offers a structured approach for state and federal authorities to effectively allocate resources toward floating PV projects. By incorporating Key Performance Indicators (KPIs) spanning geographic, demographic, technical, and financial aspects, this framework provides a balanced evaluation system.
Their paper was guided by coursework and mentorship from Prof. Barry Rawn and Prof. Panos Moutis who provided constant support and feedback. The students received funding from GSA and the EST&P department for conference proceedings. Beyond their presentation, the conference facilitated invaluable networking opportunities for them. Engaging in dialogues, sharing insights, and fostering collaborations enriched their experience, cultivating an atmosphere of innovation and knowledge dissemination.