February 14, 2018
EST&P Students Place Second in Impact-a-Thon
Team places second out of 42 teams to take home a cash prize of $1500
Inspired by a loved one's experience assisting with relief efforts during the 2017 earthquake in Mexico City, EST&P student Lucia Alvarez Yates Abad entered the 2018 Impac-A-Thon with a goal: find a way to direct relief efforts during the initial 5 to 8 hours after a disaster.
EST&P students Pragya Chauhan and Kojo Quaye, Heinz student Benjamin Sillman, and Engineering & Public Policy student Niles Guo joined Abad in designing a solution. The team's idea, called Phone Aerial Search Emergency Response (PACER), uses the density of cell phone signals to determine where emergency responders should focus resources.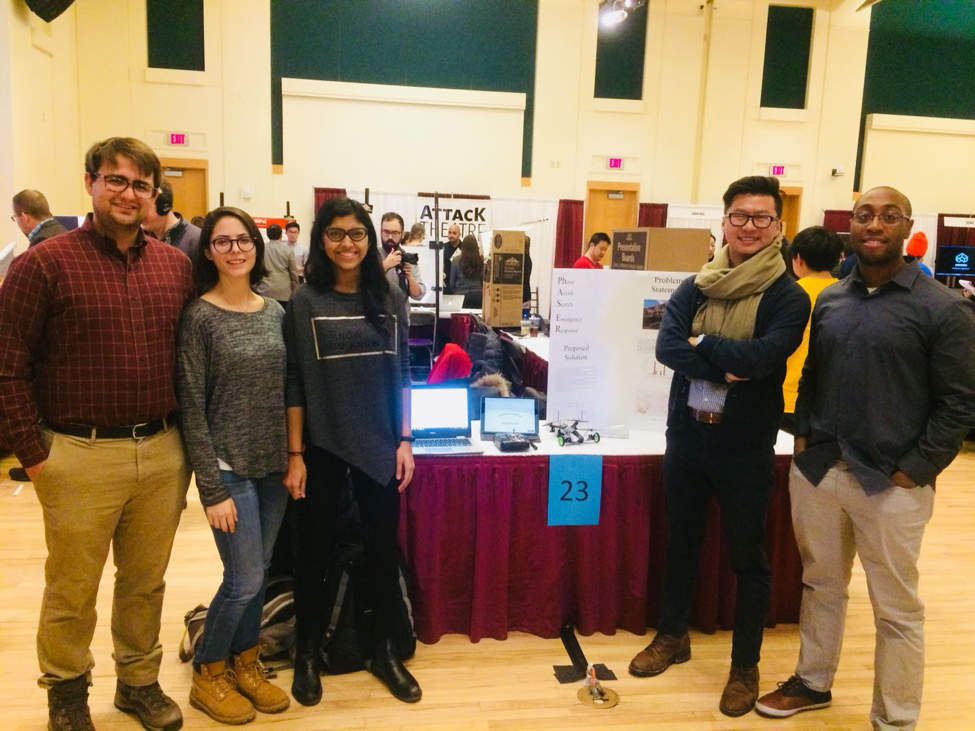 From left to right: Benjamin Sillman, Lucia Alvarez Yates Abad, Pragya Chauhan, Niles Guo, Kojo Quaye
Cell phones transmit signals even when communication towers are downed; in fact the signals are amplified under these circumstances. The team proposed attaching a radio frequency (RF) detector to a drone that could provide the location of cell phone clusters to help first responders focus their efforts during the most chaotic - and critical – point during a disaster.
Carnegie Mellon faculty and industry representatives, from companies like Oculus and Ansys, judged the entries over the course of the afternoon event on February 12, 2018. The PACER team developed a tri-fold poster summarizing the problem, their solution, cost estimates, and advantages of their approach. In the first round of judging, six judges asked the team questions about their idea and their approach to realizing it. 
The team felt quite positive after the first round of judging, but noticed that the judges were far more critical of projects during second round of judging. However, the judges still seemed receptive to the idea, and the team credits their drone demo for earning points in their favor.