September 22, 2016
Living on the Internet
In Defense of Niche Markets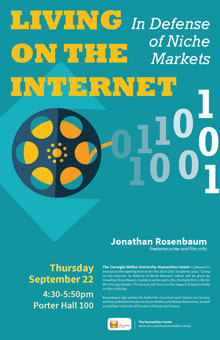 Jonathan Rosenbaum
Freelance Writer and Film Critic
The Carnegie Mellon University Humanities Center is pleased to announce the opening lecture for the 2016-2017 academic year, "Living
on the Internet: In Defense of Niche Markets" which will be given by Jonathan Rosenbaum, freelance writer and critic, formerly film critic for the Chicago Reader. The lecture will focus on the impact of digital media on film criticism.
Rosenbaum has written for both Film Comment and Cahiers du Cinema, and has published books on Orson Welles and Abbas Kiarostami, as well as multiple volumes of his own criticism and essays.
Thursday September 22, 4:30-5:50pm in Porter Hall 100