July 29, 2019
Ph.D. Candidate Zoe Wright Wins Kwolek Fellowship in Chemistry
By Ben Panko bpanko(through)cmu.edu
Chemistry Ph.D. candidate Zoe Wright has been named the recipient of the 2019 Kwolek Fellowship in Chemistry. The fellowship is funded by a bequest from Carnegie Mellon University alumna Stephanie Kwolek, best known as the inventor of the synthetic fiber Kevlar. It provides up to $50,000 to women Ph.D. candidates who "have shown significant advances in their research."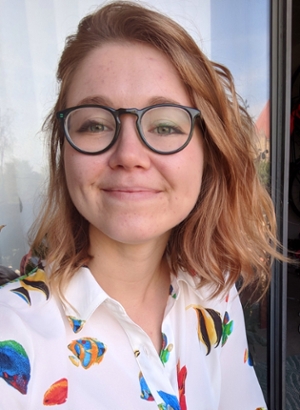 "Zoe was the first graduate student to commit to my lab," Assistant Professor of Chemistry Stefanie A. Sydlik said of Wright. In fact, Sydlik joked, Wright actually joined Sydlik's lab before she had joined her own lab, since Sydlik was still finishing up her postdoctoral fellowship at MIT when Wright began working for her. Though the two had to coordinate their research through chats on Skype and during Sydlik's occasional visits to Pittsburgh, that didn't turn out to be an issue for Wright.
"From day one she showed a lot of maturity as a researcher," Sydlik noted, pointing to the paper Wright co-authored and the patent she received based on research conducted during that first year. "It's been a pleasure being her mentor."
"My research in the Sydlik lab focuses on synthesizing new methacrylate-based monomers to act as additives to existing medical adhesives," Wright said. These additives can hold small-molecule drugs such as pain and anti-inflammatory medications or substances to stimulate healing, and by changing the covalent bonds used to attach the additives, Wright can manipulate how slowly or quickly those molecules are released—from hours to months. The additives can also change the adhesive's properties to make them soft for healing skin or rigid for supporting bones.
"Based on the type of drug we select for the adhesive and the release profile we choose via the covalent tether, we can design adhesives to actively guide wound healing," Wright said.
With the support from her Kwolek Fellowship, Wright plans to work on wrapping up her research projects here at Carnegie Mellon to prepare for postdoctoral research. She especially hopes to be able to expand her therapeutic methacrylic comonomer additives as a platform that could deliver antibiotics from bone cement, and to learn how to do bacterial cell culture.
"This fellowship provides an excellent opportunity for me to develop a specific relevant skill while working in a familiar and supportive environment," Wright said.