May 22, 2019
Two Seniors Win First MCS Gilman Award
By Emily Payne epayne(through)andrew.cmu.edu
Media Inquiries
Chemistry major Erin Kavanagh and biological sciences major Mason Miles are the first recipients of the Mellon College of Science Gilman Award. The award, named in honor of former MCS Dean Fred Gilman, recognizes the students' exemplary achievements through the Core education.
The Core was first implemented in 2015 as an innovative approach to science education that fosters student growth in four dimensions — scholar, professional, citizen and person.
Kavanagh and Miles were part of the first class to enter under the new curriculum. Over the course of their four years at Carnegie Mellon, both students have gone above and beyond in embracing the values and outcomes underlying the Core curriculum, showing tremendous growth and success along the way.
 Gilman presented Kavanagh and Miles with their Gilman Awards at the MCS Honors Ceremony on Saturday, May 18.
Erin Kavanagh, bachelor of science in chemistry with a biological sciences track and a minor in biomedical engineering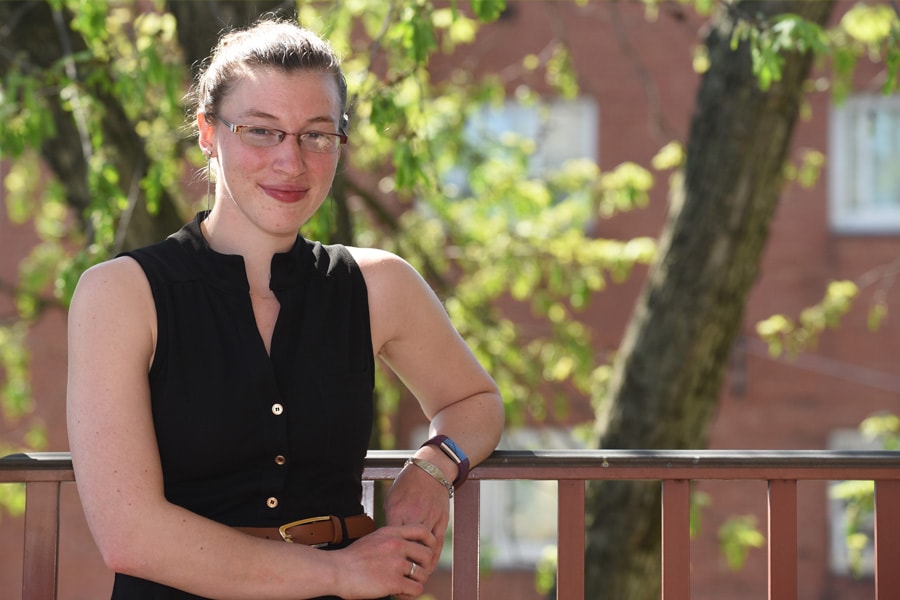 As a scholar, Kavanagh's research engagement has defined her undergraduate and post-graduate plans. She has conducted research in Professor of Biomedical Engineering Keith Cook's lab since her sophomore year, first working on various aspects of artificial lung development, including rolling fiber bundles, potting and leak-testing finished devices and running in vitro test circuits. She later moved on to helping to develop a system for delivering antibiotics to the lower respiratory tract via perfluorocarbon emulsions.
After her sophomore year, Kavanagh was selected as a visiting scholar to do research in Aachen, Germany, which had a profound impact on her desire to become a globally engaged citizen. The following summer, she attended the Goethe Institute for an intensive German language experience. In September, Kavanagh will leave on a 10-month journey to Germany to conduct research at RWTH Aachen University as a Fulbright Scholar and is excited to continue immersing herself in the international academic community.
Kavanagh's strength as a professional stood out during the junior seminar course PROPEL (Preparation, Readiness, and Optimization for Professional Excellence in Life). Fellows from The Swartz Center for Entrepreneurship facilitated classes for three weeks of the seminar, during which teams of students worked on several short-term projects. Kavanagh's strengths as a leader were evident; she pitched the team's ideas in a compelling fashion with conviction and clarity.
"Her team project was the one I recommended to the course administration as the best I advised that semester," noted her advisor, Karen Stump, director of undergraduate studies.
Most impactful, though, has been Kavanagh's development as a person.
"I cannot recall another student who has surpassed such significant challenges with a genuinely inspirational level of determination and optimism," wrote Stump in nominating Kavanagh for the award.
Having dealt with health issues throughout her life, Kavanagh never thought she could participate in organized sports though she envied the team aspect of sports. After discovering the rowing club, Kavanagh trained hard to be the varsity coxswain, the person in charge of navigating the boat for the rowers.
"I have found an amazing team and group of people that have pushed me outside my comfort zone and helped me discover a love of being a coxswain and an adaptive athlete," she said.
Mason Miles, bachelor of science in biological sciences and psychology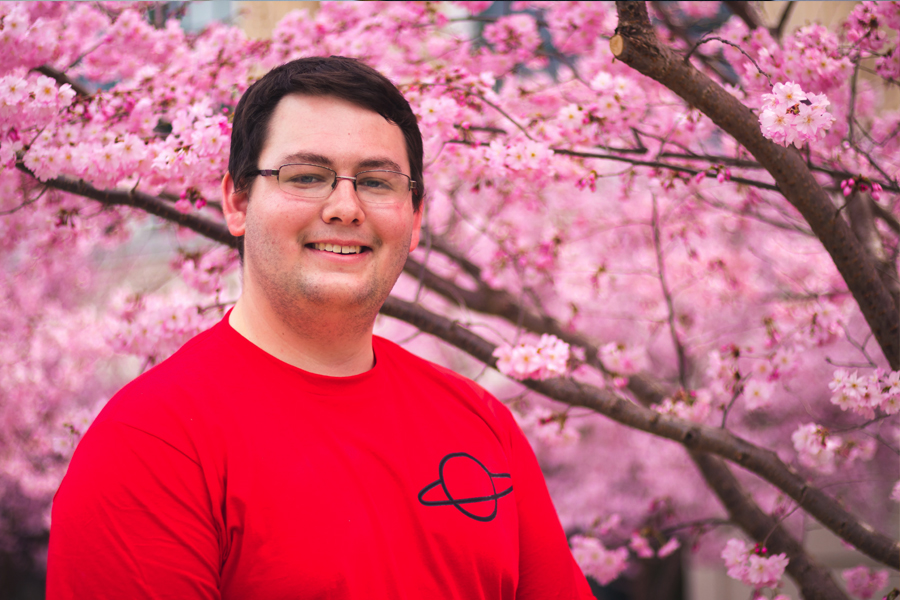 When Miles stepped on Carnegie Mellon's campus for his first-year orientation, it wasn't the best experience. "I was very introverted and shy, and it was all so overwhelming for me."
Once school started, Miles felt more comfortable and excited about all the opportunities that Carnegie Mellon offered. He joined Sigma Alpha Epsilon his first year, which led to his involvement in two of the largest philanthropic events on campus — Greek Sing and the Pittsburgh Donut Dash.
The following year, he decided to become an orientation counselor to help those who felt as he did his first year. Miles' experience as an orientation counselor and later as a head orientation counselor best sum up his development in the four Core dimensions.
As head orientation counselor, he grew as a professional working in a team of students and staff members. He learned valuable presentation and leadership skills and how to interact with professional staff at all levels. The people he met through the program also made him a better scholar — teaching him valuable study techniques, research skills and other lessons.
He believes his biggest area of growth was as a person. His role helped him to become more outgoing and extroverted. "Having to be a role model for people and a representative for people of all ages at CMU has truly made me into a better, more well-rounded and kinder person than anything else I have done in my time here," he said.
His engagement and progression as a citizen also stand out. In addition to orientation, Miles has been a leader through his involvement in Greek Life, Academic Review Boards, University Disciplinary Committees and community volunteering. He served as chair for Greek Sing and as logicstics coordinator for Pittsburgh Donut Dash, which raises money for the Mario LeMieux Foundation
"Through Mason's leadership commitments, he was able to convey his enthusiasm to hundreds, if not thousands, of his fellow students," wrote his advisor Becki Campanaro, assistant teaching professor, in his nomination letter. "He has no doubt, inspired engagement and leadership potential in those who have come after him."
Following graduation, Miles will enter the Heinz College's accelerated masters of healthcare policy and management program at Carnegie Mellon.
Group photo courtesy of Michael Haritan