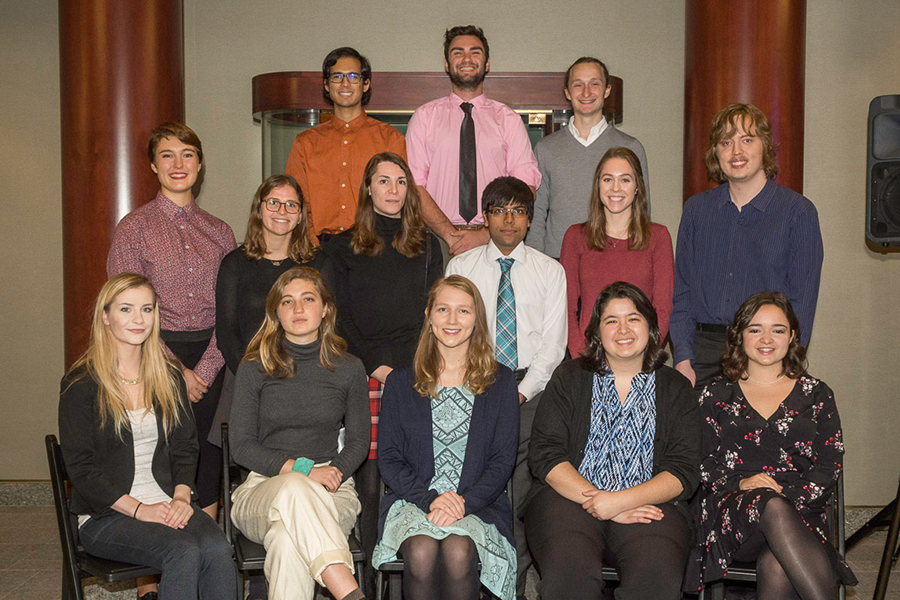 November 21, 2017
MCS Students Inducted Early into Phi Beta Kappa
By Emily Payne epayne(through)cmu.edu
Media Inquiries
Jocelyn Duffy
Associate Dean for Communications, Mellon College of Science
Four Mellon College of Science seniors were selected for early election to the Carnegie Mellon University chapter of Phi Beta Kappa. The nation's oldest honor society, Phi Beta Kappa celebrates excellence in the liberal arts and sciences, with chapters at only 286 colleges and universities across the United States.
The early initiation ceremony included a keynote from Sarah Smeltzer, vice president for programming at Greater Pittsburgh Phi Beta Kappa Association.
"The induction into Phi Beta Kappa, especially in the fall semester, is an incredible academic honor," Smeltzer said. "Only 10 percent of students are selected to join the nation's oldest honor society and they are among most driven and hardworking students. It is an honor that will advance them in their future endeavors in both the academic and professional spheres."
Thirteen students from Carnegie Mellon were inducted at a ceremony on Nov. 14. Among the inductees were Mellon College of Science students Joshua Brakensiek (Mathematical Sciences), Christina Cabana (Chemistry), Andrew Dates (Chemistry) and Erin Sipple (Neuroscience).