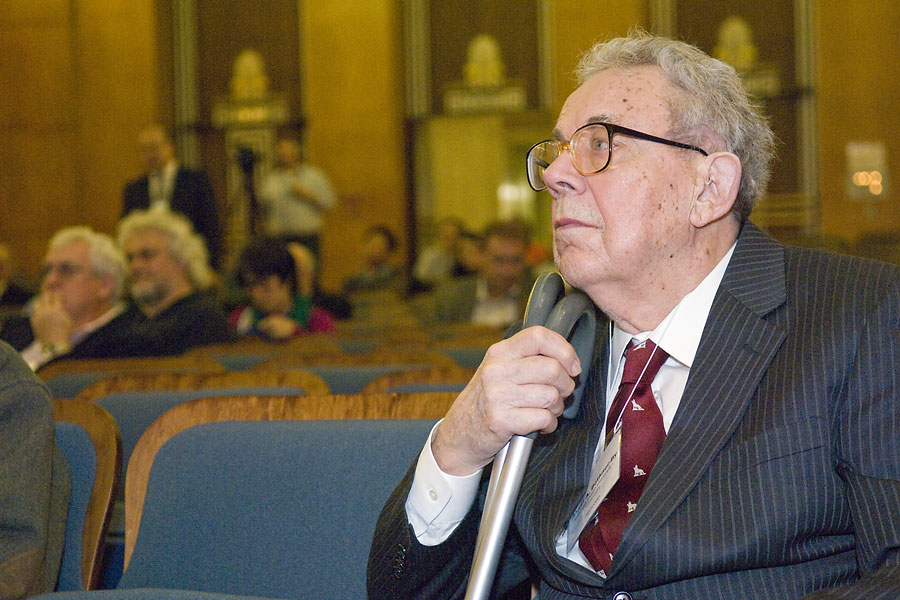 November 15, 2017
Memorial Celebration Honors the Life of Emeritus Professor Aksel Bothner-By
By Emily Payne epayne(through)andrew.cmu.edu
Media Inquiries
Jocelyn Duffy
Colleagues held a memorial celebration on Oct. 21 to honor the life of Emeritus Professor of Chemistry Aksel Bothner-By, who passed away in February at age 96. Family, friends, colleagues and faculty members of the Department of Chemistry gathered in the Mellon Institute Social Room to share stories about Bothner-By's life and the impact he left on science and the university.
Roberto Gil, research professor of chemistry, organized the memorial and helped to bring Bothner-By's favorite past times to the celebration. Through support from Pressure Chemical Co., Bruker Corporation, Mestrelab Research, Oxford Instruments, JEOL, ACDLabs and the Carnegie Mellon Department of Chemistry, Gil hired a Dixieland band and hosted a New Orleans style-food reception for 60 guests.
Bothner-By first arrived at the Mellon Institute for Industrial Research in 1958 and became a professor of chemistry at Carnegie Mellon after the merger of the Carnegie Institute of Technology and the Mellon Institute in 1967. He served as the chair of the Department of Chemistry and as dean of the Mellon College of Science from 1971-75.
Bothner-By was a pioneer in the field of NMR spectroscopy, which uses nuclear magnetic resonance to analyze the structure of chemical and biochemical compounds. In a career spanning 33 years at the university, Bothner-By conducted numerous experiments that brought NMR spectroscopy to new heights. In the 1960s, he developed a computational method for analyzing NMR spectra with Salvatore Castellano. This method later became instrumental to NMR spectroscopists through the computer program LAOCN3.
Along with Josef Dadok, emeritus professor of chemistry at Carnegie Mellon, Bothner-By constructed a multinuclear NMR spectrometer, equipped with a superconducting magnet operating at 250 MHz, in the late 1960s. Bothner-By and Dadok collaborated with Intermagnetics General Corporation in 1976 to lead the team on building the first 600 MHz spectrometer. Housed at Carnegie Mellon, the 600 MHz spectrometer was the world's most powerful system for many years and had renowned spectroscopists from all over lining up to analyze their own samples.
Bringing together scientists was a fulfilling goal for Bothner-By. In addition to attracting leading spectroscopists with the 600 MHz spectrometer, Bothner-By worked with his colleague Barry Shapiro to host­­ the 2nd through 11th Experimental NMR Conference at the Mellon Institute to bring spectroscopists from across the country together to share their work and ideas.
In an effort to further understand the high magnetic field, Bothner-By also developed the CAMELSPIN experiment, which led to a technique called ROESY that provides key information about molecules using NMR regardless of the molecules size or strength of the magnet. 
Throughout his career, Bothner-By published more than 150 papers and was a respected figure in the NMR community, lauded for advancing the field of NMR analysis through a number of tools that scientists continue to use today.