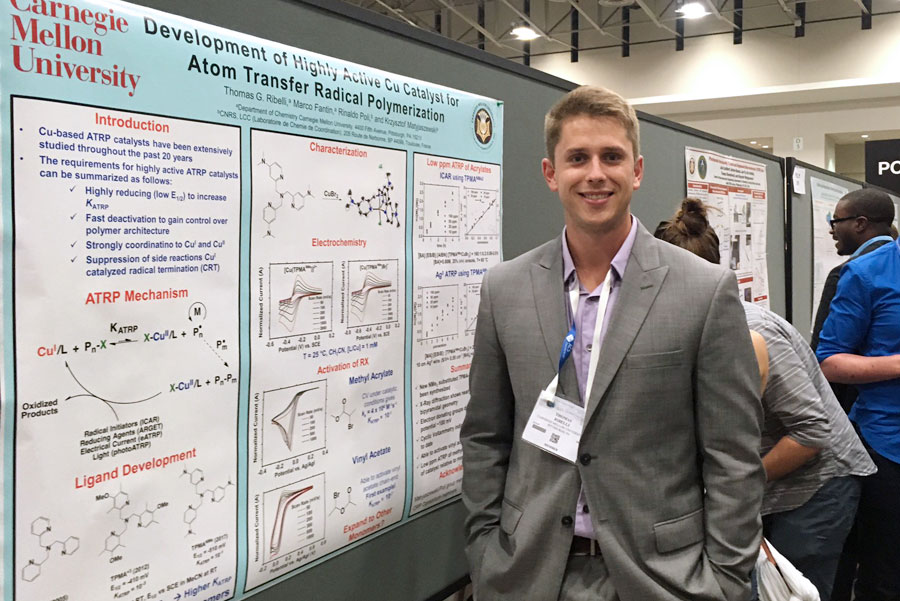 September 26, 2017
Tom Ribelli Wins Best Poster at Annual ACS Meeting
By Emily Payne epayne(through)andrew.cmu.edu
Media Inquiries
Jocelyn Duffy
Chemistry Ph.D. candidate Tom Ribelli received the Best Poster Award at the 8th Controlled Radical Polymerization Symposium during the 2017 American Chemical Society National Meeting & Exposition. Selected by a panel of judges for his poster "Development of Highly Active Copper Catalyst for Atom Transfer Radical Polymerization," the honor includes a $150 cash award.
Ribelli works in the research group of Krzysztof Matyjaszewski, the J.C. Warner Professor of Natural Sciences at Carnegie Mellon. His research focuses on the synthesis and characterization of highly active copper catalysts for use in atom transfer radical polymerization (ATRP), with the aim of moving towards more "green" systems. These highly reactive copper complexes undergo undesirable side reactions involving catalyzed chain termination, which can dramatically decrease the "livingness" of the polymerization. Awarded a Chateaubriand Fellowship in 2015, Ribelli has worked alongside Matyjaszewski's group and Rinaldo Poli at the Laboratoire de Chemie Coordination in Toulouse, France, meticulously studying these reactions to further develop catalysts that can retain their high reactivity and create a more selective system.
In recognition of his research and leadership accomplishments, Ribelli was also selected as this year's recipient of the John and Nancy Harrison Graduate Legacy Fellowship in Chemistry and Biochemistry.