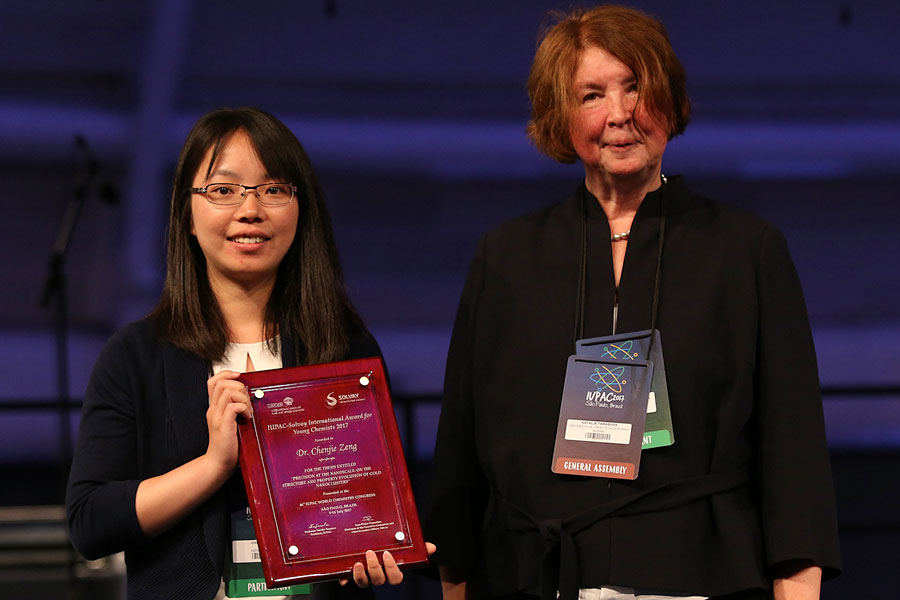 September 25, 2017
Chenjie Zeng Awarded 2017 IUPAC Prize for Young Chemists
By Emily Payne epayne(through)andrew.cmu.edu
Media Inquiries
Jocelyn Duffy
The International Union of Pure and Applied Chemistry (IUPAC) awarded chemistry alumna Chenjie Zeng (S'16) and four others the 2017 IUPAC Prizes for Young Chemists. The prestigious prize recognizes the best Ph.D. theses in the chemical sciences as described in 1000-word essays. Zeng's thesis work focused on elucidating the structure of synthetic gold nanoclusters that contain tens to hundreds of gold atoms through X-ray crystallography. She is currently a 2017 NatureNet Postdoctoral Fellow at the University of Pennsylvania.
Working in the lab of Professor of Chemistry Rongchao Jin, Chenjie's thesis research was driven by the desire to precisely build up architectures at the nanoscale and to evolve current nanochemistry into a new era of atomic precision.
Through analyzing these precise structures, Zeng's work was able to answer some of most fundamental questions in nanoscience, including how the atoms are packed into stable structures and how the surface molecules are arranged. These fundamental questions are important for practical applications of gold nanoparticles in catalysis, electronics and health care. In particular, Zeng established the structure of Au246, one of the largest and most complex nanoparticles to date.
The five IUPAC Prize winners received $1,000 and travel expenses to the 46th IUPAC World Chemistry Congress in São Paulo, Brazil, and were honored during the meeting's opening ceremony. They also presented a poster at the IUPAC Congress describing their award-winning work and submitted a short critical review on aspects of their research topics to be published in Pure and Applied Chemistry.
IUPAC was formed in 1919 by chemists from industry and academia. For almost nine decades, the Union has succeeded in fostering worldwide communications in the chemical sciences and in uniting academic, industrial and public-sector chemistry in a common language. More information about IUPAC and its activities is available at www.iupac.org.