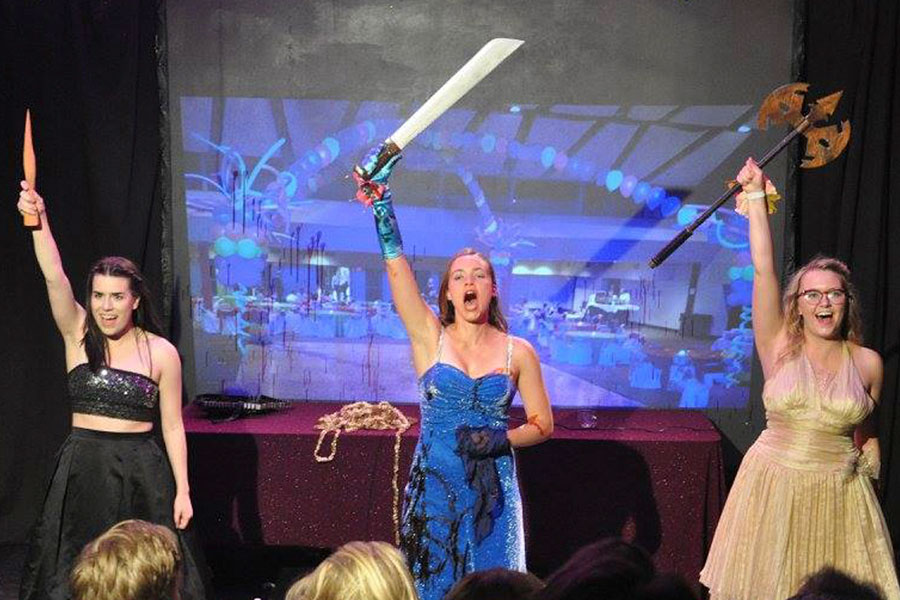 August 08, 2017
Alumni's New Musical Comedy Takes Center Stage in Chicago
By Emily Payne epayne(through)andrew.cmu.edu
An all-Carnegie Mellon University production won MCL Chicago's third annual Premier Premieres! Festival for their musical "The Trouble with Dead Boyfriends." Co-written by Alex Petti, who graduated from the BXA Intercollege Degree Programs in 2015, and Annie Pulsipher, a 2017 College of Fine Arts (CFA) graduate, the show brings together students and recent graduates across the CFA, Mellon College of Science, Tepper School of Business and College of Engineering.
Up against four other shows, the 16-member troupe hit the stage for their performance this June and came away with the "Premier Premiere" crown, winning an encore four-run performance this month.
Petti, a Bachelor of Science and Arts major with concentrations in chemistry and music composition, describes the duo's musical in three simple words: gory feminist comedy.
"The musical follows three high school girls who are embarking on the culmination of all high school rituals — prom — for which they need the perfect dates; the only problem is that those dates happen to be dead, specifically, one is a vampire, the other a ghost and lastly, a zombie," said Petti.
The originality and freshness of the play struck a chord with the judges who applauded the musical's clever delivery of its bold message. The show pays homage to the alluring, guilty-pleasure nature of popular young adult books while also turning a critical eye to their romanticization of unhealthy relationships.
The opening number "Love Like Ours" hilariously exposes teen romance tropes while another scene spoofs "The Notebook's" famous Ferris wheel scene. In Petti's version, instead of landing the girl as Ryan Gosling inevitably does, his character slips, falls and becomes our aforementioned zombie.
"Compared to the other shows, we had a polished, well-thought out comedy with a complete story line, and we made people laugh," said Petti. "It's a silly, whacky romp, but underneath it all, we have a strong, feminist message about relationships and the bad habits that a lot of teen romance novels try to instill in young girls."
Daniel Nelson (S 2014), who played the drums for the ensemble, is particularly proud of the show's success being that they were the first out-of-town production to win the festival.
"The other acts came from people who were more into improv and were trying their hand in musical theater; whereas we were musical theater people trying our hand at comedy, but we know how musical theater is supposed to be," said Nelson.
"From the score to the script, the whole show is intelligently done," he added. "The jokes range from mocking the 80s to the use of the hashtag, which is really cool because, at the same time, you can enjoy a joke and also be the butt of another joke."
As the cast and crew prepare to return for their victory performances, Petti couldn't imagine coming this far without the people and experiences that shaped his education at Carnegie Mellon.
Male ensemble member and fellow MCS alumnus Ryan LaPré (S 2017) agrees that part of the strength of the production lies in their Carnegie Mellon foundation.
"Every part of the production was put together from the ground up, and Carnegie Mellon really teaches students how to get in on that ground level and work with others to tackle a project, be it a research project or a stage production," said LaPré.
"Nowhere else do you find people combining such wildly different things than at Carnegie Mellon," Petti said, adding that learning in an interdisciplinary program gave him invaluable communication and collaboration skills that propelled him throughout this whole process. In fact, it's his background in science, he says, that continually influences and improves his techniques and methods for writing music and his ability to work with people from all different backgrounds and disciplines. 
Currently in a two-year rotational program at Merck Pharmaceuticals, Petti is able to flex his science muscles while also pursuing his music as a composer, which much to his delight, keeps science and art inexorably linked in his career and his life.
"The Trouble with Dead Boyfriends" hits the MCL Chicago stage Aug. 17-19. For show and ticket information, visit MCL Chicago's website.