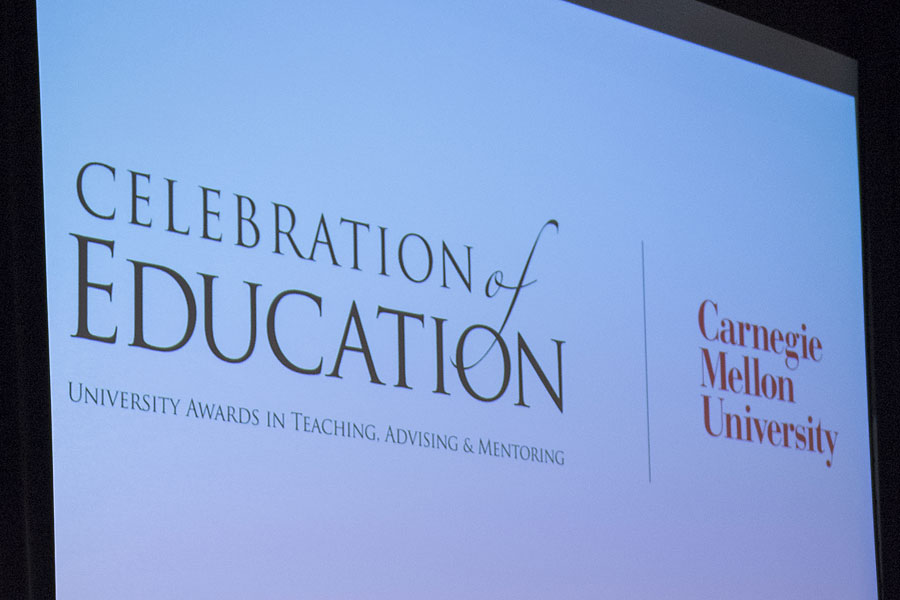 April 25, 2017
Dave Yaron, Karen Stump, William Alba and Emily Weiss win CMU Teaching Innovation Awards
By Marilyn Rossa Kail
Media Inquiries
Jocelyn Duffy
Two projects involving chemistry faculty and staff have received 2017 Teaching Innovation Awards. The faculty and staff members will be recognized at Carnegie Mellon's annual Celebration of Education, which will take place at 4:30 p.m., Thursday, April 27, in Rangos 1 and 2, Cohon University Center.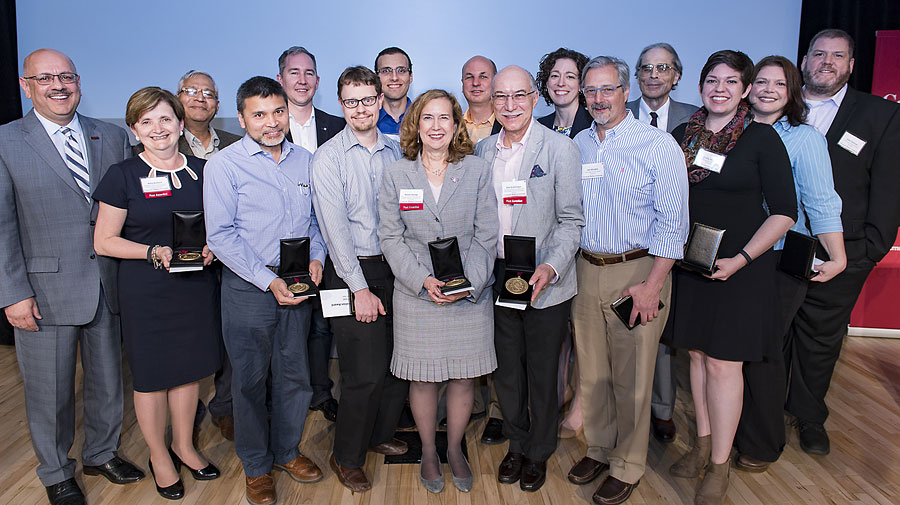 The MCS First-Year Seminar Committee, which includes William Alba, director, Science and Humanities Scholars Program and associate teaching professor of chemistry; Maggie Braun; Amy Burkert, vice provost for education, Carnegie Mellon University; Heather Dwyer, former teaching consultant, Eberly Center for Teaching Excellence & Educational Innovation; Eric W. Grotzinger, professor emeritus, Department of Biological Sciences; Kunal Ghosh, assistant head for undergraduate affairs, Department of Physics; John Hannon, associate dean of student affairs, Carnegie Mellon University; Jon Minden, professor, Department of Biological Sciences; Veronica Peet, senior academic advisor, MCS; Karen Stump, teaching professor and director of undergraduate studies and laboratories, Department of Chemistry; Russell Walker, teaching professor, Department of Mathematical Sciences; Emily Weiss, teaching consultant, Eberly Center for Teaching Excellence and Educational Innovation and chemistry alumna (Ph.D. 2015), is being recognized for developing the Eureaka! seminar course.
The MCS First-Year Seminar Committee worked for several years to create the course that has been required of incoming MCS students since 2015, easing their transition from high school to college, supporting the new MCS Core Education, and laying the foundation for the remaining MCS core education requirements.
Focusing on the habits of successful scientists and mathematicians, the course provides a unique opportunity to influence student development and the overall undergraduate experience of all MCS students.
"This distinctive course has transformed the first-year experience in MCS and has led to significant impacts in and out of the classroom," said MCS Associate Dean Maggie Braun in her nomination letter. "It also provides practice in building communication and teamwork skills that will be important at CMU and beyond."
Braun said the curriculum allows students to interact with faculty, alumni and their peers throughout the semester and, importantly, get to know themselves better through numerous reflective exercises.
David Yaron, professor, Department of Chemistry, has a reputation for excellence in teaching, innovation and collaboration. On behalf of the Department of Chemistry, he was nominated for the Teaching Innovation Award by Rea Freeland, associate department head, who stated that Yaron's work "fundamentally improves introductory college chemistry by providing innovative online learning activities that shift emphasis from mathematical procedures connecting chemical concepts to real-world applications."
He focuses on computational chemistry and education research. In his computational work, he uses electronic structure theory to model the photophysical properties of organic materials. This includes the effects of disorder and dielectric screening on properties of relevance in light-emitted diodes and photovoltaics. More recently, he is exploring ways to use machine learning to lower the computational cost of electronic structure models.
His innovative ChemCollective project is a digital library supporting community use and authorship of these materials. A central feature of ChemCollective is a virtual laboratory that allows students to design and carry out their own experiments. The collection includes tutorials on difficult concepts and scenario-based learning activities. The materials are used worldwide, with over 900,000 unique visitors in 2016.
Yaron served as director of the Chemistry LearnLab within the Pittsburgh Science of Learning Center and has authored chemistry materials for Carnegie Mellon's Open Learning Initiative. He also co-chaired the College Board committee that redesigned the AP Chemistry course.