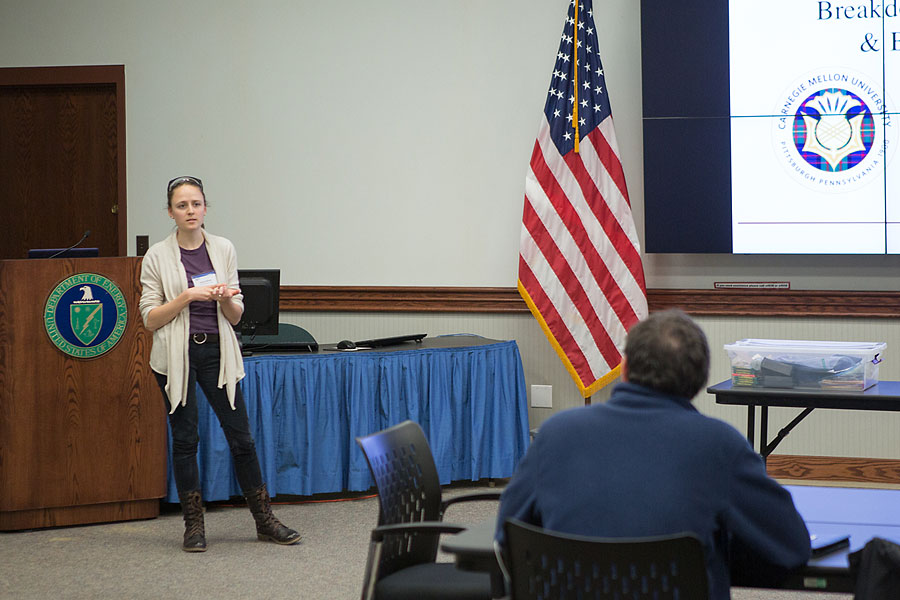 March 16, 2017
Chemistry Doctoral Student Genoa Warner Named 2017 Carnegie Science Award Winner
By Emily Payne epayne(through)andrew.cmu.edu
Genoa Warner remembers wanting to study biochemistry and biophysics during her first year at Yale University. To get there, she first had to take prerequisites in chemistry. Warner can't say whether she would have headed down the same path if not for those prerequisites, but she can say that once she took her first college chemistry class, she never left.
Now a doctoral student in Carnegie Mellon's Department of Chemistry, Warner combines her aptitude for scientific research and passion for sustainability and environmental protection with a commitment to show young students that anyone can be a scientist. Her exemplary academic work and community outreach earned her the Carnegie Science Awards' 2017 University/Post-Secondary Student Award. Given annually by the Carnegie Science Center, the awards recognize and promote outstanding science and technology achievements in western Pennsylvania.
A researcher in Theresa Heinz Professor of Green Chemistry Terry Collins's lab, Warner produced the first members of a new family of oxidation catalysts, called NewTAMLs, which react with hydrogen peroxide to remove micropollutants—such as pharmaceuticals, personal care products, household chemicals and pesticides that often end up in drinking water and local waterways—from water. Many of these pollutants are endocrine disruptors, molecules that can interfere with the function of the hormones in the body. Warner is further studying the potential toxicity of NewTAMLs to make sure they are not endocrine disruptors themselves. Warner is a co-inventor on the composition of matter patent filing for the new catalysts, which are a promising candidate for use in water treatment plants and in practical environmental cleaning applications. 
In addition to Warner's impressive research in the lab, her continued outreach efforts have made significant impacts throughout the Pittsburgh region.
"Genoa would assert that she loves and is inspired by her research, but she is also devoted to making a difference now. She is internally motivated by the potential of her work to make a difference in the world. In particular, she is passionate about sharing her love of science and the environment with young students," said Chemistry Professor Catalina Achim.
One of Warner's favorite aspects about STEM outreach involves teaching K-12 students about the effects of human activity on the environment and how those effects can be minimized. She works with Achim on the Center for Nucleic Acids Science and Technology's outreach program DNAZone. Warner previously collaborated with fellow chemistry graduate student and 2014 recipient of the University/Post-Secondary Student Award Taylor Canady to develop a DNA kit, a hands-on physical model that shows students how DNA molecules are formed. Inspired by the success of the DNA kit, Warner is developing materials, lesson plans and curriculum standards for her own classroom kit focused on environmental science.
"I am inspired by the big picture—by application, sustainability—and by feeling like my research is important and aligns with my values. My favorite part of doing outreach with students is getting them interested in science and showing students, especially young girls, that anyone can be a scientist," said Warner.
Before completing her dissertation and graduating in June, Warner hopes to have a number of lessons and activities for her environmental classroom kit to add to DNAZone's successful Lending Library of Kits. The kit will include activities such as a water pollution treatment demo (inspired by her research in the lab) and making slime from household chemicals.
From the lab to the classroom to the community, Warner is on a mission to improve science literacy and advance sustainability in people's everyday lives.
In 2013, she took over as chair of the environmental group of the Pittsburgh section of the American Chemical Society (ACS). Through this position, Warner organizes activities for her research group, the Chemistry Department and the public. Throughout the years, she has shown both nationally acclaimed and locally produced documentary films, organized lectures by Heather Stapleton of Duke University, a leading researcher in perfluorinated flame retardant chemicals, and Philip Lymbery, author of Farmageddon and CEO of Compassion in World Farming, and arranged a local apple tasting event in Mellon Institute for graduate students.
Another one of Warner's favorite projects has been establishing a delivery site for fresh, locally grown vegetables from a community supported agriculture farm and giving talks to educate the community on the benefits of supporting local agriculture. Carnegie Mellon students, staff and faculty receive boxes of affordable organic produce every week as part of the subscription service.
The Carnegie Science Awards will be presented at a banquet on May 12. Other Mellon College of Science recipients include Physics Professor Leonard Kisslinger and Chemistry Professor Neil Donahue.