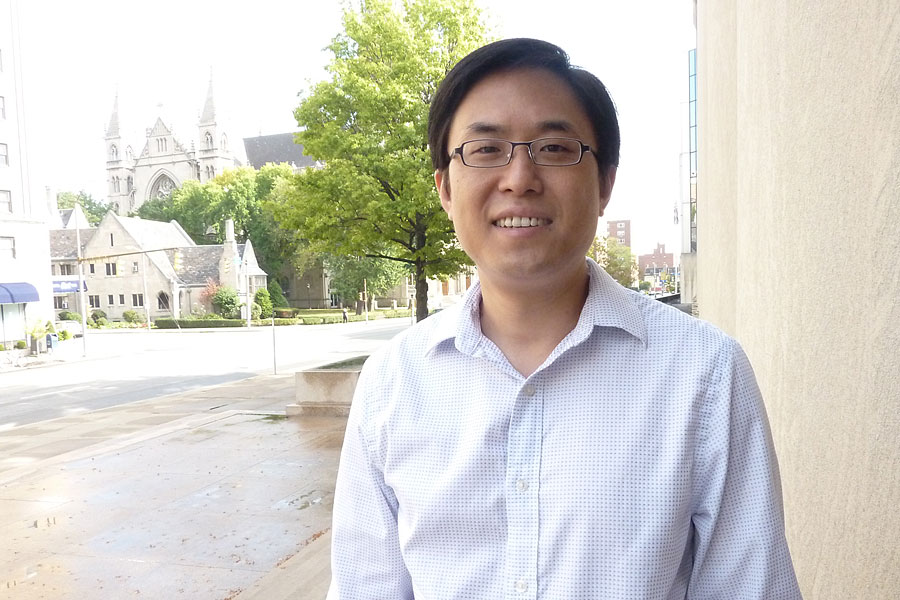 February 14, 2017
Chemist Yisong Guo Receives NSF Career Award
By Jocelyn Duffy jhduffy(through)andrew.cmu.edu
Carnegie Mellon University chemist Yisong Guo has received a Faculty Early Career Development award from the National Science Foundation. One of the most prestigious awards for young faculty, CAREER awards recognize and support those who exemplify the role of teacher-scholars through their outstanding research and teaching.
Guo, an assistant professor of chemistry, received the five-year grant to study three newly discovered non-heme mononuclear iron-containing (NHM-Fe) enzymes. These enzymes are known to play a role in a number of processes that impact health and aging.
"Mastering the unique biological transformations demonstrated by these enzymes could further lead to the discovery of new bioactive molecules that offer profound implications for human health," Guo said.
The enzymes Guo will study catalyze key steps in the biosynthesis of two secondary metabolites that are beneficial to human health. One enzyme, FtmOx1, produces a toxic chemical called verriculogen. Despite its toxicity, verroculogen contains a unique functional group, endoperoxide, that displays a wide spectrum of antimicrobial, antibacterial and anticancer abilities. The other enzymes, OvoA and EgtB, are involved in the biosynthesis of ovothiol and ergothioneine, molecules with antioxidant and possible anti-aging properties. Under the grant, Guo will try to uncover the chemical principles that govern the function of all three enzymes and the production of their secondary metabolites.
The research findings will be integrated into educational activities for graduate, undergraduate and high school students. The grant will also allow Guo to provide training opportunities for students in physical chemistry, bioinorganic chemistry, biochemistry, enzymology and catalysis.