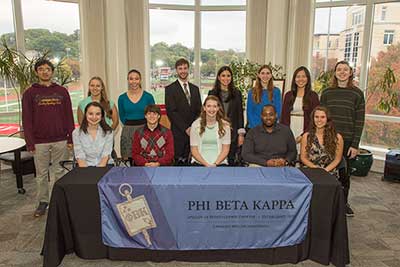 November 07, 2016
MCS Students Selected for Early Election to Phi Beta Kappa
By Jocelyn Duffy jhduffy(through)andrew.cmu.edu
Five Mellon College of Science seniors were selected for early election to the Carnegie Mellon University chapter of Phi Beta Kappa. The nation's oldest honor society, Phi Beta Kappa celebrates excellence in the liberal arts and sciences. Only 286 of the nation's leading colleges and universities have a Phi Beta Kappa Chapter, and each of those chapters select only 10 percent of their school's arts and sciences graduates to join.
Fourteen students from Carnegie Mellon were inducted into the honor society at a ceremony on Oct. 27. Among these students were Mellon College of Science students Mallory Evanoff (Chemistry), Jennifer Huang (Biological Sciences), Jacqueline Hudepohl (Chemistry), David Last (Physics and Music) and Stephanie O'Neil (Physics). William Alba, director of the Science and Humanities Scholars Program and president of Carnegie Mellon's Phi Beta Kappa chapter, and Jason D'Antonio, director of the Health Professions Program and the Mellon College of Science's faculty representative to Phi Beta Kappa, spoke at the ceremony.
Photo courtesy of Dietrich College of Humanities and Social Sciences. Back row: Mallory Evanoff, third from left; Stephanie O'Neil, third from right; Jennifer Huang, second from right. Front row, Jacqueline Hudepohl, first on left; David Last, second from left.
Originally published: https://www.cmu.edu/mcs/news-events/2016/1107-PBK-Early-Election.html