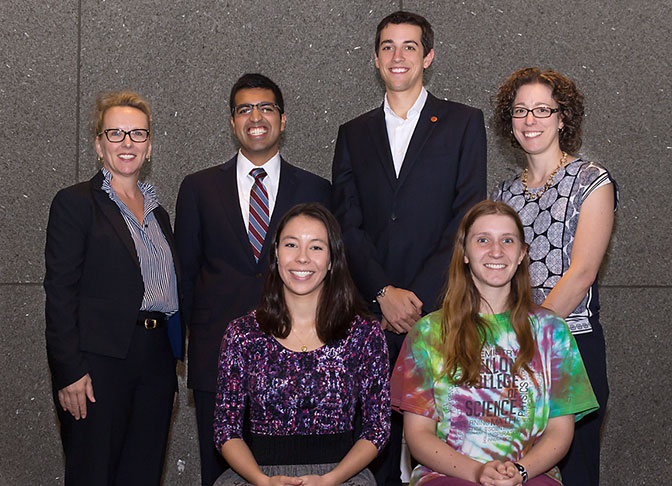 October 11, 2016
MCS Students Named Andrew Carnegie Society Scholars
Six seniors have been selected to represent the Mellon College of Science as the 2016-2017 Andrew Carnegie Society (ACS) Scholars. Congratulations to Chrystal Thomas, Jackie Hudepohl, Joshua Zak, Mallory Evanoff, Stephanie O'Neil, and Susheel Khetarpal on receiving this honor.
ACS Scholars are undergraduate seniors who embody Carnegie Mellon's high standards of academic excellence, volunteerism, leadership and involvement in student organizations, athletics or the arts. Each year, 40 seniors are selected by their deans and department heads to represent their class in service and leadership.
The ACS Scholars program was launched in 1975, and has recognized over 1,000 students to date. Each ACS Scholar receives a monetary award - made possible by the generosity of Andrew Carnegie Society members - to support their academic and personal growth.
ACS Scholars also work together to present a gift back to the university community. Through this opportunity, the Scholars are able to understand, firsthand, the satisfaction that philanthropy brings.
For a complete listing of this year's ACS Scholars, please visit: http://www.giving.cmu.edu/s/1410/giving/index.aspx?sid=1410&gid=1&pgid=416