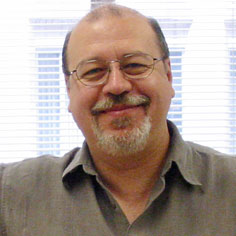 September 28, 2016
Chemistry's Roberto R. Gil Named Co-Editor-in-Chief of the Journal Magnetic Resonance in Chemistry
Roberto R. Gil, research professor of chemistry and director of the Department of Chemistry's NMR Facility, has been appointed the co-editor-in-chief of the journal Magnetic Resonance in Chemistry (MRC). He shares the role with Gary E. Martin, a senior principal scientist at the Merck Research Laboratories in New Jersey.
MRC, which publishes papers on the development and application of magnetic resonance techniques, underwent an overhaul a few years ago, revealing an updated design and a new approach to content and editorial structure. In November 2014, Gil was appointed features editor.
"Roberto has been instrumental in the redevelopment of the journal," said Paul Trevorrow, managing editor of MRC for publisher John Wiley and Sons. "He has made a huge contribution to MRC, and he has boundless energy and enthusiasm for positioning the journal within the community."
As co-editor-in-chief, Gil is looking forward to taking the journal to a new level, specifically as a top journal for all research related to NMR and chemistry.
Gil's research interests focus on developing new NMR methodologies for analyzing the structure of small organic molecules oriented in weak alignment media. He also carries out structural analyses of complex natural and synthetic small organic molecules, including synthetic polymers, natural products from plants, and small fragments of peptide nucleic acids (PNA) and DNA duplexes.