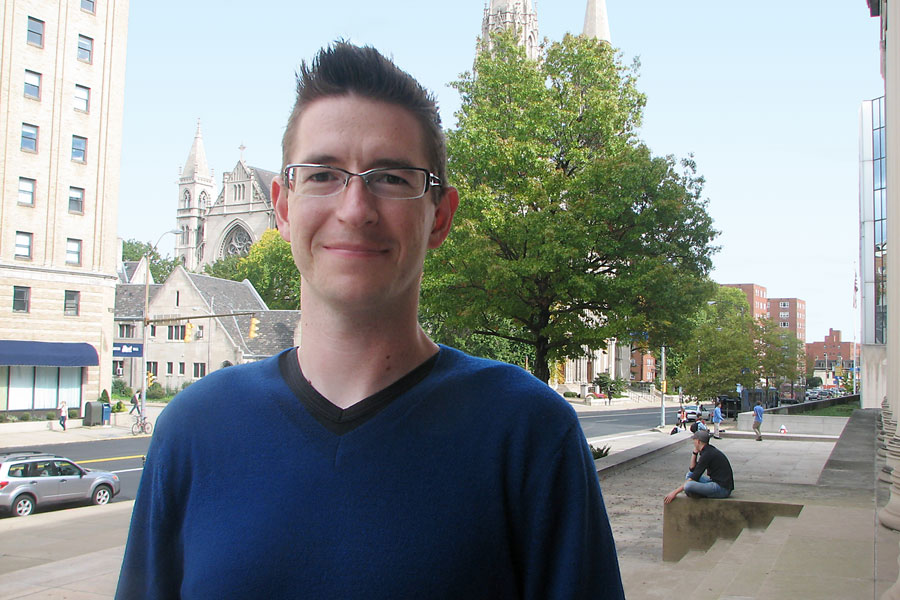 February 01, 2016
Atmospheric Chemist Ryan Sullivan Receives NSF CAREER Award
By Jocelyn Duffy jhduffy(through)andrew.cmu.edu
Carnegie Mellon University atmospheric chemist Ryan Sullivan has received a Faculty Early Career Development (CAREER) award from the National Science Foundation. One of the most prestigious awards for young faculty, CAREER awards recognize and support those who exemplify the role of teacher-scholars through outstanding research, excellent education and the integration of education and research.
Sullivan, an assistant professor of chemistry and mechanical engineering, received the five-year grant to support his research aimed at understanding how the chemical evolution of particles in the atmosphere impacts the formation of ice in clouds.
Clouds are made up of small droplets of water and ice crystals. When these droplets freeze, they rapidly grow and fall to Earth in the form of rain, snow or sleet. Most precipitation over land comes from these frozen clouds. On their own, the water droplets will only freeze at very low temperatures near -40 °C, but they can freeze at more moderate temperatures if they attach to small particles called ice nuclei that catalyze freezing.
Most cloud and climate models use the freezing properties of fresh ice nuclei to predict ice formation. But as these particles travel up from Earth and move through the air, they undergo a series of chemical reactions that can dramatically impact their ice nucleation properties. Under his CAREER grant, Sullivan plans to create a more accurate model for describing chemical effects on ice nucleation. His group will conduct a series of laboratory experiments using a large chamber reactor to chemically age different types of ice nuclei such as mineral dust and soot particles.
"By creating a way to realistically study how ice nuclei evolve in the atmosphere we can begin to understand how human activities are impacting cloud evolution, ice formation, and climate," said Sullivan, who is also a member of Carnegie Mellon's Center for Atmospheric Particle Studies.
In addition to supporting his research, Sullivan's CAREER grant will fund the development of hands-on educational modules to help teachers teach K-12 students about chemistry, air pollution, acid rain and cloud formation. His group will contribute their activities to the Sense of Place Learning program that teaches environmental science through afterschool programs in local schools. Sullivan will also develop new laboratory experiments using modern instrumental analysis for undergraduate chemistry students.