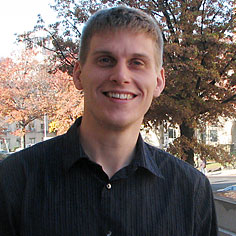 August 17, 2015
Chemist Kevin Noonan Receives Prestigious CAREER Award
Carnegie Mellon University chemist Kevin Noonan has received the National Science Foundation's most prestigious award for young faculty members, the Faculty Early Career Development (CAREER) award. The award recognizes and supports junior faculty who exemplify the role of teacher-scholars through outstanding research, excellent education and the integration of education and research, according to the National Science Foundation.
Noonan, an assistant professor of chemistry at the Mellon College of Science, will receive $390,000 over five years to support his research into the controlled synthesis of organic polymers that conduct electricity. Electrically-conducting organic polymers hold tremendous promise for use in novel printed electronic devices, including electronic circuits, ultra-thin displays, batteries and solar cells. But current methods for creating such polymers produce materials that have a lot of variation, which can impact their performance. Noonan's research aims to develop precise polymerization methods that will create polymers that are more uniform in size, shape and electro-optical properties.
"Improving our standard synthetic protocols for more control and less variation would be really helpful," Noonan said. "I think that controlled polymerization has a lot potential to achieve that."
Controlled polymerization methods are well-established processes that chemists use to make polymers with uniform physical structure. But using these methods to assemble polymers that are electrically conductive has proven to be difficult. Noonan is investigating a controlled polymerization method called metal-catalyzed controlled polycondensation. He is designing new monomers that can successfully be used in this novel polymerization process, with the ultimate goal of creating precision semiconducting polymers.
The CAREER grant also will support Noonan's efforts to integrate metal-based catalysis into required undergraduate lab courses.
"Metal catalysis is one of the areas that is probably the most important for energy conversion and sustainability, and those are the kinds of things I'd like to help introduce to our students early in the undergraduate curriculum," Noonan said.