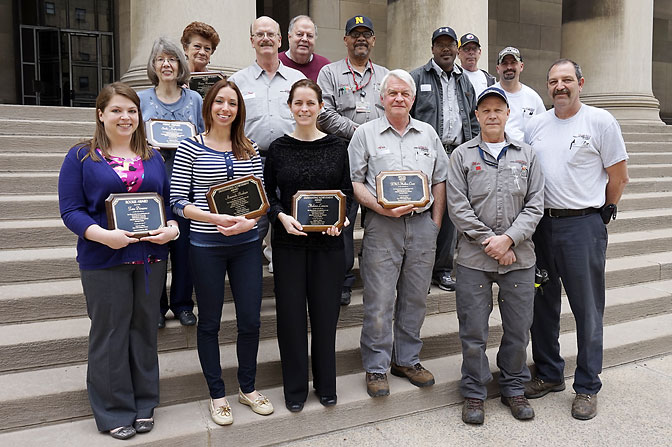 May 01, 2015
MCS Staff Awards, 2015
On April 30, faculty, staff and administrators gathered in the Mellon Institute to honor MCS staff members for their dedication and service to the Mellon College of Science.
Merit Award: Stella Andreoletti
Stella Andreoletti, student programs coordinator in the Department of Mathematical Sciences, received the Merit Award for maintaining an outstanding job performance level and consistently making significant contributions to the department. Russ Walker, who nominated Andreoletti, put together a list of "all of the favorable adjectives that you can think of" to describe her: courteous, reliable, efficient, effective, punctual, accurate, polite, helpful and pleasant. Andreoletti's tasks are numerous and include managing registration, dealing with scheduling and helping to recruit and advise students. This year marks the second time she has won the Merit Award. Staff are eligible to be nominated every five years, which made Walker wonder: "She's been here 45 years, why hasn't she won it 9 times?"
Rookie Award: Tara Primiero
Tara Primiero, undergraduate programs administrator in the Biological Sciences Department, received the Rookie Award. On any given day, Primiero comes into contact with many of the department's nearly 200 students, which can sometimes make for a very hectic office. "Tara is never unprepared or unable to handle whatever comes in the door," said Maggie Braun. To become more familiar with the technical background that she encounters every day, Primiero took time out of her busy schedule last summer to take the department's Intro Bio course. "She is incredibly organized, incredibly creative and one of the nicest people I've ever met," Braun said.
Special Award: FMS Mellon Institute Crew
The Mellon Institute is a very complex building, and the members of the FMS crew—Chuck Garvey, Matt Godlewski, Craig Hahn, Darryl Harper, Rodney Hickman, Mike Hirsh, Dave Howard, Tom Kelly, Al Koll, Ron Novak, Dave Saunders and John Shade—tackle every challenge that comes their way. Whether it's due to Mother Nature or the building's occupants, the FMS crew has faced frozen water pipes and flooded rooms and everything in between. "24/7, 365 these gentleman are on the job," said John Woolford when presenting the award, which recognizes a person or team outside of the college for the service they have given to MCS. "They are very creative, professional, efficient and friendly to all of us, and we are deeply indebted to them."
Outstanding Achievement Awards
The Outstanding Achievement Awards recognize MCS staff members for their substantial achievement and outstanding job performance. This year multiple awards were given out within the college:
MCS Dean's Office: Melissa Lessure
Melissa Lessue is the office assistant for the Pennsylvania Governor's School for the Sciences (PGSS), a program for high school students that is hosted by CMU every summer. "Melissa is cheerful, helpful and exceptionally efficient with her time," wrote her nominators. When she interacts with parents of PGSS applicants, she is always pleasant, courteous and respectful. Lessure is not willing to leave work undone because of technical problems, and she makes sure that things get fixed quickly so that she can get back to providing exceptional customer service.
Mathematical Sciences: Ferna Hartman
In her role as departmental secretary, Ferna Hartman "goes beyond expectation to make sure that projects are completed in a timely fashion, without hesitation and with professionalism," wrote her nominators. Hartman is a valuable resource to students and staff. She is unfailingly helpful and courteous with everyone with whom she comes in contact, whether it's students, faculty or vendors, and she always handles requests cheerfully and willingly.
Physics: Amanda Bodnar
Amanda Bodnar, a secretary in the Physics Department, has a can-do attitude that has made her the go-to person for vital department needs. "Amanda is a quick learner and has a dedication to get things right," wrote her nominators. She constantly strives to learn new things, including the technology and web design skills needed to keep the department's website current. According to her nominators, "She maintains a professional and cheery attitude at all times and is one of the best team players in the Physics staff."
Pittsburgh Supercomputing Center: Joel Welling
Joel Welling, a senior scientific specialist, has been with the PSC since its beginning in 1986. During that time he has "consistently exhibited deep scientific understanding and has moved rapidly and efficiently into new and challenging areas," wrote his nominators. Welling has contributed to a staggering diversity of disciplines including scientific visualization, statistical analysis of fMRI data for autism and concussion studies, and wavelet analysis to understand subtle differences in 4D seismic simulations, all in collaboration with colleagues at PSC, the university and at other institutions nationwide.
Chemistry: Sara Wainer
Sara Wainer is "an icon of reliability and an engine of productivity," wrote Rea Freeland when nominating Wainer for the award. As the administrative coordinator for the Chemistry Department, Wainer is always gracious in responding to tasks, and she does so with speed, efficiency and focus. This past year, Wainer's exceptional organizational skills were evident during the Hugh Young memorial and Kris Matyjaszewski's 65th birthday symposium. "Sara's role in organizing and running these events with me has been a big part of their success," Freeland noted.
---
Also during the ceremony, 20 staff members were given years-of-service awards, recognizing from 5 years to 55 years with MCS.
Photo caption: Front row, left to right: Tara Primiero, Amanda Bodnar, Melissa Lessure, Al Koll, Mike Hirsh and Dave Saunders
Back row, left to right: Stella Andreoletti, Ferna Hartman, Tom Kelly, Dave Howard, Darryl Harper, Rodney Hickman, John Shade and Matt Godlewski
Not pictured: Chuck Garvey, Craig Hahn, Ron Novak and Sara Wainer
---
Originally published: https://www.cmu.edu/mcs/news-events/2015/0501-mcs-staff-awards-2015.html