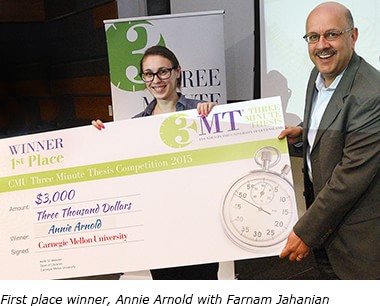 April 13, 2015
Annie Arnold Wins Three Minute Thesis Competition
Describe more than a year's worth of in-depth, doctoral research. Make it understandable, compelling and engage a non-specialist audience — and do it in only three minutes.
Scores of Carnegie Mellon University Ph.D. students did just that as part of the Three Minute Thesis (3MT) competition. And chemistry's Annie Arnold did it the best, winning first place.
"I was very excited to participate in the 3MT competition," said Arnold, who is working to develop a biodegradable bone implant using modified graphene — essentially pencil lead. Unlike a permanent device, this implant would degrade over time while promoting new bone tissue to replace itself."
"When I tell people that I study chemistry, the most common response is a strange look accompanied by how much they disliked the subject when they were forced to take it," Arnold explained. "The 3MT competition gave me the opportunity to not only share how exciting my research is, but also to convey that chemistry is fun, exciting and has the capability to really help people."
This is the second year that CMU has taken part in the international event. Begun at University of Queensland in 2008, it quickly expanded to hundreds of universities in more than 18 countries.
3MT was brought to CMU by Keith Webster, Dean of Libraries.
"I saw the impact 3MT had at the University of Queensland," explained Webster, who while Dean of Libraries there, had been heavily involved in working with the participants.
"It was an opportunity for students to strengthen their communication skills and a vehicle to showcase the breadth and depth of talent amongst early career researchers," he added. "Carnegie Mellon has an incredibly talented Ph.D. student pool, and 3MT was a logical choice."
At CMU, all doctoral students are eligible, even if they've entered in prior years. Adding to the challenge — contestants are allowed just one static slide. No animation, no props, no video.
Participants from departments across the university competed in the preliminary heats of this year's event with 11 reaching the finals. A panel of judges selected first, second and third place while the audience chose a People's Choice winner. All winners received cash prizes up to $3,000 supporting research or travel.
Biological sciences student Madhumitha Ramesh was also a finalist in the competition and presented at the 2015 championship.