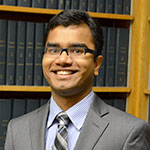 September 18, 2014
Chemistry Graduate Student Matharishwan Naganbabu Named a James R. Swartz Entrepreneurial Fellow
By Amy Pavlak apavlak(through)andrew.cmu.edu
Mellon College of Science (MCS) graduate student Matharishwan Naganbabu was selected by the Carnegie Mellon Center for Innovation and Entrepreneurship as a 2014 James R. Swartz Entrepreneurial Fellow. The program develops entrepreneurial skills through mentoring, hands-on experiences, coursework and networking with business professionals. The twelve 2014 Fellows were selected for the program because of their entrepreneurial passion in fusing technological expertise with business.
Matha, a third year chemistry Ph.D. student working with Marcel Bruchez in MCS's Molecular Biosensor and Imaging Center (MBIC), is developing new probes for biosensor applications. His work focuses on synthesizing new components for fluoromodules, a probe developed at MBIC that allows scientists to monitor the activities of individual proteins found in living cells in real-time.
Matha is also an aspiring entrepreneur interested in designing business strategy, marketing and innovation. In addition to his graduate studies, he currently works as a global scholar with PreScouter Inc., a company that aims to increase commercialization of research from academia to industry.
James R. Swartz Entrepreneurial Fellows receive a summer internship at a top-tier venture-capitalist backed start-up, travel stipend for two trips to Silicon Valley for networking and mentoring by faculty and staff at the Center for Innovation and Entrepreneurship, Venture Capitalists and C-level executives.