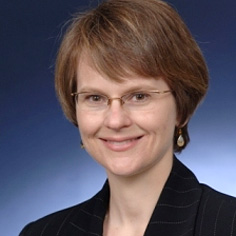 July 16, 2014
Alumna Kathryn L. Beers Named a Fellow of the American Chemical Society
By Jocelyn Duffy jhduffy(through)andrew.cmu.edu
Chemistry alumna Kathryn L. Beers (S'96, '00) has been named a fellow of the American Chemical Society (ACS). The fellows program recognizes the society's members for their outstanding achievements and contributions to science, the profession and ACS. Beers is one of 99 new fellows who will be honored at the society's annual meeting held in August.
Beers is the leader of the Polymers and Complex Fluids Group in the Materials Science and Engineering Division of the National Institute of Standards and Technology (NIST). Prior to leading that group, she led the Renewable Polymers Project in NIST's Polymers Division and served as the Assistant Director for Physical Sciences and Engineering in the Office of Science and Technology Policy in the Executive Office of the U.S. President. She has been a member of ACS since 1993, and was elected vice chair of ACS's Division of Polymer Chemistry in 2012.
Of ACS's more than 161,000 members, only 860 are fellows. Carnegie Mellon Chemistry Professors Krzysztof Matyjaszewski and Terry Collins, and Chemical Engineering Professors Andrew Gellman and Robert Tilton are ACS Fellows.