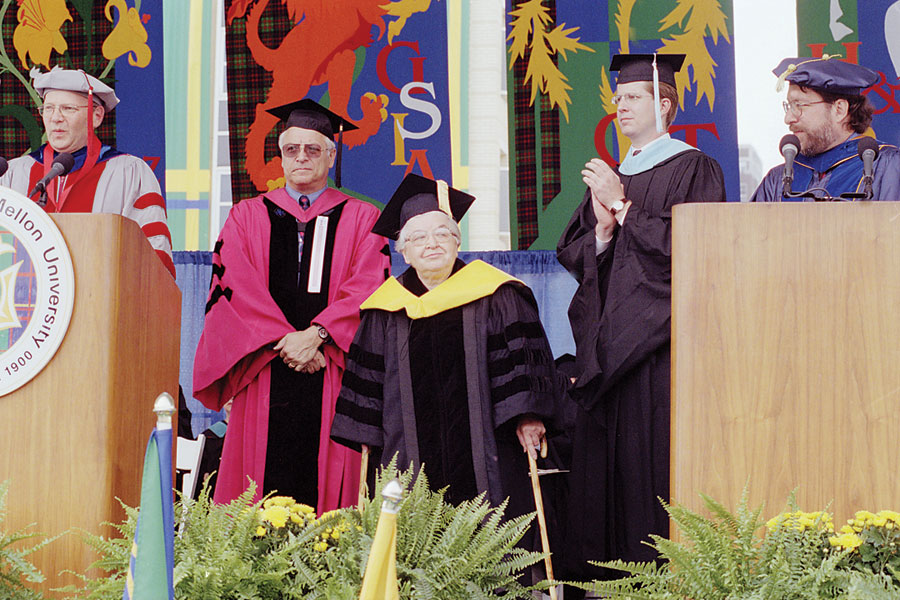 June 20, 2014
Obituary: Carnegie Mellon Alumna and Hall of Fame Inventor Stephanie Kwolek Dies at 90
She Invented Key Ingredient for Bulletproof Vests
Carnegie Mellon University alumna Stephanie Kwolek, the inventor of Kevlar®, the essential ingredient in body armor, died Wednesday, June 18 in Wilmington, Delaware. She was 90.
Kwolek, who earned her bachelor's degree in chemistry from CMU in 1946 and an honorary degree from the university in 2001, spent her 40-year career as a research chemist in the Textile Fibers Department at the DuPont Company's Pioneering Research Laboratory.
Through her work in the field of liquid crystalline polymers, Kwolek invented the technology for the foundation of the Kevlar® fiber in the mid 1960s. Kevlar®, five times stronger than steel (20 times stronger under water), is resistant to wear, corrosion, fatigue and flame, and is non-conductive.
Kevlar has more than 200 applications. It is used to manufacture protective clothing (including fire-safe suits for fire fighters and bulletproof vests for police officers), ropes and cables, plastic reinforcement, industrial fabrics and materials in the aircraft and aerospace field.
"Stephanie Kwolek was small in physical stature, but a giant in what her discoveries did for the world," said Fred Gilman, dean of CMU's Mellon College of Science. "I was privileged to have met her and understand her strength of character that enabled her to rise from humble beginnings, get her degree from Carnegie Tech and pursue an illustrious career."
Kwolek's work for DuPont led to 16 United States patents. Her early research in low temperature processes made possible the preparation of unmeltable or thermally unstable polymers, which formed the groundwork for Lycra® spandex fiber, Nomex® and Kevlar® aramid fibers. She is the only female recipient of DuPont's Lavoisier Medal for outstanding technical achievement.
After retiring in 1986, she worked as a consultant in polymer chemistry and completed a term on the Liquid Crystalline Polymer Committee of the National Research Council of the National Academy of Sciences.
Kwolek was active in mentoring other women scientists and participating in programs for school children. One of Kwolek's most cited papers, written with Paul W. Morgan, is "The Nylon Rope Trick," which describes how to demonstrate condensation polymerization in a beaker at atmospheric pressure and room temperature. This experiment is used in classrooms across America. She authored or co-authored more than 30 publications.
Kwolek was the fourth woman inducted into the then 113-member National Inventors Hall of Fame in 1994. She was awarded the National Medal of Technology in 1996, the Society of Chemical Industry Perkin Medal in 1997 and was inducted into the Plastics Hall of Fame in 1997. She received a Carnegie Mellon Alumni Distinguished Achievement Award in 1998 and was elected a member of the National Academy of Engineering in 2001.
She is a member of the American Chemical Society, the American Institute of Chemists, the Sigma Xi and Phi Kappa Phi honorary societies and the Franklin Institute of Philadelphia.

In addition to her honorary degree from CMU, Kwolek received honorary degrees from Worcester Polytechnic Institute and Clarkson University.