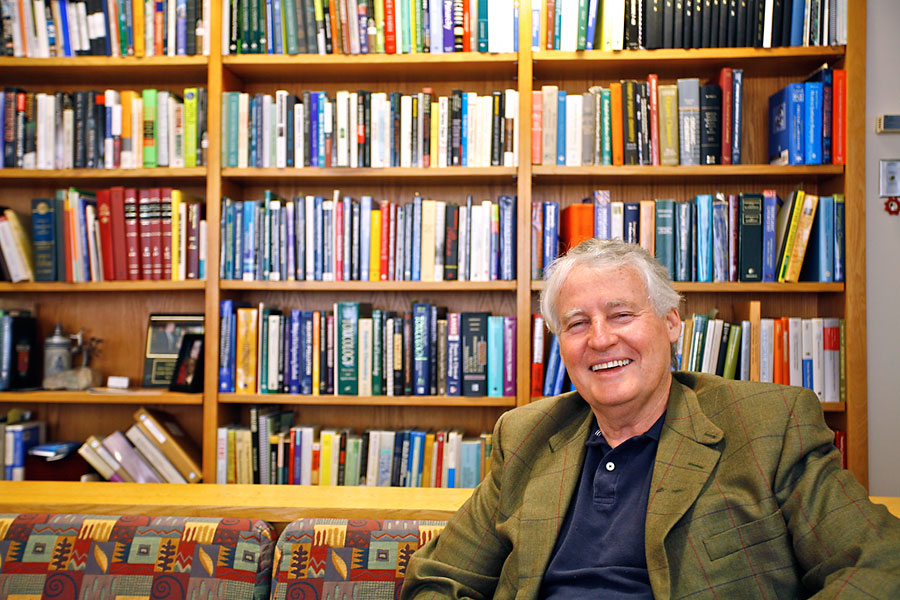 September 12, 2013
Internationally Renowned Green Chemist Terry Collins Named Fellow of the American Chemical Society
By Jocelyn Duffy jhduffy(through)andrew.cmu.edu
PITTSBURGH- Terry Collins, the Teresa Heinz Professor in Green Chemistry at Carnegie Mellon University has been named a fellow of the American Chemical Society (ACS). Collins was one of 96 new fellows honored at the society's annual meeting held in September for their outstanding contributions to science, the profession and ACS. ACS has 163,000 members, of which only 761 have been named Fellows.
"This is an honor bestowed on members for their outstanding accomplishments in scientific research, education, and public service," said Shakhashiri in announcing the 2013 class of ACS Fellows. "Their individual contributions to ACS, to science, and to society are hallmarks of distinction in keeping with the ACS mission of advancing the chemical enterprise and its practitioners for the benefit of Earth and its people. Selection as an ACS Fellow greatly honors each individual and also honors ACS. It is also a charge to each fellow to maintain his or her excellence in advancing chemistry and serving society."
Collins is the director of Carnegie Mellon's Institute for Green Science. He is one of the core founders of green chemistry, a field of study aimed at developing chemical products and processes to reduce or eliminate the use and generation of substances that are hazardous to human health and the environment. Collins is a pioneer in green chemistry education. He taught the first course on the topic at Carnegie Mellon in 1992 and developed an online resource for teachers. He is also a tireless advocate for shifting the economy from unsustainable to sustainable technologies, frequently speaking to audiences worldwide.
In addition to his work in education and public lecturing, Collins is a world-renowned researcher, having invented TAML catalysts, which are the first, and only full-functional, small molecule mimics of any of the great families of oxidizing enzymes. TAML activators exquisitely mimic the peroxidase enzymes, which they arguably outperform. TAML catalysts with peroxide have been proven to destroy persistent pollutants in the water supply, including and especially endocrine disruptors,, and to provide more environmentally-friendly alternatives to many industrial processes. Collins is also part of the international team that created the Tiered Protocol for Endocrine Disruption (TiPED), a testing system manufacturers can use to ensure that their products are free of harmful endocrine disrupting chemicals. TAML activators are the earliest new chemicals to have been subjected to multiple TiPED assays.