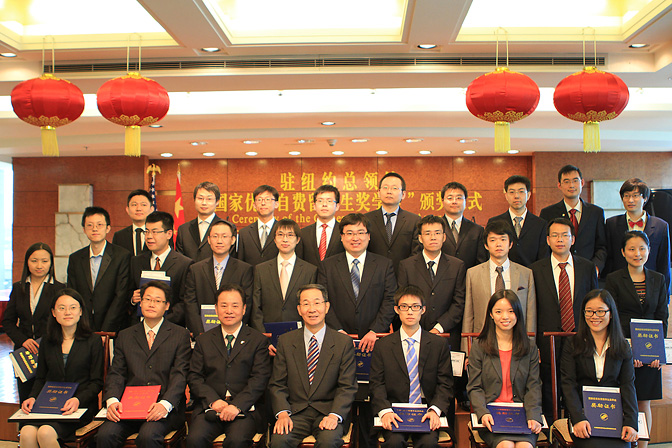 June 20, 2013
Mingjiang Zhong Receives Prestigious 2012 Chinese Government Award for Outstanding Self-Financed Students Abroad
Mingjiang Zhong, a fifth-year graduate student in the Department of Chemistry, has received the 2012 Chinese Government Award for Outstanding Self-Financed Students Abroad. Sponsored by the Chinese Ministry of Education, the award recognizes the academic excellence of self-financed Chinese students studying overseas and is granted across all fields of study. Sun Guoxiang, the Consulate General of the People's Republic of China in New York, presented the award to Zhong and other recipients at a ceremony in New York on May 17, 2013.
A member of both the Kowalewski and Matyjaszewski research groups, Zhong explores approaches for synthesizing nanomaterials, specifically porous nanocarbon materials containing nitrogen. Using controlled/living radical polymerization (CRP), Zhong developed a new pathway for preparing and characterizing these nanomaterials from block copolymers. His technique allows him to control the nanocarbon surface area, pore size and distribution, and functionality. Wielding this level of control over the synthesis of nitrogen-enriched porous nanocarbons is key to using the material in multiple applications including catalysis, gas purification, reversible CO2 capture and devices for energy storage and conversion.
Another of Zhong's key research contributions is his work extending the understanding of CRP through both numerical simulation and experimental studies in order to improve CRP's "livingness", or the ability to keep growing polymer chains over time.
Zhong has collaborated with more than 20 research groups at Carnegie Mellon, other universities, national labs and international institutions, and is a co-author on 24 peer-reviewed articles in international journals.
Zhong is a 2012-13 Astrid and Bruce McWilliams Fellow and the 2013 Guy C. Berry Graduate Research Award winner, which recognizes excellence in research by Mellon College of Science graduate students.
---
Above: Recipients of the Chinese Government Award for Outstanding Self-Financed Students Abroad who were able to attend the ceremony in New York. Mingjiang Zhong is fifth from the left in the front row.