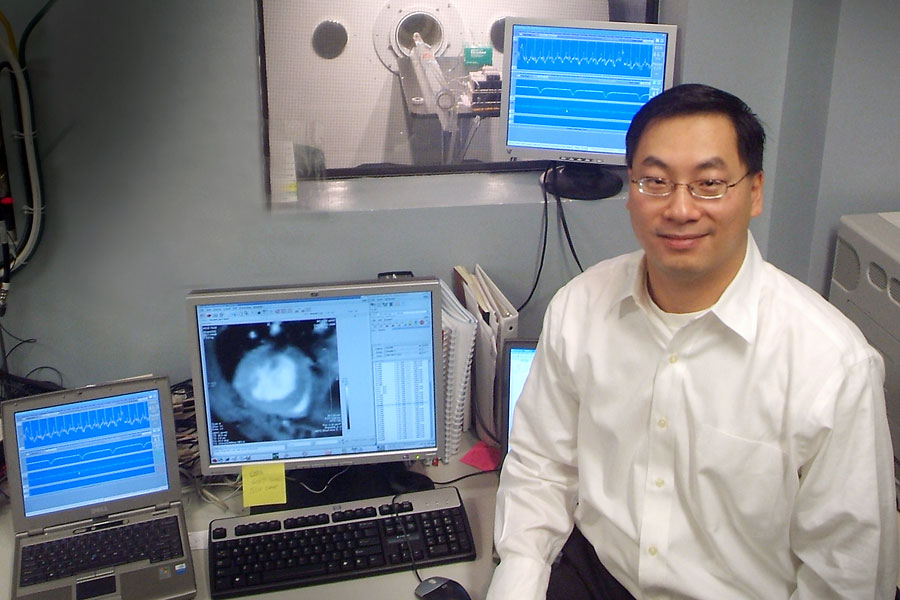 December 01, 2014
Tom Hu, Ph.D. 2001
Anthrax-laced letters mailed to the White House. A dirty bomb detonated in New York. An Ebola outbreak in Atlanta. These are just a few of the nightmare scenarios that might cross Tom Hu's (S'01) mind and desk on a daily basis. Working across an alphabet soup of federal agencies—the CDC, NIH, FDA, DOD, EPA, DOT, to name a few—Hu leads an interagency network of experts who create medical countermeasures that will prevent the next public health crisis—nature- or man-made.
"It's almost like an insurance policy that you buy just in case something really bad happens," Hu explains. "In our case, the bad thing is a huge anthrax attack or chemical attack or a radiologic or nuclear attack. We have all the necessary tool kits of drugs to take care of those issues."
As a project officer in the Division of Chemical, Biological, Radiological, and Nuclear Countermeasures at the Biomedical Advancement Research and Development Authority at the U.S. Department of Health and Human Services (HHS), Hu's job is to create safeguards for the nation's health. But he's never been one to play it safe in his career. For example, when he started his new job at HHS, Hu didn't have any training in science policy.
"I was very nervous," he recalls. "I had never done it before. But, true to my nature, I said to myself: Oh, that could be interesting. I'll try it out to see how well I do."
That sense of adventure and exploration has served Hu well as he's charted a decidedly unique career path, thanks in large part to the strong network of friends and colleagues he made at CMU.
"Carnegie Mellon created a very good networking base, not only for my career but also for my scientific development."
Born in Taiwan, Hu was a teenager when he moved to Philadelphia with his family. His oldest brother Chih-Kao (S'94, GSIA'97), also a CMU Chemistry Department alumnus, was a source of inspiration to the teenaged Hu.
"When he was in graduate school, I would spend time visiting him during the summer," Hu recalls. "I would talk to him about science, sometimes even visiting the lab and helping him out."
His time helping his brother led Hu to pursue a bachelor's in chemistry with an emphasis in biology at the University of Pittsburgh. Hu continued his education at Carnegie Mellon, earning his M.S. and Ph.D. in chemistry and writing his dissertation on manganese as a potential contrast agent in cardiac magnetic resonance imaging.
Hu credits his time at Carnegie Mellon with providing him the tools necessary to launch his unconventional career path.
"Carnegie Mellon provides a very, very strong analytical base. I think that's the most critical thing. Because with strong critical and analytical thinking skills, you can make a lot of good life and career decisions. It's a good starting point to continue to explore and learn."
After completing a postdoctoral fellowship at the National Institutes of Health (NIH), Hu joined GlaxoSmithKline, where he worked as a principal scientist in the pharmaceutical giant's Center for Excellence in Drug Development, which was at the forefront of cardiac imaging technology. Faced with the choice between a purely technical career track or one that led to executive leadership positions, Hu decided to earn his MBA to keep his options open.
That decision paid off right before he completed his MBA when he got a call from a friend at NIH.
"She told me 'There's this position that I think is ideal for you. It's an assistant professor position.' I said politely, 'Oh, that's interesting, but I was really hoping to get into business development.' "
But when Hu learned that the position would entail starting up a brand new pre-clinical imaging program in the Department of Radiology at Georgia Regent University's Medical College of Georgia, he was intrigued. He applied for and got the job.
After only a year, Hu built the Small Animal Imaging Program from the ground up, turning it into a core facility for pre-clinical imaging and basic research that benefits the entire campus. Six years into his tenure at the Medical College of Georgia, Hu received an email from a friend of his, a radiation oncologist at the National Institute of Allergy and Infectious Diseases, who thought Hu would be a perfect fit for a job working on science policy at HHS.
The job was very different from any of the other things Hu had done in his career, but his friend was persuasive.
"Think about how much it would impact folks—on the scale of tens of millions—if you change the policy from the U.S. government perspective," Hu recalls his friend saying. "That's why I went into science policy."
Through all of his career transitions, Hu's most important network— his family—has supported him.
"My wife is extremely supportive. She moved with me five times as I changed career paths," Hu says. Their move to DC has allowed his wife and two children to be closer to his wife's family in Pittsburgh and his brother who lives in New York.
Although busy with his current responsibilities at HHS, Hu makes the time to pass on the lessons he's learned about networking and mentoring to current students—in spring 2012, he participated in the Mellon College of Science's Graduate Career Paths Panel Discussion. "One of the important things I learned is to keep up the network, keep an open mind talking to people, and at the same time share your learned knowledge."
Photo caption: Tom Hu at the imaging facility he launched at Georgia Regents University's Medical College of Georgia. Hu continues his imaging research and recently published a textbook, "Pharmaco-imaging in Drug and Biologics Development", with Brian Moyer and Narayan Cheruvu.
Image courtesy of Georgia Regents University