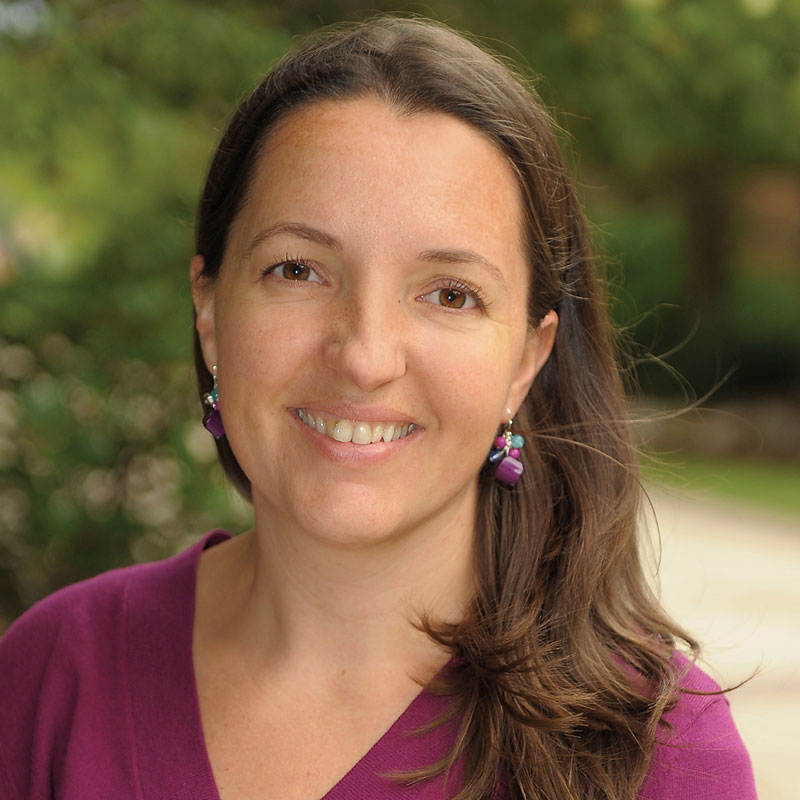 October 19, 2017
Violeta Marin, Ph.D. 2005
What is your current position and what are some of your key responsibilities?
Since 2008 I've been a part of the Molecular Probes Group within the Medicinal Chemistry Department in the Global Pharmaceutical Research and Development division at Abbott Laboratories. I am currently a "Senior Scientist I" and I work on numerous projects in collaboration with almost all therapeutic areas (Cancer, Neuroscience, Immunology, etc.) at Abbott. I am responsible for the design and synthesis of peptide-based fluorescent probes and all peptide-based reagents (isotopically labeled standards, toxin, complicated refolded peptides, FRET substrates, etc.) and small-molecule based fluorescent probes used in assays and for assay development across the organization. I am also involved in projects related with target identification by MS for which I make affinity-based reagents. I work in collaboration with many teams and scientists with different backgrounds (synthetic chemists, biologists, pharmacologists). My work is very exciting and the projects have usually fast turnaround results. 
What attracted you to Carnegie Mellon for graduate school?
Swimming pool!! This is a joke in our family – when my husband and I – both Romanian citizens – applied to several universities for graduate school, we were always joking that we should pick a school with a swimming pool. All jokes aside, we chose CMU from several top tier universities as it offered high quality graduate programs for both Chemistry and Physics (my husband's field). I was looking for a department that was relatively medium size where there was an accent on personal development of the students and that offered a biologically-oriented organic chemistry program. I found my best match in the group of Dr. Bruce Armitage, a young investigator who started the basis of what is now a very strong and well-known bio-organic chemistry program with a focus on PNA (see Center for Nucleic Acids Science and Technology) with several groups contributing high-quality research.
How did your graduate experience prepare you for the next steps in your career?
While at CMU I became a well-rounded scientist with a broad background in Organic Chemistry, Analytical Chemistry and Biology and an attitude that there is nothing I cannot do if I set my mind to it. My training helped me land a job that I love and where I can make a difference. In fact, my current manager told me that he picked me from the overwhelming number of applications because I had a broad background that included the required experience in peptide chemistry, in addition to experience in biological assay development and synthetic chemistry.
The skills that I learned in graduate school are universally applicable: a strong scientific background and technical skills, teamwork, interpersonal skills, embracing the new, having a positive attitude.
What were some of the memorable opportunities in graduate school that contributed greatly to your career and professional growth?
I had the opportunity of learning from great professors in a very conducive and challenging environment and becoming an accomplished scientist. This is the most important gift I was given.
In Bruce's group I had the opportunity to work both independently and on collaborative projects within the Chemistry Department and across other scientific organizations (I worked on a collaborative project with scientists from Denmark and also from a startup company). I had many great opportunities to participate in scientific meetings and conferences, to present my work and to meet and network with other students and established scientists (one of the best conferences I've participated as graduate student was the Gordon Research Conference - Biopolymers).
Before my graduation I struggled (as most of us do) with the question of what to do next. I had great support in this endeavor first and foremost from my advisor who made his connections and professional network available to me, and who, I felt, helped me a lot finding my way. Secondly, CMU as an institution offers great programs and career network opportunities that are open to all students. The women in science events were always very informative and made me appreciate this format of networking. I still continue to be a part of an organization of women in science (AWIS – Association of Women in Science). In fact, I found out about the opening for the position I currently have from one of the AWIS networking events.
What do you recall as important learning from your Ph.D. at Carnegie Mellon that is still important to you now?
In my second year I was struggling with a project and I was doing a large number of experiments to what like seemed no avail. My advisor told me directly: Research is not just putting numbers in a table. That advice made me stop, think, and ask the significant questions.
Another thing I learned as grad student and later as postoc was never to be afraid to ask questions and ask for help.
Another important lesson learned was that one's job (whether as a grad student, a postoc or later as an established scientist or any other career path) is where one spends a lot of time. Pick something that you love, and more importantly, pick a team that you feel comfortable with as these are the people you will spend more time with than your family sometimes. People matter!
Anything else you'd like to add?
I'd like to say thank you! Recently my company had a poll where we were asked "where did you enjoy most spending time during your education?" — with possible answers being from high school through post doc. Very few people picked grad school. For me, it was an obvious choice to pick grad school. I think that if the same poll would be applied to graduates of the CMU Chemistry Department, the answer would often come back as grad school. I'm saying thank you by staying connected, by trying to give something back and by always returning "home".