OLI Linked in Canvas
NOTE: Please reach out to the Eberly Center team for assistance in locating and connecting OLI courses through Canvas. canvas-help@andrew.cmu.edu
There are various Open Learning Initiative modules that you may be interested in including in your Canvas course. Below are few examples of OLI modules faculty have integrated into Canvas:
Academic integrity

CollabU/ConflictU: 

Innovative mini-courses to help students be more successful in group activities

Statistics: 

The basic concepts of statistics and the logic of statistical reasoning

Programming with Python: 

An introduction to Python and elementary principles of computing, including iteration, recursion, and binary representation of data.

DiaGrammar: 

Homegrown tool designed to help students visually diagram the components of a sentence.

TA Training: 

Modules designed for training graduate and undergraduate teaching assistants on grading, feedback, and using rubrics.
Explore OLI courses at: https://oli.cmu.edu/
If you have an existing OLI course or know the course key please continue. Linking an OLI course through Canvas allows users to access with one click within the Canvas interface. Students will be automatically logged into OLI and enrolled in the course with their andrew ID.
To activate OLI in an assignment:
From the Assignment tab in Canvas, select the + assignment button.


In the assignment editor, scroll to the submission type area.


Select the submission type drop down menu and change the selection to external tool.


To select OLI as your external tool, click the find button.


Scroll through the external tool list to locate the Open Learning Initiative (OLI) link. Click the 'Select' button to save.


Next, select 'Save & Publish' to finish editing the assignment.


NOTE: In your assignment, you can now set up the OLI module by entering an already existing course key and your login. Please contact The Eberly Center at this point for further assistance.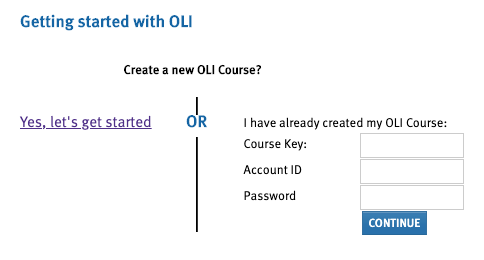 To activate OLI in a module:
From the Modules tab in Canvas, select the + button.


In the item editor, change the drop down menu to 'External Tool'.



Choose Open Learning Initiative (OLI) from the list of tool types and select 'Add Item'.

 

The OLI link is now enabled in your course and may be edited to add an existing course key. This can be done by clicking on the OLI module and adding the course key and account information.


NOTE: If you do not have a course key or would like to create a new OLI course, please contact The Eberly Center for further assistance.