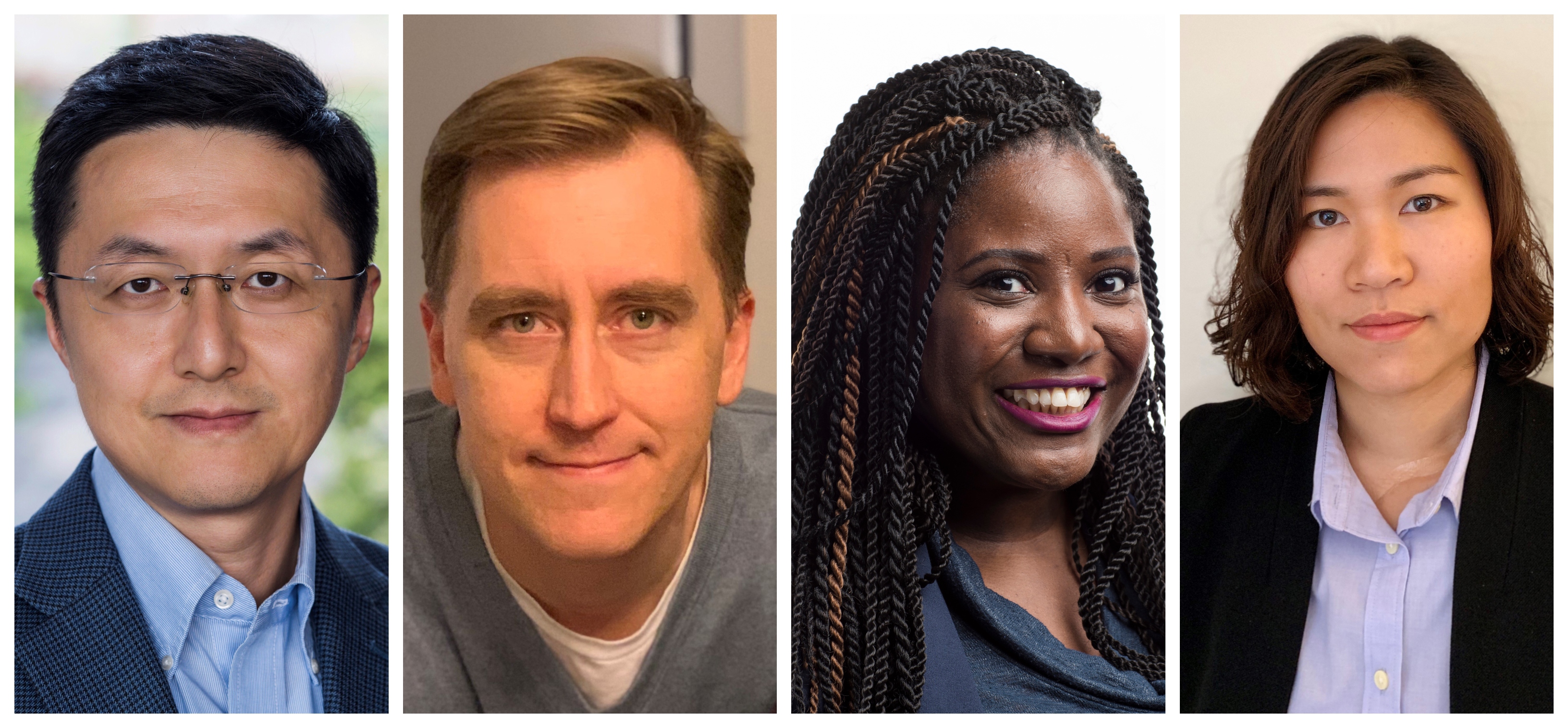 September 04, 2019
Four New Faculty Join BME
The Carnegie Mellon University's Department of Biomedical Engineering is happy to welcome four new faculty in fall 2019. These new faculty have expertise in nano/microtechnology, neuroengineering, drug delivery, and computational biomedicine which will be exceedingly valuable to the department, to enhance the biomedical engineering research and education programs.
Siyang Zheng
Dr. Siyang Zheng joined CMU in July as an associate professor with a joint appointment in both the BME and ECE Departments. Zheng received his Ph.D. in Electrical Engineering from Caltech. His current main research interests center around biomedical micro/nano technologies and their applications to cancer and infectious diseases. Zheng was a recipient of the NIH Director's New Innovator Award, and the Research Scholar Award from the American Cancer Society, among others. He has published 54 peer-reviewed articles in core journals including Nature Biomedical Engineering and Science Advances, and is the principal investigator of NIH R01 grants on technology developments for liquid biopsy for cancer diagnosis and emerging virus discovery.
Matthew Smith
Dr. Matt Smith will join CMU in September as a jointly appointed associate professor with the Department of BME and the Neuroscience Institute. Smith received his Ph.D. in Neural Science from New York University. Smith's research focuses on systems neuroengineering and understanding the brain using advanced neurotechnologies. Smith's lab employs neurophysiological and computational approaches to study the visual system, especially on the level of individual neurons and populations. Smith has been the recipient of the NIH Pathway to Independence Award among others. He has published 41 peer-reviewed articles in core journals including Nature Neuroscience and Nature Communications, and is a principal investigator of NIH R01 grants on neural population dynamics and coding. 
Elizabeth Wayne
Dr. Elizabeth Wayne joined CMU in August as an assistant professor with a joint appointment between Chemical Engineering (ChemE) and BME. Her current research focuses on drug delivery for cancer treatment, specifically the use of microphages to deliver therapeutic genes to solid tumors. Wayne has received awards and recognitions as both a speaker and an advocate for the inclusion of women in STEM. In 2017, she was recognized as a TED Fellow for both her cancer nanotechnology research, and her podcast PhDivas, which works to amplify the voices of women in higher education by interviewing women who have or are pursuing doctorate degrees. Her writing and research have been featured in a number of publications, including The Los Angeles Times, Bust Magazine, and more. 
Patjanaporn "Sang" Chalacheva
Dr. Sang Chalacheva joined CMU in August as an assistant teaching professor of BME. She received her Ph.D. in Biomedical Engineering from the University of Southern California. Her research involves computational modeling of cardiovascular autonomic control in sickle cell disease, an inherited blood disorder characterized by episodes of painful vaso-occlusive crisis caused by obstruction of blood flow due to sickling of red blood cells, as well as sleep-related breathing disorders. Chalacheva received a 2016 NSF Fellowship and is a member and communications coordinator for the Cardiopulmonary Systems Technical Committee of the IEEE Engineering in Medicine and Biology Society.
These new faculty will further enhance the thrust areas of research and education in medical device, neuroengineering, cell and tissue engineering, and computational biomedical engineering.