April 23, 2018
Celebrating the Best in Education, Teaching, Mentoring and Outreach
By Kanika Bhandari kanika(through)cmu.edu
Carnegie Mellon University annually recognizes the outstanding, impactful contributions that distinguished faculty and staff have made to advance education, research, their colleagues and students. This year's Celebration of Education ceremony will take place at 4:30 p.m., Monday, April 30 in the Cohon University Center's Rangos Ballroom.
The event honors the recipients of six awards covering education, teaching, outreach, advising and mentoring and innovation. The Graduate Student Teaching Award winner and the Graduate Student Service Award winner also will be recognized, as well as college teaching award winners and Wimmer Faculty Fellows.
Robert A. Doherty Award for Sustained Contributions to Excellence in Education
Jonathan Cagan
George Tallman and Florence Barrett Ladd Professor of Engineering, Mechanical Engineering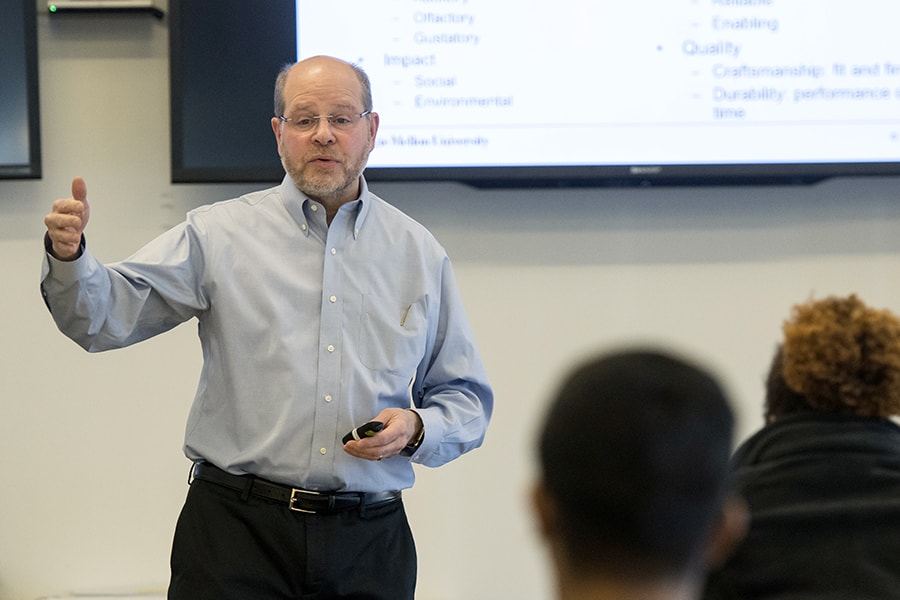 For more than a quarter century, Jonathan Cagan has been a beacon for collaboration and innovation in research and education, developing new courses and programs.
Cagan's pioneering work brings together the disciplines of engineering, design and business to create breakthrough products, and his teaching methods have been adopted by universities and industries around the world.
Since first teaching "Design, Manufacturing and Marketing of New Products" in 1993, Cagan has been a champion for interdisciplinary education and leveraging technology to tackle societal problems. That class, renamed the Integrated Product Development course, won the American Society of Mechanical Engineers Curriculum Innovation Award in 2003.
Cagan co-created the Master of Product Development program in 2003, then offered jointly by the Mechanical Engineering Department and School of Design. The program has evolved to the Master of Integrated Innovation for Products and Services, now part of CMU's Integrated Innovation Institute. In 2013, he co-founded the institute, which offers master's degree programs for professionals who are passionate about developing, designing and launching the next generation of products and services. In 2016, he was instrumental in launching the institute's Master of Science in Technology Ventures in Pittsburgh and Silicon Valley.
Cagan has co-authored three highly influential books, "Creating Breakthrough Products," "The Design of Things to Come" and "Built to Love." The books are used as textbooks at universities and is required reading for product development organizations. He has written over 250 peer-reviewed publications and has six patents with two pending.
In their nominating letter, professors Edward S. Rubin and Allen L. Robinson cited Cagan's "tremendous impact" on educational programs, individuals, companies and other universities.
Stuart Evans, a distinguished service professor at Silicon Valley, supported Cagan's nomination.
"Jon's passion for innovation, his pioneering scholarship, his continuous drive to improve the curricula and the students' educational experience, combined with his relentless dedication and collaborative leadership make him an ideal candidate for the Doherty Award," Evans wrote in a supporting letter.
Cagan is a recipient of the College of Engineering's Outstanding Research Award, a fellow of the American Society of Mechanical Engineers and a recipient of the ASME Design Theory and Methodology Award. He is associate dean for graduate and faculty affairs in the College of Engineering and faculty co-faculty director of the Swartz Center for Entrepreneurship.
William H. and Frances S. Ryan Award for Meritorious Teaching
Baruch Fischhoff
Howard Heinz University Professor of Engineering and Public Policy (EPP) and Institute for Politics and Strategy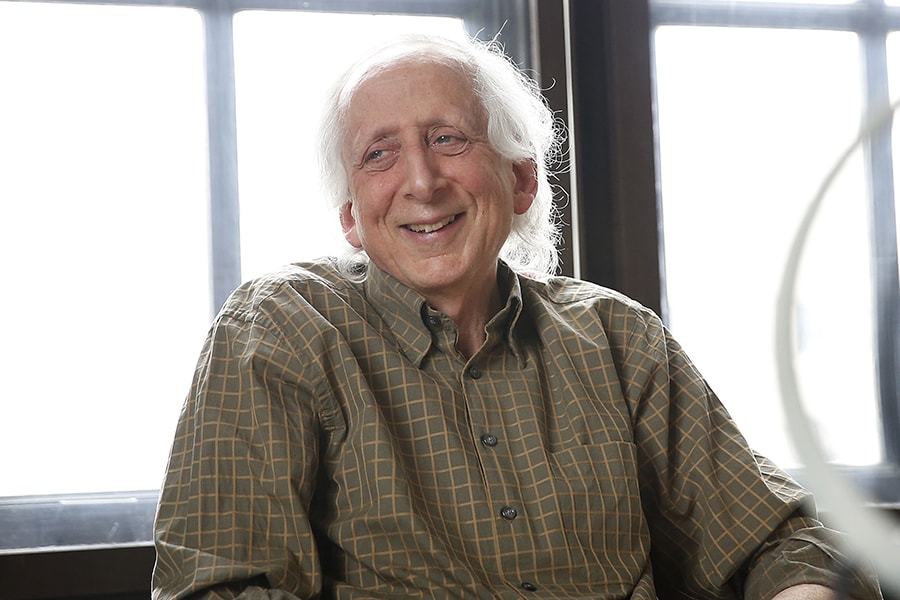 Baruch Fischhoff has devoted his career to teaching, public service, and research in risk analysis and decision science, fields he helped to create, which seek to understand and improve the judgement and decision-making of individuals, groups and organizations. When he co-founded the decision science major in 2000, it was the first of its kind in the world. Today, it is among the most popular majors for Dietrich College students.
"In this endeavor, Baruch represents Carnegie Mellon at its finest — a world class scholar who developed an educational program that is both path-breaking in its seamless integration of disciplinary perspectives and focused on solving important problems faced by decision makers in private organizations and those that serve the public interest," wrote professors Linda Babcock, Jared Cohon and Douglas Sicker in their nominating letter.
Fischhoff's nominators praised his work in the classroom, specifically in the Behavioral Decision Making course.
"Baruch builds a connection between the students, the major and each other. It is in this course that students come to define themselves as decision science majors. He does this through orchestration of lively class discussions and also through the passion that he brings to the course material. He clearly lives and breathes decision science and his enthusiasm is infectious," they wrote.
Supporting letters from students praised him for his accessibility, his mentorship and his willingness to involve undergraduates in research projects. Decision science majors have gone on to work for leading companies, such as Bank of America, Microsoft, Teach for America, the Food and Drug Administration and the FBI.
Fischhoff also is an expert in risk communication. He chaired the Food and Drug Administration Risk Communication Advisory Committee and has been a member of the Department of Homeland Security Science and Technology Advisory Committee and the Environmental Protection Agency Scientific Advisory Board.
He has earned numerous awards and honors, including election to the National Academy of Sciences and the National Academy of Medicine. He was named a 2018 Carnegie Andrew Carnegie Fellow, and he earned the Award for Distinguished Service to Psychology from the American Psychological Association and the Distinguished Service Award from the Society for Risk Analysis. He is a fellow of the American Psychological Association, the Association for Psychological Science, the Society of Experimental Psychologists and the Society for Risk Analysis.
Mark Gelfland Award for Educational Outreach
Rosemary Frollini
Associate Director Colloids, Polymers and Surfaces Program, Chemical Engineering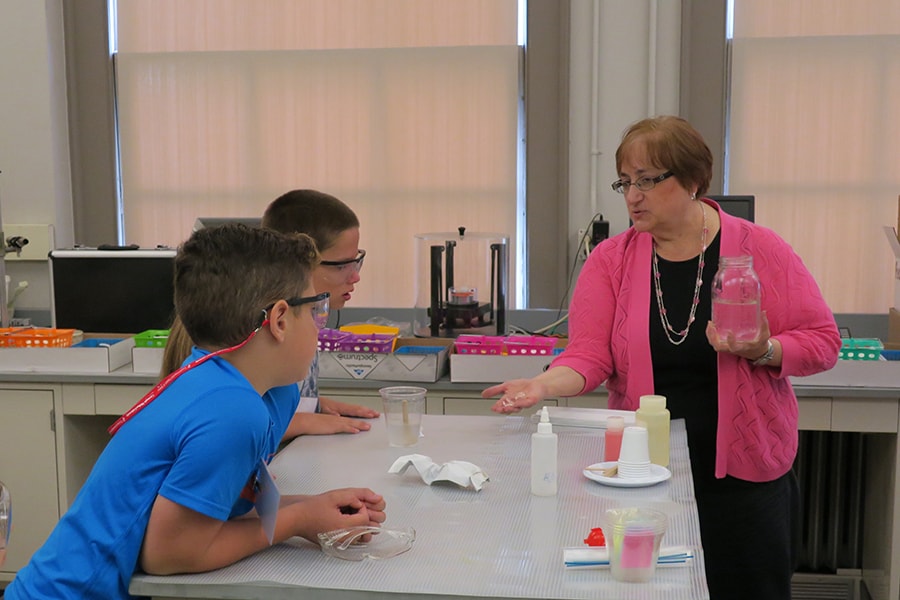 In her career spanning over 30 years at Carnegie Mellon, Rosemary Frollini has committed herself to generating enthusiasm and awareness for the STEM fields — science, technology, engineering and mathematics — and demonstrating the importance of engineering and science in the manufacturing of everyday products.
Frollini has spearheaded over 23 distinct educational outreach experiences over the last 25 years, many of which are repeated annually. One of these programs developed from Frollini's interest in in forensic science research and led to the creation of K-12 forensic science activity programs funded by Hewlett Packard and the Society of Analytical Chemists of Pittsburgh.
Frollini's programs have made an indelible impact on the minds of young students, simplifying chemical engineering concepts for young children. Many of her initiatives have been used at events like the Society of Women Engineers High School Day, the Carnegie Science Center Click Program and professional development programs organized by the Pennsylvania Department of Education.
Since joining the Chemical Engineering Department in 1977, Frollini has developed the laboratory curriculum for the Colloids, Polymers and Surfaces (CPS) program. She has worked tirelessly to support Carnegie Mellon students in developing the skills to explain complex content to novice audiences and has supported the Chemical Engineering Graduate Student Association in creating the Outreach Officer position. In a supporting letter, the association's leadership committee wrote that "she reminded us of the importance of giving back and taught us how to be effective teachers and mentors."
In his nominating letter, University Professor Lorenz Biegler praised her outreach efforts.
"It is probably the case that Rose does more in outreach than the sum total of the rest of this department. More importantly, it is also clear from the feedback that we get that it is done in an extremely professional and effective manner," said Biegler, head of the Chemical Engineering Department.
Frollini provides leadership support to organizations like the American Chemical Society, where she has been a member of the organizing committee since the program's inception in 1999. She has participated in numerous other outreach programs, including Engineering Your Future, Expanding Your Horizons, Moving 4th into Engineering and as a member of the National Chemistry Week organizing committee at the Carnegie Science Center.
Award for Outstanding Contributions to Academic Advising and Mentoring
Gary DiLisio
Principal Academic Advisor, Information Systems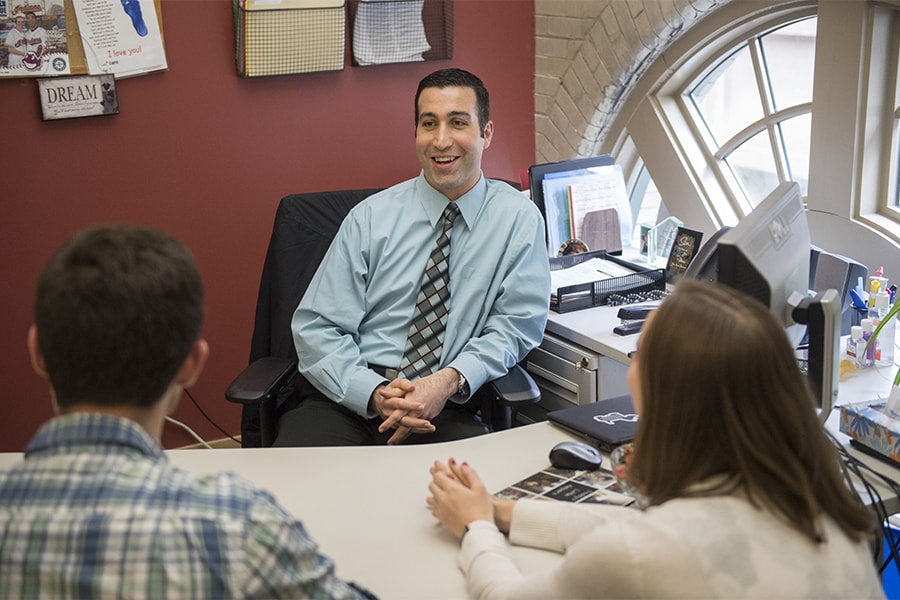 Gary DiLisio is recognized by students and faculty alike as a skilled and knowledgeable adviser in the Information Systems program who goes above and beyond the call of duty to ensure the holistic well-being of his students and colleagues.
DiLisio joined the Dietrich College Academic Advisory Center in 2009, and in 2017 became the first individual at Carnegie Mellon to earn the title of Principal Academic Adviser.
His early work in advising focused primarily on assisting undeclared students in selecting majors and minors and with the transition to college life. Since then, he has continued to work with students on academic matters, but often expands his reach to assist with selecting student organizations and making faculty connections.
His nominators, Ana Maria Ulloa-Shields, assistant dean of the Dietrich College, and Randy Weinberg, faculty director of the Information Systems program, wrote that DiLisio handles his responsibilities "with grace, kindness and tremendous patience." They called him a "major asset to the college," someone who one can turn to for support and advice.
DiLisio's profound effect on students was made clear in 2017, when sophomores designed T-shirts with his face on them to show their appreciation. The shirts were a resounding success, causing them to order a second run.
"To think that the students came up with this idea, designed the shirts and had them printed at their own expense speaks volumes to how they feel about Gary," Ulloa-Shields and Weinberg wrote.
In recognition of his exceptional work, DiLisio was selected to supervise and mentor a second academic adviser in the Information Systems program. He also was nominated by Amy Burkert, vice provost for education, to serve on the Dietrich Gen Ed Subcommittee on Advising. Through this committee, DiLisio helps to identify advising outcomes for all Dietrich College students and is helping to create a new advising model to support those outcomes.
Barbara Lazarus Award for Graduate Student and Junior Faculty Mentoring
Diana Marculescu
David Edward Schramm Professor and Associate Department Head for Academic Affairs, Electrical and Computer Engineering; Director, College of Engineering Center for Faculty Success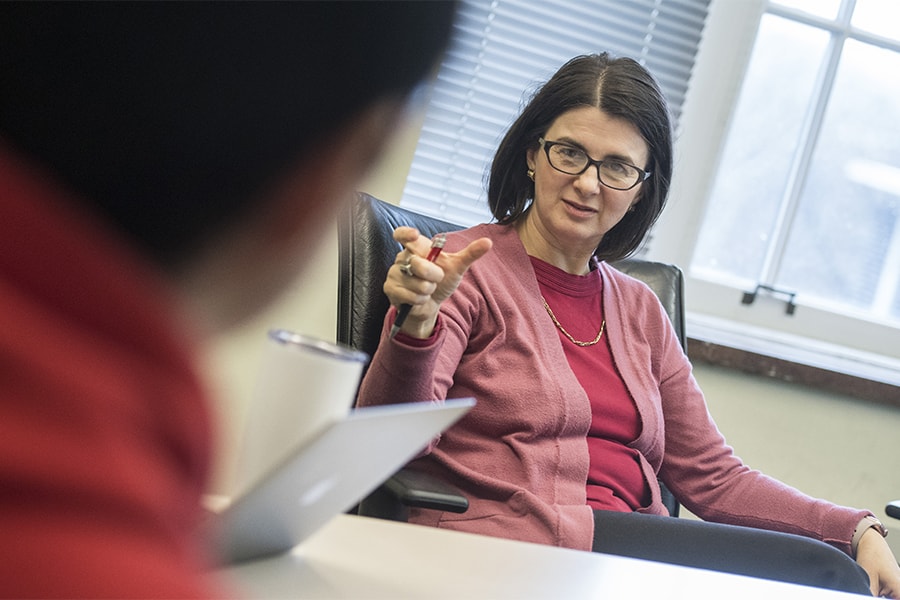 Diana Marculescu has worked tirelessly to represent women and minorities in the field of engineering and has implemented many programs aimed at developing and mentoring students and junior faculty.
"Diana has made a mark on all aspects of mentoring; from students in both the undergraduate and graduate programs as well as junior faculty development and diversity in general during her tenure at CMU," wrote her nominator, Jelena Kovačević, head of the Electrical and Computer Engineering Department.
Marculescu has been central to establishing the College of Engineering Center for Faculty Success, where she serves as its founding director. The center serves the entire faculty body in engineering, with particular emphasis on mentoring junior faculty. The center features an orientation workshop for incoming junior faculty with an extensive list of panel topics, thoughtfully curated to best serve the needs of incoming faculty.
"Having such a center at CMU has already helped us attract as well as retain top junior faculty," Kovačević said.
Marculescu has served on many panels and committees, and has been a part of numerous initiatives to mentor and advance faculty and students, and promote diversity in the College of Engineering.
Among her various roles, Marculescu has co-chaired the CMU Faculty Diversity, Inclusion, and Development Committee and the IEEE Technical Activities Board Ad-Hoc Committee on women and underrepresented minorities. She has been on the committee for the Ph.D. Forum at the Grace Hopper Celebration of Women in Computing and has played a key role in the Society for Women in Engineering's Engineering Your Future outreach program for middle school and high school students. She was project adviser and mentor for CMU's Intel First-Year Research Experience (IFYRE) for minority and female engineering freshmen and sophomores.
"She is a natural leader, with passion for helping develop students and faculty," Kovačević said.
Marculescu has earned a long list of awards and honors. She has received the David Edward Schramm Professorship in Electrical and Computer Engineering, the College of Engineering Outstanding Mentoring Award, the Insight into Diversity Inspiring Women in STEM Award, and the Marie R. Pistilli Women in Electronic Design Automation Achievement Award. Marculescu is an Association for Computing Machinery Distinguished Scientist and a Fellow of the Institute of Electrical and Electronics Engineers.
Teaching Innovation Award
Jessica Hammer
Assistant Professor, Human-Computer Interaction Institute and Entertainment Technology Center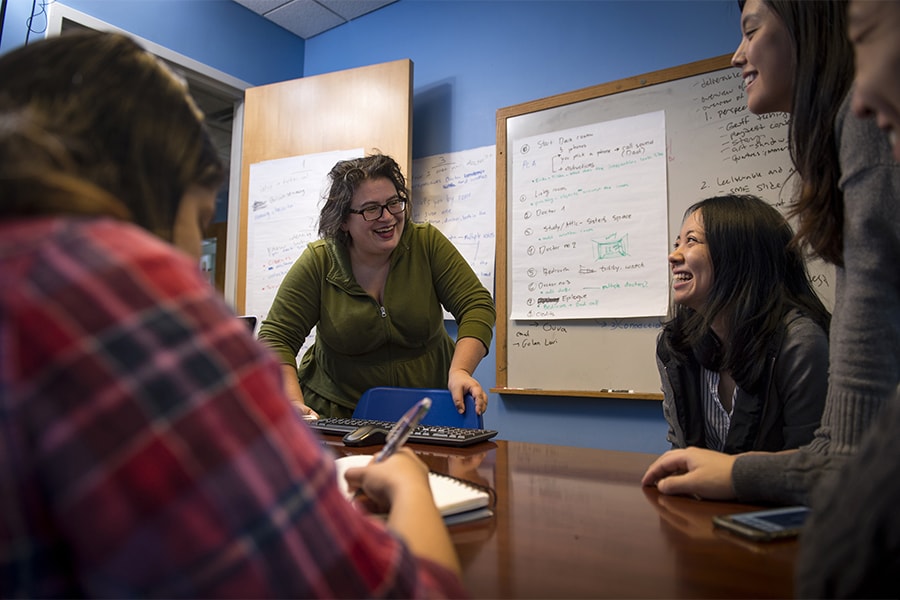 Jessica Hammer has been praised by colleagues and students for her innovative approaches to teaching, and her ability to incorporate her exceptional knowledge of game design practices to strengthen learning in the classroom.
Hammer's methods center around combining game design with qualitative and quantitative research techniques that examine the impact of games on human behavior. While teaching "Twitch Plays Game Design," originally co-developed with Associate Professor Jeffrey Bigham, Hammer incorporated research-based methodologies to help students offer more thoughtful feedback to their peers. EOTA, developed over the course of a decade teaching game design classes, stands for Experience, Observe, Theorize, Advise. The method supports students in differentiating between observations, experiences and game theory, and resulted in extremely successful student project outcomes.
"EOTA has incredible potential to improve teaching practice in other disciplines," Bigham wrote in his nominating letter. "Increasingly, students want to work across disciplines, and work on real projects that others need to experience in order to give useful feedback. The EOTA methodology could be adopted readily by any course in which students create artifacts that can be experienced, and in which some of the pedagogical goals of the course include the ability to give and incorporate thoughtful feedback."
In a supporting letter, Associate Teaching Professor Karen Kornblum Berntsen, commended her ability to create a positive learning environment. Berntsen co-taught an Interaction Design Studio with Hammer in 2016.
"In her interactions with students, Jessica consistently took control of the subject matter (interaction design), while creating an atmosphere where students felt comfortable and engaged," Berntsen wrote.
In a supporting letter, master's degree student Po Bhattacharyya said Hammer's use of improv activities in class "made us more creative and playful as game designers; it introduced students to the 'yes, and' philosophy, in which participants always add to the conversation and never put their teammates down. Jessica's choice of improv in a technology class was a brilliant way of emphasizing a number of soft skills that people in my field sometimes lack."
Hammer is an award-winning game designer. Her work has been supported by the Heinz Foundation, the Okawa Foundation, Google, Amazon and Verizon.
Graduate Student Teaching Award
Aidan Kestigian
Doctoral Student, Department of Philosophy
Aidan Kestigian has committed herself to teaching excellence, surpassing graduate teaching requirements, seeking out avenues to better her teaching abilities and presenting pedagogical work at academic conferences and seminars. Going beyond the usual graduate load of teaching assistantships, Kestigian has been the course instructor for seven distinct philosophy courses, and co-developed and co-taught a new course, "Automation, AI and Society" with colleague Máté Szabó.
"Aidan is well on her way to become a leader in the teaching philosophy community, and has been recognized for her ability outside of CMU," wrote Teaching Professor Maralee Harrell in her nominating letter. "In addition to faculty praise, Aidan has consistently been highly rated by her students both in her capacity as a teaching assistant and as a primary instructor."
Kestigian has garnered high praise from faculty and students, and is known for her natural teaching ability and excellence in the classroom. Students have commended her focus on developing critical thinking skills, her ability to explain concepts and ideas clearly, her ability to to introduce stimulating topics and to convey the importance of the material. She also has been recognized for her course planning, her ability and willingness to answer questions, her concern for student needs and the the quality of her feedback.
She has participated in numerous teaching-focused programs organized by the American Association of Philosophy Teachers, the Eberly Center for Teaching Excellence and Educational Innovation and the Virginia Tech Future Faculty Program. Kestigian has presented her pedagogical work at the American Political Science Association Teaching & Learning Conference, the Carnegie Mellon University Teaching & Learning Summit and the Technology-Enhanced Learning (TEL) Summer School. Her paper, "Blogging as Practice in Applied Philosophy," was published in "Teaching Philosophy," the premier teaching journal in the field.
"She has a sharp philosophical mind, and is really a wonderful teacher," Harrell said. "It has been a pleasure to work with Aidan over the past five years, and I wish we could hire her."
Graduate Student Service Award
Kevin Jarbo
Doctoral Student, Cognitive Psychology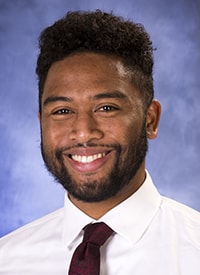 Kevin Jarbo, a first-generation American and the first in his family to earn a college degree, has made a remarkable impact as a scientist, colleague, mentor and university citizen.
"Kevin represents all the ideals we aim for in our graduate students: scholarship, mentorship, and service," wrote Associate Professor Timothy Verstynen in his nominating letter.
Since beginning his Ph.D. in 2013 with Verstynen, and as a member of the Center for the Neural Basis of Cognition, Jarbo has explored how different regions of our brain work together to choose behaviors during risky decisions when we have something valuable to lose. His novel methodological approaches and sophisticated projects have been featured in leading journals like the "Journal of Neuroscience," "NeuroImage," "Experimental Brain Research," and the Journal of Neurophysiology."
In a supporting letter, Professor Michael J. Tarr, head of the Psychology Department, praised Jarbo for "accomplishing something that is quite rare these days — continuing excellence in science combined with intellectual community building and meaningful public service that extends beyond both the department and the university."
Jarbo's commitment to service is manifested by his desire to apply his knowledge in cognitive science and neuroscience to issues of decision-making in the context of race and social justice.
"Kevin is poised to not only ask fundamental questions that will inform psychology, but also build applied platforms that use psychology to inform and sculpt policy," Verstynen said.
Jarbo has organized and led a series of campus discussions about race and privilege, like the Dietrich College Conversation on Race, Community and Marginalization. He is active in the Black Graduate Student Organization and works with the Center for Student Diversity & Inclusion.
Verstynen said the Dietrich College Conversation was "the most productive open dialogue of its kind."
Jarbo also is a leader in the classroom and lab, where he mentors undergraduates in the applied research process, advising them on data collection and data analysis as well as taking time to help them with their readings. Students have given him outstanding teaching evaluations.